By Yvonne Dennis (246)
You don't have to want to be an attorney to be on Central's mock trial team–you just have to want to be a winner.
And you don't have to still be on the student or faculty rosters to mentor the eager members of this team.
Julian Thompson (262) is an accomplished Harvard Law School graduate now working for the School District of Philadelphia. Ron Romoff (227) retired in June after a long career teaching social studies, world history, philosophy and other subjects at multiple schools, last among them Central.  But they continue to serve as attorney coach and adviser, respectively, for one of Central's most accomplished and character-shaping teams. (Social studies teacher Samuel Neuman is the faculty adviser.)
As senior captains Ella Comberg, Ana Deluca-Mayne, and Gabe Gluskin-Braun help members prepare for competition season, which begins in early January, here are some questions about mock trial and answers from several of Central's competitors and leaders.
How does high school mock trial work in Philadelphia?
Mr. Romoff: A few weeks ago "we got this 67-page case that has three witnesses for the prosecution, three witnesses for the defense and 11 exhibits. So each team has to be able to win their case both on prosecution and on defense. This one is a civil. Last year we had a criminal. They alternate. So everybody who's competing gets the same case.
We prepare the witnesses and the attorneys who are going to direct them–ask the direct questions, get them to testify. And then [prepare] how they're going to cross-examine the opposing witnesses. And they prepare their witnesses to be cross-examined. And of course you have openings and closings.
The whole trial takes about how long?                                      Ron Romoff talks to former student Marvin 
"The whole trial takes two hours during competition.                         Barnhill at Central recently.       
How does Central know whom it's going to be competing against?
We don't. In fact it's a very closely guarded secret. We're all given code names and LEAP ( Legal Education Action Program at Temple University) sends out,  'You're competing on such and such a day against the code name.'  The idea is that the scoring judges should not know…"
The after-school interview in a first-floor classroom at Central is interrupted by the surprise arrival of former mock-trial team captain Marvin Barnhill (274). As many team members raucously greet their former leader, Mr. Romoff tells his interviewer, "I tried to throw him off the team three times."
He repeats the comment when Mr. Barnhill comes over smiling a greeting.
"Three times? Was it three," Mr. Barnhill responds. "Let's see:  my tryout, when I tore my meniscus and when I went on my junior ski trip. Yeah, you tried to throw me off three times.
Before Mr. Barnhill explains, he describes his first year on Central's mock-trial team as a sophomore. The trial that year was for double-murder charges over a deadly crane collapse.
Mr. Barnhill: We had two teams. I didn't end up making the first team. I was on the B Team.
Mr. Romoff: He was the guy who made the other team eat their words on his first trial. He was cross-examining someone and their whole case was dependent on this factor and all I remember is he turned them around and with their own words he sunk 'em.
How did Central do that year?
Mr. Barnhill: We won the city championship. [A teammate] ended up not being able to compete. I got moved up to the A team and I competed for city championship. We ended up winning that. We went to state's and then we ranked fifth in the state out of some 300  teams.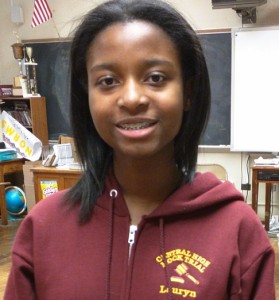 Third-year team member Lauryn Bowler, (276) said part of the reason she came to Central was because she learned it had a good mock-trial team.
What do you like about mock trial? 
Miss Bowler: I think it's the fact that we're really a team, the fact that we spend time just talking about things together. Not just send everybody out on their own to figure it out for themselves. 
How does being on mock trial help you with your studies?
Miss Bowler: It helps me think about things a lot more; break things down into different steps. It also really helps for presentations and writing because there's a lot of writing involved.
Trang Lam (277) was an understudy her first year on the team. She didn't have much of a role but she liked the challenges so she stuck with it. "Sophomore year I joined again. For a while I was a witness. I really liked the tough environment in mock trial and that's why I am still here junior year.
Mr. Romoff says even kids at the middle-school level, which he taught for most of his career, can  and did benefit from mock trial's practices:
Mr. Romoff:  The legal process and the mock-trial process teach kids how to reason consistently, how to find solutions to complex issues, how to speak properly and effectively when they're under pressure, how to work as a team, how to listen.
What do you get out of still advising students?
Mr. Romoff: It stimulates my brain because I don't know what they're going to ask or what they're gonna do or what I'm gonna hear. They make me look at things that I haven't seen..I just love to see them go from being timid and not very articulate to standing in front of people they've never seen and speak clearly and respond to objections that they couldn't have prepared for and turn it around and nail it.  
—————————————————————————————————–
More on Temple's mock trial program at www.law.temple.edu/resources/community-service/leap/