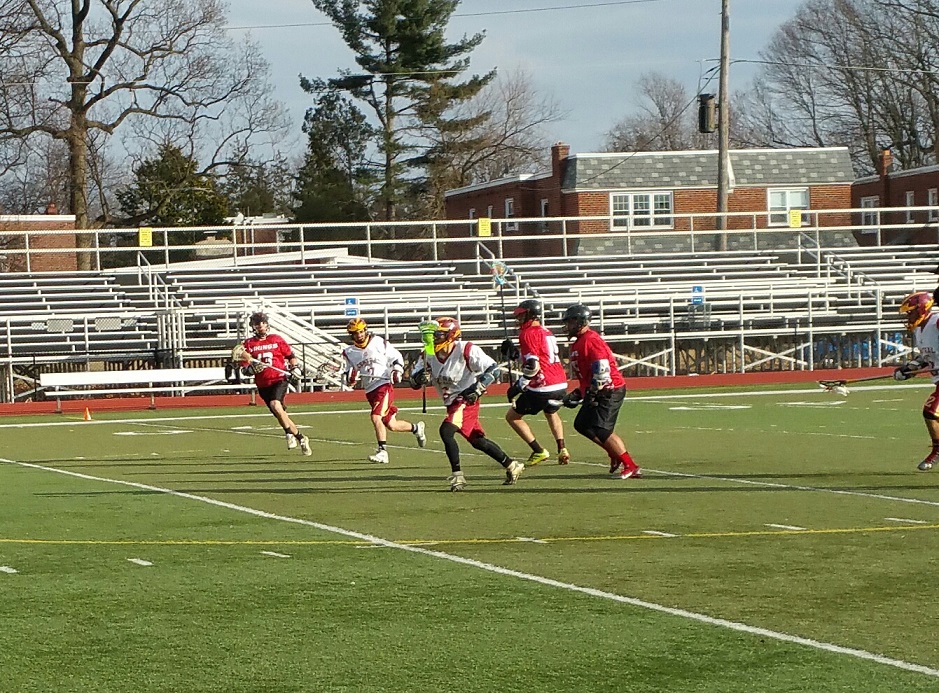 Lancers lacrosse in action last season  (Photos courtesy of Stephen Innamarato)
By Yvonne Dennis (246)
Finishing at the top of their division and making it to the playoffs in their inaugural year was great for Central's boys lacrosse team, but this season the Lancers want nothing less than the Public League championship.
To win it, Coach Stephen Innamarato for starters would like to bulk up the team to about 30 players from last year's 25.
"I don't like to have a roster of more than 30 because of playing time," said Mr. I, as most everyone at school calls him. "I want to make sure students get their playing time. But at the same time I have to develop younger players and get them on the team."
To get the team started last school year, Central Athletic Director Rich Drayton (246) was able to purchase new uniforms and the School District bought the helmets, goals and a few other things, said Mr. I. The district also directed the coach to get as much donated equipment as possible. The Philadelphia Lacrosse Association came through with some unused but older equipment, and sports-equipment maker STX donated goods to be shared by teams districtwide.
While players have had time to recover from last year's bruising, some of the equipment can't be healed.
"Unfortunately, the shafts on the sticks are like the absolute least expensive that you can get and bend when you just look at them," Mr. I said only half kidding. "I can't tell you how many sticks we broke last year."
Most players have their own sticks, said Mr. I, but depending on a player's position, equipment can last one game or ten years. Sticks of defensive players take a battering virtually every game.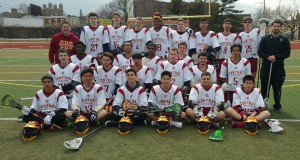 Coach Stephen Innamarato (crimson sweatshirt) with Lancers lacrosses during their inaugural year and below, Mr. I (bottom left) as goalie with the U.S.A. team that competed in Prague, Czech Republic, in 2002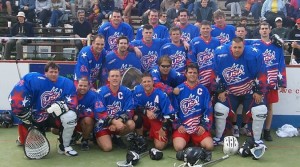 "When you're trying to show someone how to play defense and you say you have to go out and buy a $200 stick that's a pretty outrageous thing to ask."
The coach, who also plays lacrosse in a league he runs called the Philadelphia Box Lacrosse Association, recently placed a notice on his Facebook page asking friends if anyone could donate gently used equipment.
Central alum Joseph Carlini (239), who has generously supported the Central Robolancers and football teams in past years, got wind of the request and recently gave the team $1,000.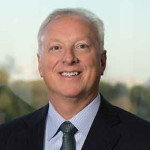 "Lacrosse is near and dear to me, as all of my kids have played and my son plays at Johns Hopkins University," said Mr. Carlini, founder and CEO of Philadelphia-based McKean Defense Group. "Lacrosse has been very good to my family. I wish we had a team when I was at Central."
Mr. Carlini supports Central extracurricular activities because of what Central did for him as a young person.
"Central counselors (Ms. Conway, specifically) convinced me to go to college. Football was the vehicle that allowed me to explore college. And my calculus classes at Central (Mr. Diano and Dr. Curran) allowed me to realize I could study engineering. Had it not been for them and the rest of the faculty, coaches and staff and at Central, I would not be where I am today. I'm blessed I am able to give a little back."
                                                                                                                                                    Joseph Carlini (239)
Mr. I has applied for a grant from Central's Home & School Association for the other $2,000 minimum he believes is needed to properly equip the team by March. "But my ultimate goal is to raise not just $3,00 but $5,000. If I do that I will be able to buy additional helmets and uniforms to bring it up to 30 because I have a lot of very talented athletes who want to join the team and given that we have a harder schedule this year we 're trying to make sure we have the depth there."
Returning co-Captain Vinny Santos (277) is looking forward lacrosse's endurance challenges once again. "What I enjoy about lacrosse, which may very possibly be my favorite sport, is the adrenalin you get on the field," said the sophomore, who also plays football and wrestles. "In lacrosse there are no timeouts or pauses in the game, similar to the historical game style played by the Native Americans."
Coach I said he likes teaching  the players not just how to play the game but about sportsmanship. A few games last year when Central was up by 10 points he ordered his players to just pass the ball around–no more scoring. "You have to set the example of what's right even if other teams don't do that."
 —————————————————————————————————————
You can help Lancers lacrosse through https://www.gofundme.com/k3a957es