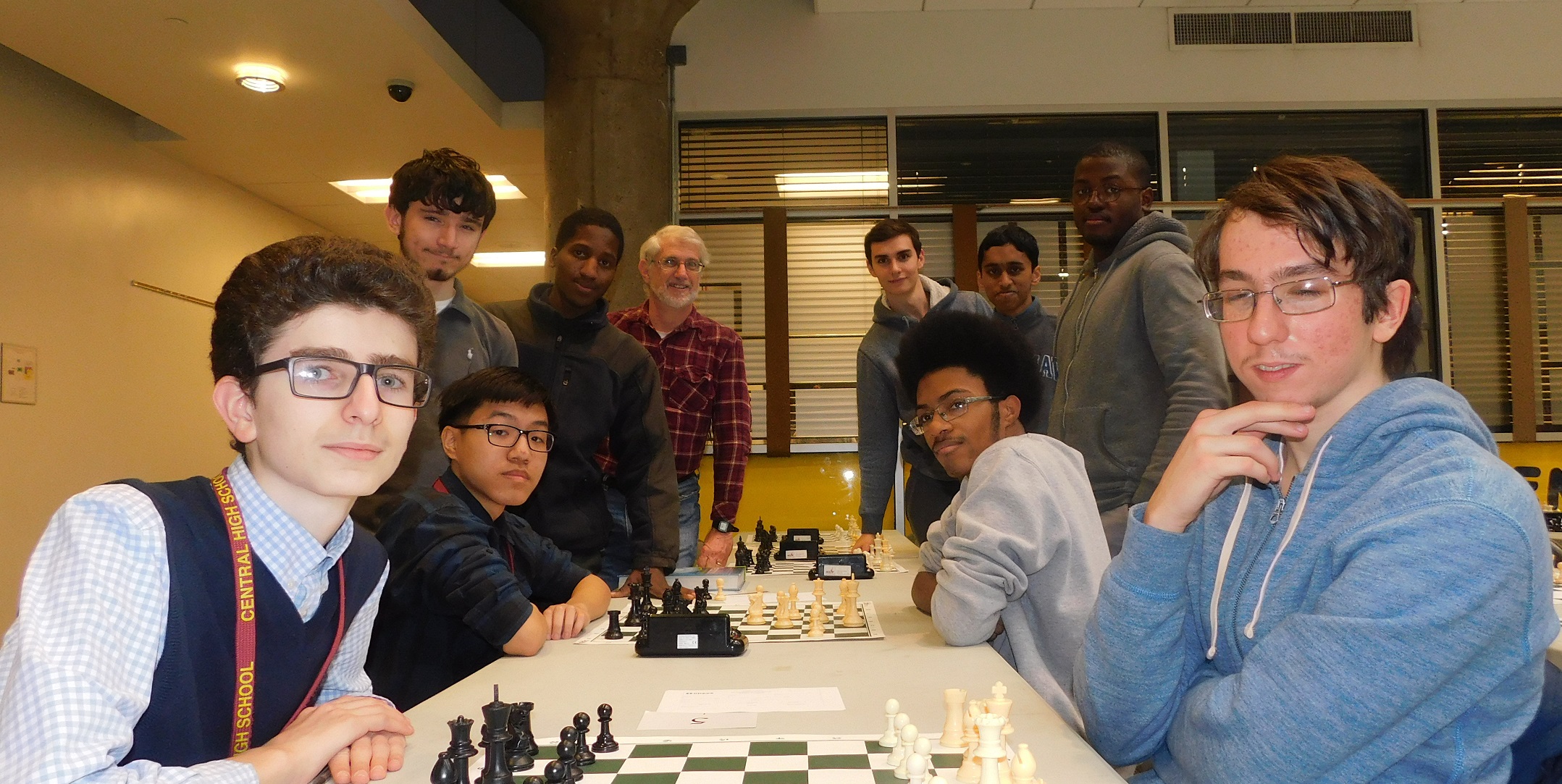 By Yvonne Dennis (246)
Members of Central's top-ranked chess team are eager to test their skills on the national level, and some Central alumni with personal appreciation for their passion want to help them get there.
Retiree Larry Plotkin (230) read on Central's alumni website last year about the Lancers' successes despite a lack of team funding for practice equipment and study materials that could help them improve their games, so he decided to get involved.
"I saw the article and I said, 'Wait a second: I'm here. I've got time. I can go in,' " said Plotkin, who led Central's chess team when he was a student and went on to play team chess at the University of Pennsylvania. "So I went in on the first Friday after I saw that. I introduced myself to (Coach Christopher) Copeland." Plotkin has since been going to Central most Fridays during the school year working with the 10 students on the team and others in the chess club to help them improve.
Central tied for first place in the city championship last season but came in second on the tie-breaking decision. The Lancers also performed well in the state championship, placing second behind Abington in one of the sections. "One of our players, Jeffrey Kunnel, went undefeated but because of tiebreakers he got second place," said Coach Copeland. "The way they do tiebreakers is they look at the players you beat and they look at all the points those players scored."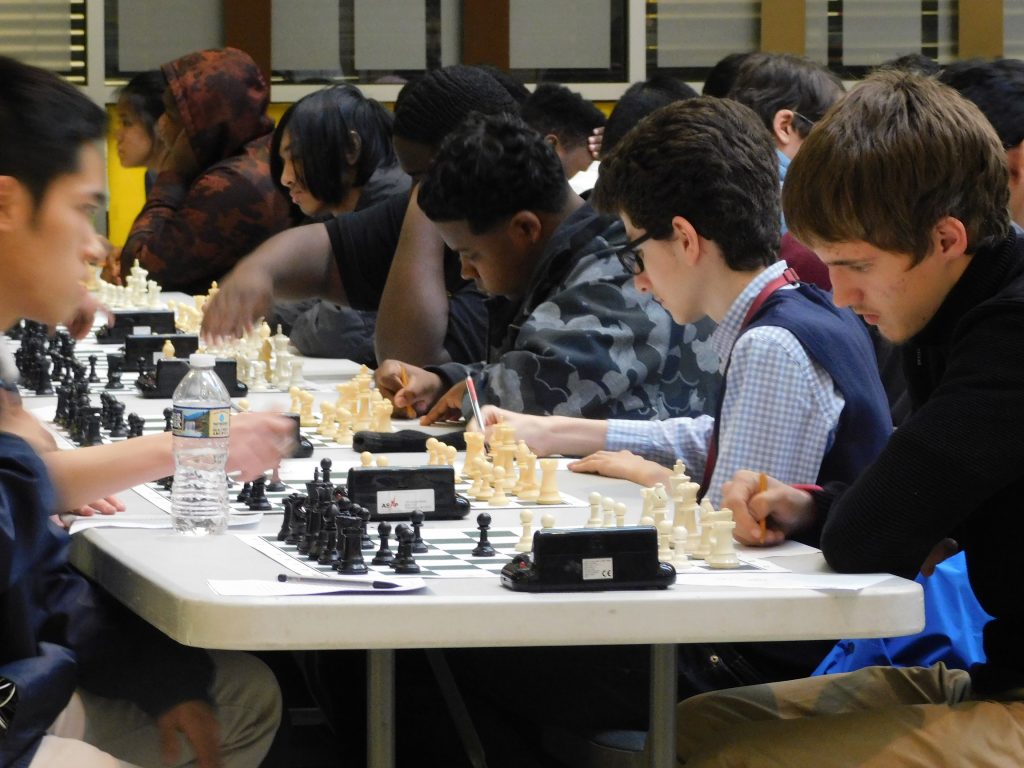 Copeland is able to take the team to various regional competitions with support from After School Activity Partnerships, which facilitates weekly afterschool clubs throughout Philadelphia. ASAP runs the Philadelphia Scholastic Chess League, with more than 50 teams competing at the elementary, middle, and high-school levels. It also runs the debate competition in connection with the School District and this year began running a Scrabble league from elementary level to high school.
In the chess league, Central held the No. 1 position among high schools going into competition on Tuesday and five of the top 11 players were Lancers.
Seven of 10 team members play two matches each at these four regular-season competitions. On Tuesday at School District headquarters at 440 N. Broad, Central won 11 out of its 14 matches. (Points will be tallied and the updated rankings will be revealed in January.) The teams have more matches in January and then playoffs begin.
This season offers the top players in the region another tantalizing opportunity–the 'Supernationals.' Every four years the elementary, junior-high and high-school national championships are held together. From May 12-14, 2017, the Gaylord Opryland Resort and Convention Center in Nashville will host about 5,000 of the best young U.S. chess players for Supernationals VI.
It's a rare opportunity Copeland would love to see his team experience. Thoughts about the cost, however, made it not much more than a dream.
But Plotkin, mindful of the extraordinary chess opportunities he experienced as a Central student, began about a month ago seriously discussing with Copeland how they could make it happen.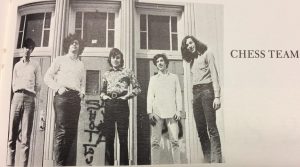 "I remembered back in '70 and '71 when we went to national tournaments," said Plotkin. "We went to two or three national tournaments. The alumni came up with the money."
So Plotkin reached out to a few of his chess teammates from 230 and another classmate, Lonnie Fogel. Lonnie didn't play on the team, "but he just happens to care about things at Central," said Plotkin.
So Plotkin, David Gottschlich (who also played chess with Plotkin at Penn), Zell Kravinsky and Lonnie Fogel together gave the school $1,000 this week to help send the team to Nashville.
Copeland said the trip could cost $300-$500 per student with hotel expenses, transportation and food. There's also the tournament entry fee. Central President Tim McKenna is working on ensuring that the team's top seven players have the means to go, Copeland said, and transportation potentially could be shared via a charter bus sponsored by the Philadelphia Chess Society.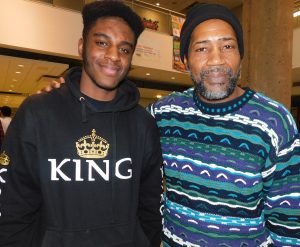 The Philadelphia Chess Society was born in 2012 when Mikyeil El-Mekki,  founder of the Paul Robeson Chess Club in Wynnefield, approached the heads of three other chess clubs in the city about pooling their resources to take young people to the last supernationals in 2013.  Working with ASAP and others, he's confident the group will again be able to get enough sponsors on board to take as many students who qualify. Having a Central team along this time provides added prestige, he said.
"Central might be the most enduring school that we have in our city," El-Mekki said on Tuesday during a brief break from minding the other team he coaches, the Mastery Charter Shoemaker Campus. "It's a school that's known historically for representing Philadelphia's young geniuses. For them to be involved  gives us a lot more leverage and I think a higher profile, along with some of the other schools like Masterman. Their individual students may not need to go to nationals in order to be helped in opportunities to succeed in life but just for them being on board helps create more opportunity for more Philly students."
Both Copeland and Plotkin say the skills and discipline instilled in the kids through chess make them deserving of the opportunity.
"We're not only going to be representing Central, we're trying to go there and represent the city of Philadelphia and let them know that there is a strong chess presence here, that we are building strong chess players in our community,"  Copeland said. "Our hope is to represent Philly well and hopefully bring some trophies back here."