The Central baseball team has some unfinished business on its mind as the 2015 season is set to begin in two weeks.
The Lancers fell last year in the playoffs to Washington High School (the eventual Public League winner) by a heartbreaking 9-8. But a solidly experienced core is returning for the team, including senior captain Greg Holdsman (274) and his brother, Danny (276), who made second-team All Public as a pitcher last year.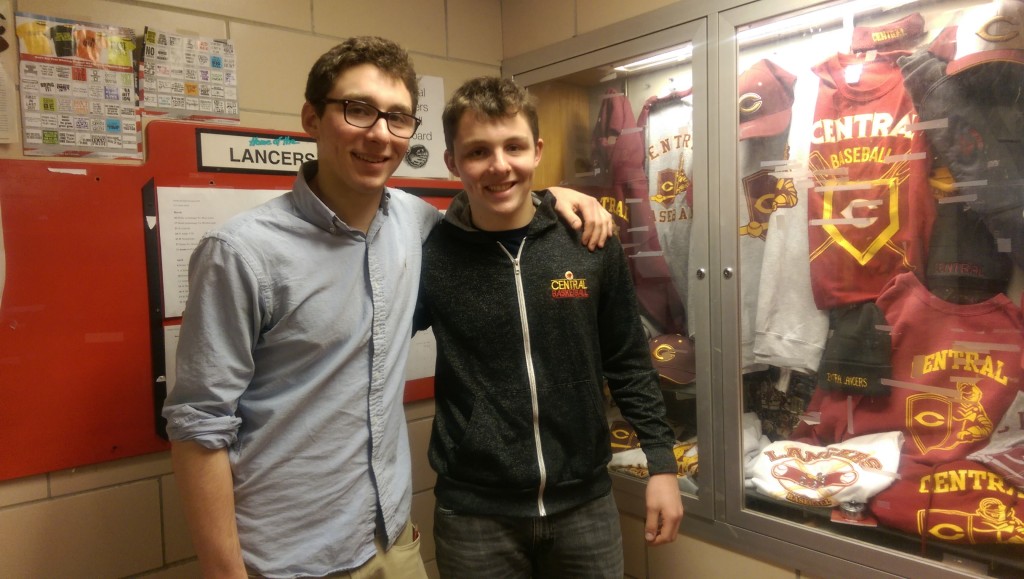 "We actually lost a few seniors but this year we still feel like we have some of those guys who remember that they were unable [to win], to use that fuel to win this year," says Danny.
Greg and Danny Holdsman
This season is likely Greg's and Danny's last year of playing organized sports together. Greg, 18 and Danny, 16, have been playing soccer, basketball and baseball for as long as each could run and catch.
Their father, Kenny, coached them on neighborhood teams as they grew up in West Mount Airy. They also each played team sports at the private Quaker school William Penn Charter.
Then for 10th grade Greg transferred to Central. He says Penn Charter is, of course, a very good school, but, "I was feeling very stagnant. I  wasn't getting excited about anything.  I wasn't getting excited about the people. I felt like they weren't getting excited about me. It had very little to do with basketball, very little to do with the academics." Greg felt he needed a change. "Penn Charter was the only thing I had known for 10 years."
And like so many before him, Greg was struck by Central's uniqueness and energy.
"Central is extremely diverse," he says. "It's much bigger, it's much more urban and it was the new experience  felt I needed."
Danny arrived at Central his freshman year and was just as invigorated.
Greg says Central affords students a lot of freedom. "A lot of the academic work is on you to do," he says.
His hoops game also got a shot in the arm. "I like the basketball team a lot," says the 6'2 guard. "I feel like I've gotten to be a lot tougher player."
Danny says he also prefers basketball, because of the faster pace, "but I'm probably better at baseball." The 6′ lefty not only pitches but plays first base and outfield.
When the two brothers told their maternal grandfather, Manny Tress (205) that they were going to his alma mater, the retired periodontist got nostalgic the way most Central grads do.  "He was excited, told us the whole spiel," Greg says with a laugh.
Manny also gave the pair his Central diploma. This June the proud grandpop is hoping to have the pleasure of presenting Greg with his diploma as he crosses the stage at graduation if the school administration will allow it.
So far this year Greg is maintaining straight As. Danny has been a straight-A student since his beginning at Central.
"I think they are both amazing," says their grandfather.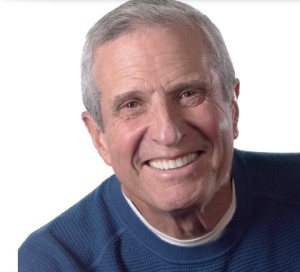 Things will certainly be different for the pair when Greg heads off to play basketball at Denison University in Granville,Ohio, in the fall, but Danny's got nothing but encouragement for his only sibling. He's not wasting any energy wishing Greg would be closer to home.
"I feel like wherever he goes to college I wouldn't see him all that much and I think if he goes to college, he goes to college."
While Greg is not quite sure what career he'll pursue, Danny wants to work in broadcast journalism. In his two years at Central he has written for the Centralizer and has recently been writing for cityofbasketballlove.com, a website covering Philadelphia-area high school and college sports.
                                                                                                                                                  Manny Tress
Danny recently traveled up to Syracuse University to interview Orangemen forward B.J. Johnson, who is a product of Lower Merion High School.
"I was amazed that I was able  as a sophomore  to do something that people do to make a living, not a bad living at that," he says.
——————–
Keep up with Central baseball at centralhighalumni.net (select "campus life")