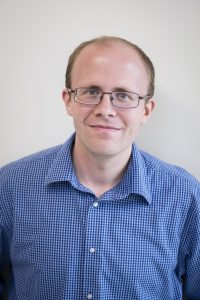 Dr. Michael Birnbaum (263) is a perfect example of how a Central education can serve as pre-college and put a student well ahead of peers elsewhere if the student is a hard worker and focused.
Dr. Birnbaum is leading research at the world-renowned Massachusetts Institute of Technology aiming to engineer new methods to more potently mount an immune response to cancer and infections. Feel his energy in this Q&A as he talks about his work, his life and the Central program that put him on this amazing path.
AACHS: Congratulations on becoming an assistant professor in the Biological Engineering Department at the Massachusetts Institute of Technology this year. How did you attain the position and what will your work duties be?
Michael Birnbaum: Thank you! As my work at Stanford was wrapping up, my mentors there nudged me to apply for jobs that give me an independent research lab of my own. The application/interview process takes a good six months or so, and science is such a global community that folks tend to apply across the country (and across the world). I was lucky enough that MIT thought I'd be a good match for the great work going on there, and so I happily signed on.
At MIT, my time is split between running a research group, where we focus on understanding how the immune system recognizes cancer and infection with the hopes of creating better, safer, better directed treatments; and teaching the MIT undergraduate and graduate students.
AACHS: You participated in and led some amazing cell protein research while a doctoral medical student at Stanford. Will your relationship with Stanford continue in any work-related way?
MB: I'm still in touch with everyone there, and we're talking about continuing with a few things, but in general in science you're encouraged to branch out from your mentors. It gives you new opportunities to connect with the people around you. Independence from your former mentors and taking your work in new directions are also important qualities for a young researcher to show.
AACHS: Is there anything from your time at Central that you think directly benefited you in your medical studies?
MB: Oh, there is a ton! Starting in 9th grade, I was part of the Biology G/Research G track (led by Mr. Dennis Erlick). As a part of this, I spent at least a few hours a week in Dr. Glenn Rall's research lab at Fox Chase Cancer Center from 10th-12th grade, two summers at Fox Chase, and one in Maine, at Jackson Labs in Dr. Greg Cox's lab. These are the experiences that cemented my love of doing research–what I wanted to be doing was never in doubt since then.
They also helped me stay ahead of the curve. My time in a lab in high school let me do more in the lab as an undergrad, and that time kept me a step ahead in graduate school. The time at Central almost was like I was able to stay a step ahead for the rest of my young career.
Everywhere I go, I tell people about my time at Central and they never heard of anything quite like it. I cannot overstate how important, and unique, it was – the fact that a 10th grader like me (and a bunch of my classmates!), with enthusiasm but zero scientific connections or any way to start in a lab, could do real, cutting-edge stuff made a huge difference to me, and to a lot of future young scientists.
AACHS: Have you long envisioned being a teacher or was that a recent decision?
MB: Ever since 10th grade or so, I was pretty sure that I wanted to be a researcher. It's amazing to have a job that boils down to asking questions we don't know the answer to and then trying to find those answers. I also realized that I liked sharing my work and the work of others, so teaching should be a lot of fun too. My job at MIT will involve quite a bit of teaching, and mentoring young scientists.
AACHS: What are your career/medical goals?
MB: I'm most interested in how different protein systems have evolved complex recognition properties–you have millions of unique T and B cells in your body, and they need to be able to recognize whatever virus or bacteria you may come across while not cross-reacting and causing autoimmunity. I hope to continue working to decode how all of this works, and find the 'rules' of recognition. Once we know the rules, we hope to use them to create better immune treatments –vaccines, cancer therapies, and autoimmune treatments.
In the future, I'd like to look at other systems where there's similar types of complexity (like the brain), or even work to create our own synthetic systems. There's always interesting work to be done.
AACHS: You have spent time in some widely varying metropolitan areas. What's one cool thing about Stanford, Calif.; Cambridge, Mass.; Philadelphia and Singapore?
MB: Stanford: It's actually paradise! On 300 days out of the year, you can walk out into perfect temperature, and go find a beautiful field. Or a redwood forest. Or a winery. Or San Francisco. I get why so many people go and never leave.
Cambridge: With Harvard and MIT both in Cambridge, and so many pharmaceutical companies, it's like the entire town is geared towards better understanding biology and improving health. It's what you hear people talking about even in the coffee shops and bars.
Philadelphia: Wawa! At least once a week I complain about not having one around. Also, the best sports fans (everyone else is wrong).
Singapore: Basically everyone is in a gleaming housing tower that's connected to a subway and a mall with a ton of great restaurants. It's like living in the future.
AACHS: What do you like to do for fun?
MB: Do reading and music count? I feel like that's a cop-out. My wife and I are looking for trips to fill up our passports.
I also like playing videogames (badly), I recently started (badly) running, and love cooking new things (mediocrely).
AACHS: What would you say to current Central students or recent alumni about pursuing bold work in any field?
MB: First: Central is a pretty amazing starting point, able to open doors that I wouldn't have known existed otherwise. I think that's true for many of my classmates too, and I'm sure it still is. So, being at Central is a good start and making most of the time and connections there is fantastic.
Second: It's hard to get around working hard…
Third: I'd be a total liar if I said that I got here from following a detailed long-term plan. So I think being observant enough and flexible enough, and a little bit brave, to pursue things you hadn't considered before is important. And to do your best to be grateful for the good fortune along the way while not dwelling on any bad luck.