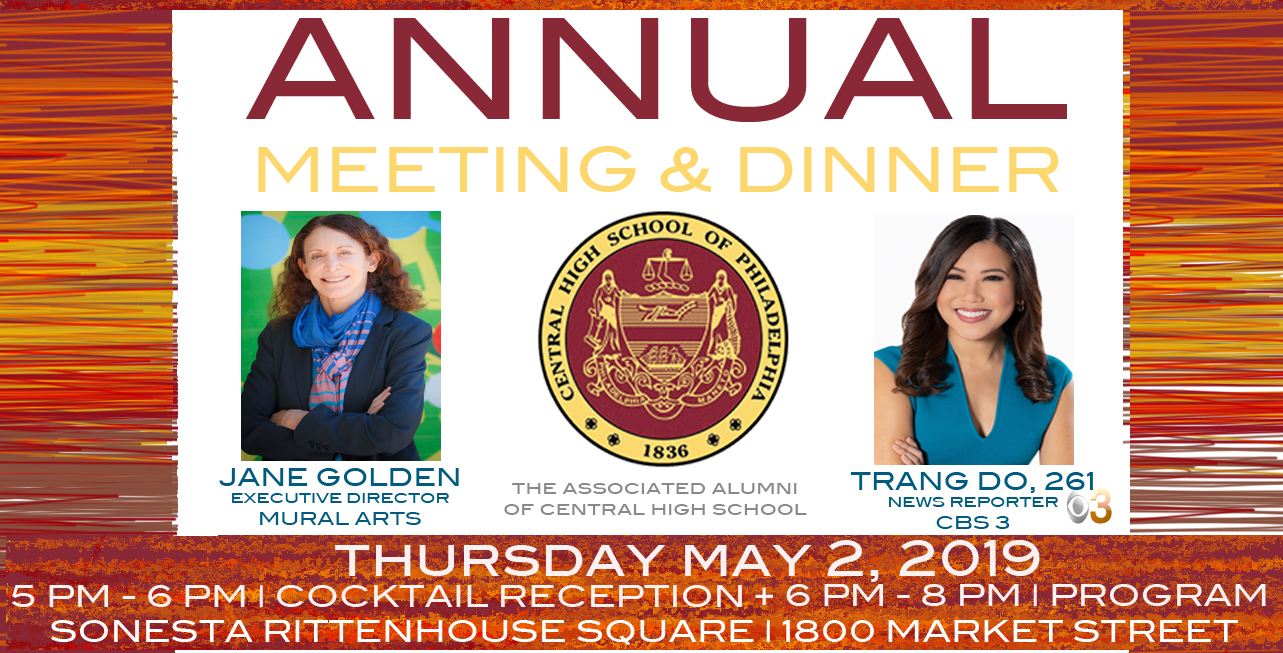 Join us on Thursday, May 2, 2019 at 5 PM for The Associated Alumni of Central High School's Annual Meeting and Dinner at the Sonesta Rittenhouse Square (1800 Market St., Philadelphia).
We are honored to announce our two inimitable speakers for the evening's program: Jane Golden and alumna Trang Do (261). Ms. Golden is the Founder and Executive Director of Mural Arts Philadelphia, and Ms. Do is a CBS 3 Eyewitness News General Assignment Reporter. Speaker Bios are below.
The Annual Meeting & Dinner is the organization's signature event of the year. Attracting up to 400 alumni, students, administrators, faculty, and staff a year, the Annual Meeting features the coveted Disharoon award ceremony, AACHS President's report and the election of officers and members of the AACHS governing body, the Board of Managers.
This year's dinner will feature a cocktail reception hour beginning at 5PM, followed immediately by our program and dinner. Come out to hear from our two speakers, as they impress upon us their personal and professional experiences in the field of media and arts and how they have positively affected the city and community.
Parking (new option): We suggest parking at the William Penn Garage located at 19th & Ludlow Street. AACHS has obtained special pricing of $10/car. To secure a voucher, select the appropriate "PLUS Wm. Penn Garage" parking" ticket option.  For those who have already paid for their admission but would like to obtain a parking voucher, please register again for the new voucher-only option. Vouchers will be handed out to those who preregistered by April 29th 2019 at the registration desk. Alternatively, valet parking is available at $17/car at the Sonesta Rittenhouse
Meet some of our remarkable current students as they leave a lasting impression while providing first-hand accounts on the great things happening at Central today including our exciting capital project to improve Central for the students of tomorrow. As always, you may share this wonderful experience by sponsoring a current student for $85.
Proceeds from the Annual Meeting & Dinner benefit AACHS' mission to support student success at Central today and in the future. As a sponsor or attendee, you or your company will enable students to develop problem solving skills, a life-long passion for learning, and aspirations to be thoughtful leaders of their generation.
Please register online to reserve your seat today or download the AACHS Annual Meeting 2019 Printable Form to send by mail. 
We look forward to seeing you on Thursday, May 2, 2019.
Thank you,
AACHS President Steve Chappell (209) and the AACHS Board of Managers

SPEAKER BIOS:
Jane Golden has been the driving force of Mural Arts Philadelphia since 1984, overseeing its growth from a small city agency into the nation's largest public art program, a global model for transforming public spaces and individual lives through art. Under Golden's direction, Mural Arts has created over 4,000 works of public art through innovative collaborations with community-based organizations, city agencies, nonprofit organizations, schools, the private sector, and philanthropies. In partnership with a range of city agencies, she has developed groundbreaking and rigorous programs that work through art to make strides in youth education, restorative justice, and behavioral health.
Golden has also overseen a series of increasingly complex, ambitious, and award-winning public art projects, as well as launching the knowledge-sharing Mural Arts Institute in 2017. Sought after nationally and internationally as an expert on urban transformation through art, Golden has received numerous awards for her work, including the Eisenhower Exchange Fellowship Award, the Philadelphia Award, the Hepburn Medal from the Katharine Houghton Hepburn Center at Bryn Mawr College, and Philadelphia Magazine's Trailblazer Award. In 2018, she received the Anne d'Harnoncourt Award for Artistic Excellence from the Arts + Business Council of Greater Philadelphia, and the Dare to Understand Award from the Interfaith Center of Greater Philadelphia. She is an adjunct professor at the University of Pennsylvania, and serves on the Mayor's Cultural Advisory Council, the Penn Museum Advisory Committee, and the board of directors of The Heliotrope Foundation.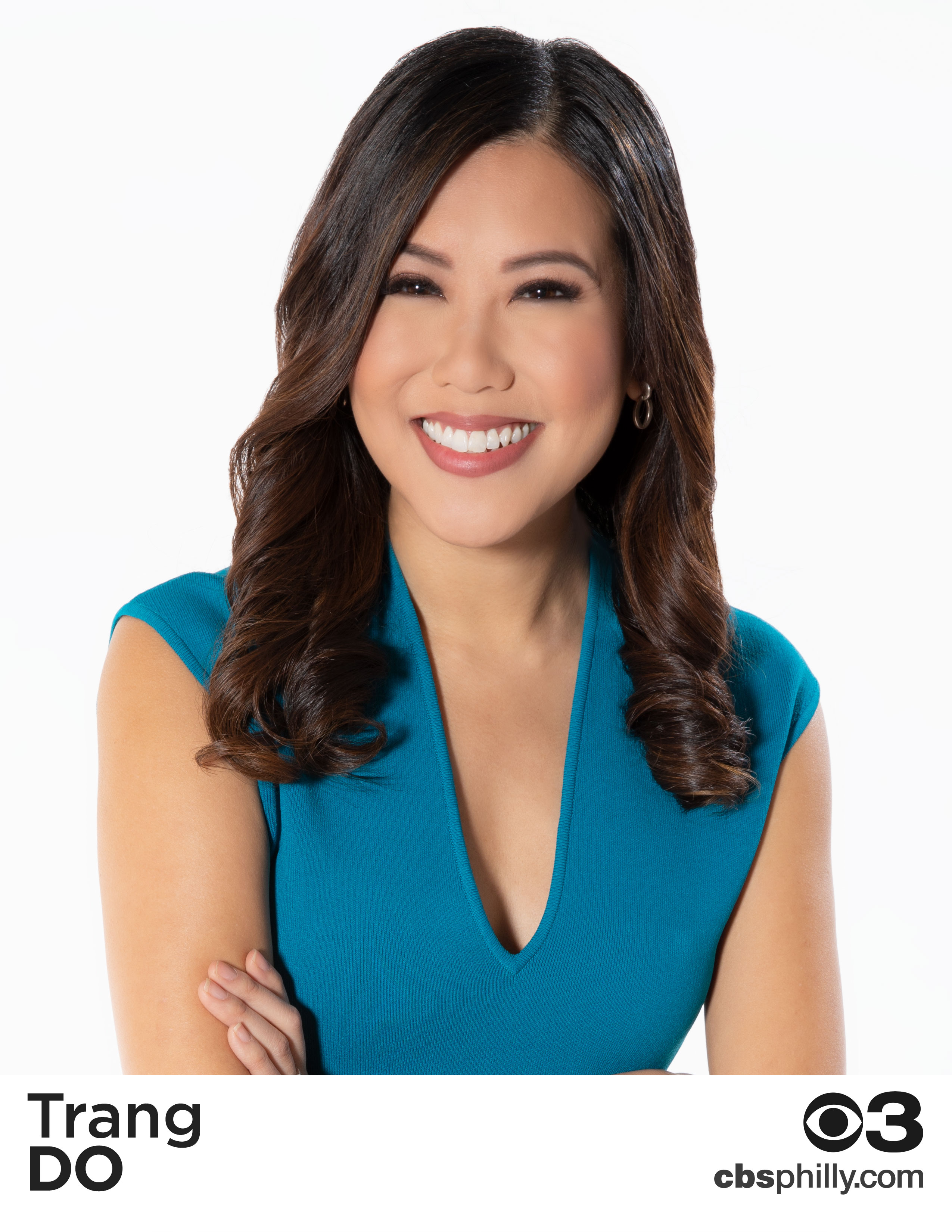 Trang Do (261) came home to join the Eyewitness News team as a general assignment reporter in March of 2016.
The Philadelphia native had previously been an investigative reporter with WMAR-TV in Baltimore, Maryland. Trang started her professional career as a Washington, D. C, correspondent for KTVQ-TV in Billings, Montana. She has also reported and anchored in Huntsville, Alabama at WAFF-TV and in York, Pennsylvania at WPMT-TV.
Trang graduated from The Central High School (261) and University of Pennsylvania magna cum laude and worked as an intern at CBS 3 during her senior year in college. After earning her Bachelor of Arts degree in communications and Spanish at Penn, she went on to complete a Master's degree in journalism from the Medill School at Northwestern University. Trang is a member of the Asian American Journalists Association. She and her husband, Kevin, make their home in the Kensington section of Philadelphia where she grew up.