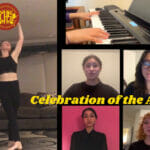 Piece by Piece - A Sign of Resilience When schools closed in March 2020 no one knew how long until they could return or what to expect. As the days...
Stephanie Ostrich Mattei, 249, is confirmed for our next installment of Wellness Wednesdays! Join us on Wednesday, October 28th, from 7 pm to 8 pm. The topic is "Managing Stress...
You are cordially invited to attend the Annual Meeting of the AACHS on Thursday, June 3, 2021, beginning at 7 PM!
On June 17 at 7PM, join Central students and alums for a virtual Quizzo event!
Virtual or online reunions are currently scheduled for the following classes: none currently scheduled.
Visit our Reunions Page for everything about reunions (including how to plan one)!