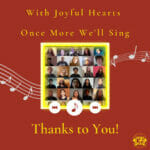 As this interesting, unusual year that was 2021 comes to a close, I wanted to express my heartfelt appreciation for you, alumni. Despite all the challenges 2021 provided, your continued...
Stephanie Ostrich Mattei, 249, is confirmed for our next installment of Wellness Wednesdays! Join us on Wednesday, October 28th, from 7 pm to 8 pm. The topic is "Managing Stress...
Virtual or online reunions are currently scheduled for the following classes: 204, 206, 214, 215, 229, 230, 251.
Visit our Reunions Page for everything about reunions (including how to plan one)!