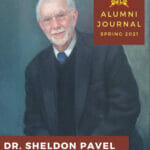 The latest edition is chock full of news and updates from Central and your fellow alumni. Check it out!
Stephanie Ostrich Mattei, 249, is confirmed for our next installment of Wellness Wednesdays! Join us on Wednesday, October 28th, from 7 pm to 8 pm. The topic is "Managing Stress...
Virtual or online reunions are currently scheduled for the following classes: none currently scheduled.