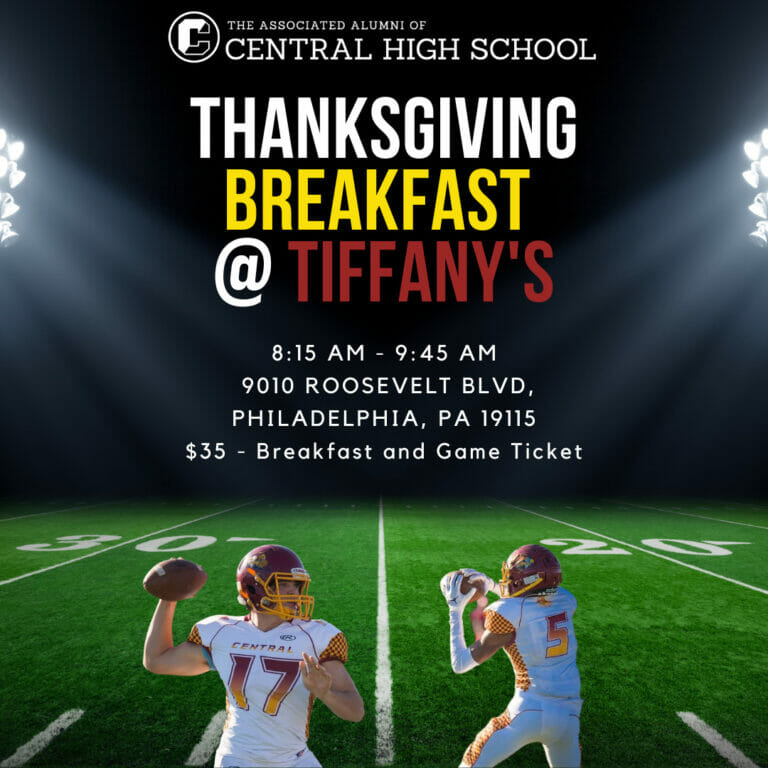 Join your fellow alums, students, faculty and friends on Thursday, November 28th at 8:45 AM at the Tiffany Diner (9010 Roosevelt Boulevard, Philadelphia, PA 19115) for a hearty breakfast, good conversation and...
We look forward to seeing everyone at the Knowlton Mansion in Northeast Philadelphia on Wednesday, October 19, as we celebrate the accomplishments of the newest inductees into the Central High School...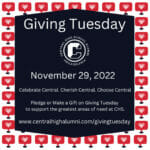 This #GIvingTuesday, we ask that you help us to exceed our goal of having 500 donors participate and make a gift on November 29, 2022.
Stephanie Ostrich Mattei, 249, is confirmed for our next installment of Wellness Wednesdays! Join us on Wednesday, October 28th, from 7 pm to 8 pm. The topic is "Managing Stress...
Join your fellow alums, students, faculty and friends on Thursday, November 28th at 8:45 AM at the Tiffany Diner (9010 Roosevelt Boulevard, Philadelphia, PA 19115) for a hearty breakfast, good conversation and plenty of school spirit!
Charter Day is here: today marks the start of a new AACHS tradition! June 13th is the date that Central High School was chartered. Starting this year, we encourage you to join us as we celebrate Charter Day by revisiting those "glorious days of old" and leading the way for future generations to preserve our Central traditions. How can you ring in the new tradition today? Make a contribution to our newly established Charter Day Campaign – monthly gifts of $18.36 or higher will receive a special Central-themed token of our appreciation! Reach out to a classmate or teacher, and plan a get together; check the reunions page or attend an AACHS event to reconnect. Message your class representative and see how you can get involved with your class and Central! Visit this year's Spring Journal to identify your class rep or contact the Alumni Office. Post your favorite CHS memory on our Facebook page – be sure to include #CharterDayCHS. Take a picture with your spiritwear and tag us on Instagram. Celebrate Central today, and every day. As the newest class has joined our alumni community – the bell rung as a symbol of commencement – here is some sage advice from one alumnus: "Here's the rule – you can only ring the bell three times," Ramon Guzman (271), AACHS Board Member and President of the 271st Class reminds us, as he reminisces on that moment ten years ago! "One: It is special to think of how many of us have rang the bell and connected our history of 'those glorious days of old' to present-day scholars. Two: To know that every single class that graduated from Central heard it, and all future ones will, too – is a special tradition to keep alive. Three: Join me in honoring our dear old High with a new tradition annually on June 13th: Charter Day!" The investment you make on this special day of giving will provide vital resources to every student, department, and program—the areas of greatest need to
Ms. Davis will make history as the first woman, and first person of color, and the first alumnus in nearly 40 years, to serve as President.
AACHS Celebrates Women's History Month As we recognize Women's History Month, we are reminded of the upcoming 40th anniversary of our alma mater becoming co-ed. It's the story of our legacy with which most of us have only slight familiarity — many brave young women entered Central's hallowed halls for thousands more to follow. But this was not achieved easily. The AACHS Office, proudly run by two of Central's alumnae, connected with numerous trailblazers who shared their experiences and thoughts on those first years at attending a previously all-boys institution. In reflection, alumnae who experienced an even-split student body at Central, who excelled in girls' sports, organized student clubs, and participated in musical performances, shared their reactions and realizations of the lacking opportunities and resources available to the alumnae who attended Central only a decade earlier. Join us, alumni, as we celebrate the changemakers and extraordinary alumnae whose contributions helped shape our co-ed legacy over the last four decades; who championed the rich traditions and academic excellence, making Central what it is today. Here are ways to support the work of our alumnae: Honor the memory or legacy of a Central alumna by making a tribute gift here. Nominate an alumna to the Central Alumni Hall of Fame or Central Faculty Hall of Fame; one whose achievements has made strides in their field, or left an indelible contribution to their community. Send a note of thanks to an alumna – let us continue to show our support and gratitude! Post a photo of an alumna and tag the AACHS to highlight the remarkable individual #leadingtheway #centralhighalumni
You are cordially invited to attend the Annual Meeting of the AACHS on Thursday, June 3, 2021, beginning at 7 PM!
Fred Gomez is not the kind of guy who spends time sitting around the house, despite turning 104 years old on September 9th, 2019. Twice a week, he takes transportation from his son's home in Maple Glen, Montgomery County to the Central Bucks Senior Center in Doylestown, Bucks County where he shoots pool in the billiard room they named after him two years ago. When he's not shooting pool, he's in the pool, swimming regularly at the Ambler Area YMCA. It was at the Senior Center on September 4th where family and friends gathered to celebrate his longevity and spirit. What keeps him going? "I don't worry about tomorrow or the next half hour," said Gomez, who graduated from Central High School in June, 1936, a member of the 166th Class. "I can't sit still, I have to always be doing something," he added. Gomez was born in New York City in 1915. His family moved to W. Berlin, New Jersey where he attended a one- room schoolhouse. They moved to Philadelphia where he attended Central. "I loved Central," said Gomez, who even as recently as seven years ago ran into another member of the 166th Class. After graduating from Central, Gomez spent time in the Civilian Conservation Corps, a voluntary public work relief program where he helped build the Hoover Dam near Las Vegas. At the start of World War II, he worked at the Philadelphia Navy Ship Yard. He was a member of the U.S. Navy Reserve and volunteered for active duty. He served on the destroyer USS Carroll throughout the war and was a Seaman 1st Class. The USS Carroll's home port was Pearl Harbor and Gomez served in both the Atlantic and Pacific theaters. During his birthday celebration, Gomez was given a citation by the Associated
The School District of Philadelphia, along with Central High School and the Associated Alumni of Central High School held a groundbreaking ceremony at the school today to mark the start of construction for Phase 1 of a unique public-private partnership called "Leading the Way for Innovation and Creativity."
The 2019 Winter Edition of the AACHS Alumni Journal has arrived! This edition contains information on the 2019 Annual Meeting; an article on Hall of Fame recipient, Betty Liu; new options for school spirit wear; the AACHS President's message: "all about the kids" and much more! Please send any feedback to alumnijournal@centralhighalumni.com. Thank you! For those who would like to get more involved with AACHS, we are seeking a website content editor, contributors to the Alumni Journal, and members to assist the AACHS Law Committee. If interested, please contact alumnioffice@centralhighalumni.com.
The AACHS is seeking the assistance of an individual(s) with experience in corporate/financial governance matters to aid in the drafting of governance documents for various projects in which AACHS is or will be engaged. Interested parties should contact Andrew Kessler (243) at kessler@litchfieldcavo.com. Thank you.
Central alumni, faculty and students now have the opportunity to get a glimpse into what it was like to be on the front lines of the world's financial markets over the last half century. Central alumnus Eugene (Gene) Rotberg (188) has gifted selected speeches and articles to Central High School. Mr. Rotberg, a lawyer and international investment banker, served as Vice President and Treasurer of the World Bank from 1968 to 1987. Prior to that, he served 11 years with the United States Securities and Exchange Commission. Mr. Rotberg chose Central to house these important documents for several reasons. "I benefited from the diversity of my fellow students at Central and that opened my eyes to different cultures from around the world," said Mr. Rotberg who also said the diversity of Central High School was immeasurably enhanced by the addition of women to the student body. "I would not have made this donation to the school had women not been admitted," Mr. Rotberg added. Mr. Rotberg said Central had a very accomplished faculty that facilitated his understanding of literature, history and the humanities. He said they are inseparable and provided a solid foundation for what he would achieve in his professional life working closely with developing countries. The materials are in four parts. The first part is "Globalization, Poverty and Protectionism," which deals with the economic conditions in the developing world. In particular, these articles/speeches describe the forces at play in developing countries which account for the trade imbalances between industrialized and developing countries and why these forces are irreversible. The second part is "Finance, Capital Market and Systemic Risk," which deals with the world of finance over the last 50 years. These articles/speeches describe how and why the financial savings of the industrialized world will continue to be channeled
The AACHS Summer/Fall 2018 Journal issue of the AACHS Alumni Journal is now live! In this edition, we have a recap of the annual dinner which broke all attendance records, a preview of the upcoming Alumni Hall of Fame event, a reflection on important moments in Central history and more. Of course, we have our favorite recurring features including Column C, Alma Matters, news on reunions and more. There's no time like the present to read through this season's Alumni Journal; subscribe today at https://aachs.z2systems.com/np/clients/aachs/subscribe.jsp. Please share your feedback – and if you aren't receiving the Journal via email, sign up today by emailing: alumnijournal@centralhighalumni.com.
School bells rang for the commencement of the 2018-2019 school year last week, just days before Labor Day. While many students hoped for one more summer day albeit in the sweltering heat, this year, for the first time in the school's history, students and teachers returned (or were welcomed) to classrooms that are air conditioned. 75 window unit air conditioners – a generous donation from the 228th Class – were installed over the summer by the Philadelphia School District employees.
Virtual or online reunions are currently scheduled for the following classes: 204, 206, 215, 217, 218, 225, 229, 241, 249, 251, 255, 261.
Reunions are currently scheduled for the following classes: 218, 231, 241, 271.
Visit our Reunions Page for everything about reunions (including how to plan one)!