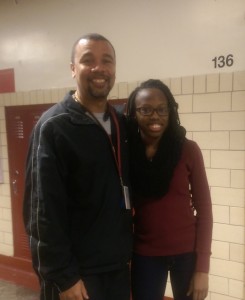 The track and field records set by Taylar Nichole Dallas (275) and her father, Jeff Dallas (245), are displayed side by side on a wall in Central's basement across from the school store.
And in fact, even though Jeff Dallas passed away suddenly when Taylar was just 7 years old, he is still very much all around his 16-year-old offspring as she makes her own way through life at Central and beyond.
For one thing, Taylor's coach for indoor track at Central is Fred McCray Jr. (246), a friend and teammate of her father's. (There's even another connection here, which we'll get to.)
Second, there is Central Athletic Director and Head Football Coach Rich Drayton (246). He was also friends and teammates with Jeff.
"He's a longtime family friend," Taylar says of Coach Drayton. "He knew me before I even knew him. He's more like an uncle to me."
Above, Health and PE Teacher/Head Track Coach
Fred McCray Jr. with Taylar Dallas;
Below, from the 245 yearbook, Jeff Dallas,
left, teammates and Coach Arnold Shiffrin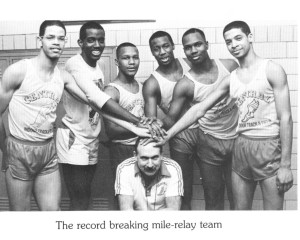 Then there's Arnold Shiffrin (205) in the mix. The retired longtime Central social-studies teacher was head track coach when Vince Wiliams (246), Jeff Dallas, Michael Waddington(245) and William Reed (247) set indoor and outdoor records for Central and the public league for the 4×400 meter relay in 1986.  That tandem also set a record for the 4 x 400 of 3:13.8 at the Penn Relays in 1986. Mr. Shiffrin still assists with Central's very large track team of 60 kids but he remembers accomplishments of that 1986 indoor track championship team in perfect detail.
"They talk about my dad and what he did all the time," Taylar says with a smile.  And of course her father is in her heart and mind in other ways every day. Before he died, "he was like my diary. If I had a problem he would be the first person I would go to. I still talk to him."
Because of both her father's and mother's backgrounds as runners and then coaches, Taylar was exposed to track at a young age. Older siblings Diandra and Curtis were runners too so basically 5-year-old Taylar had to go to practices because there was nobody home to watch her.
Understandably, it was quite difficult to stay motivated once she was a runner herself when her father died a few years later.
"I wanted to stop running a few times, believe it or not. Because sometimes it becomes too much. It's too stressful sometimes."
But just as quickly she remembers her inspiration. "I just keep running to run for him because he didn't get to see me do what I love to do."
The decision to attend Central was also inspired by Dad.
Now a junior with a solid B average, Taylar is making good impressions all around the school.
"She is a very classy young lady," says Coach McCray. "Exceptional leadership qualities, competitive, and very experienced and knowledgeable of the sport, a seasoned veteran of track and field."
Of her late father: "Jeff was a good friend, a great competitor and teammate. I had much respect for him because he took me under his wing when I first started running for Central. Also, my mom taught him in middle school so I think that had a little to do with it," Coach McCray says with a chuckle.  "However, he was a class act at a young age–a true leader. I see some of the same traits in Taylar."
On Dec. 30, Taylar set a Central record for the 60 meter hurdles when she ran a 9.3 at the Robert J. Burdette Indoor Classic at Lehigh University. That time qualified her to compete at the state indoor championship March 1 at Penn State University. Taylar also competes for Central in the triple jump, 100 meter hurdles, 300 meter hurdles, the 4×00 meter relay and the 400. She's hopeful the team can qualify for more state events before the deadline in a few weeks. The next meet is up at Lehigh this Friday.
Coach Shiffrin has told Taylar he thinks she's a better athlete than her dad was, which is saying a lot, but Taylar doesn't think that can be true. Still, she wouldn't mind setting another record or two at Central before its time to graduate.
Editor's note: When we shared a link to this article on the Central alumni Facebook page, lots of Jeff's classmates and teammates quickly shared their fond memories of him and the 1986 championship team. This one from David Rosario (245) was one of the coolest.
"Quick story from the 86 Championship Team. I was a tri-captain and shot putter (Team Shot Put Champ with AJ Smith). Well, anyway, 'Brook had won like 13 years in a row and the field events gave a 1st day lead for us to win. Jeff Dallas insisted on running the 400 bc he said he would win it. Normally that would have been the incomparable Will Reed's event but he was now switched to the 100 and 200 so we could get more points….Will did his part breaking records at 100 and 200 but most importantly Jeff Dallas took home 1st place in the 400 like he said he would…..Rest in peace classmate…245! And of course we beat Brook ending the streak…"