Fourteen distinguished Central High School alumni, living and deceased, have been selected as the 2015 inductees for the Alumni Hall of Fame.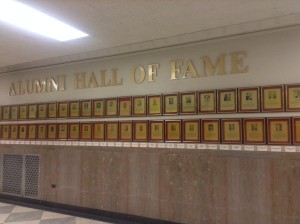 Honorees come from the arts, medical arenas and more.
Arts/Literary:  
   Eric Owens, 247, a bass-baritone, is described as one of the most sought after opera singers in the world. Mr.Owens discovered singing as a student at Central, where he also played the oboe. It is said that he made a name for himself with his performance in the opera "Grendel," but his role as Alberich in "Das Rheingold" at the Metropolitan opera in 2010 made him a star. Mr.Owens is a regular guest of the major American and European orchestras with many recordings to his credit. He has received numerous awards, including the 2003 Marian Anderson Award. Mr.Owens is a graduate of Temple University and the Curtis Institute of Music.
Richard Grossman, 204 (deceased 1992) began playing jazz piano professionally while at Central. During the 1950s and '60s, he worked with local jazz greats such as Reggie Workman, McCoy Tyner and Jimmy Heath. Later he was a member of the Jimmy De Priest Quintet and is described as "a master of jazz-based free piano  improvisation." In 1965, Mr.Grossman produced the first Philadelphia concert of free jazz and then led the rock band "Duck Soup" during the 1970s. He released several albums and also composed tape and electronic music, playing amplified cello, electric base and piano, vibes and percussion.
Business  
Joseph M.Field, 192,LLB.,D.M. founded the Entercom Communications Corporation in 1968,serving as CEO until 2002 and chairman of the board from inception. He served on the board of directors of the National Association of Broadcasters in the 1990s and currently sits on the boards of the Broadcasters Foundation,the Philadelphia Orchestra and the Field Center for Children's Policy of the University of Pennsylvania. Dr.Field received an L.L.B. from Yale and a D.M. from the Curtis Institute of Music. Prior to founding Entercom he practiced law in New York for 14 years and was an assistant U.S. attorney there. Mr. Field has also been a violin soloist with the Chamber Orchestra of Philadelphia. He and his wife, Marie, are well-known philanthropists who have supported many organizations over the years. In 2013 they endowed a professorship in spinal surgery at the Thomas Jefferson University School of Medicine.
Marvin Samson, 211, B.S. is an entrepreneur and philanthropist who founded Samson Medical Technologies in 1997 and serves as its CEO. His company specializes in injectable drug delivery systems. He was formerly Group V.P. of Teva's Injectable Division and chairman of the board of directors of  Qualitest  Pharmaceuticals  and  JHP  Pharmaceuticals.  Mr. Samson also founded two generic drug manufacturers, which were sold to  Wyeth  Laboratories  and  Schein  Pharmaceuticals,  respectively. He serves as chairman of the board of trustees of  the  Franklin Institute, Cooper Medical School of Rowan University, Virtua Hospital Systemin N.J., and is a member of the board of directors of Antares Pharmaceuticals, NanoPass Technologies and Flynn Pharma.  Mr. Samson holds five U.S. patents pertaining to pharmaceutical manufacturing and has received various awards for business leadership. He received his B.S. in chemistry from Temple University.
 Ellis A. Gimbel, CHS 79,(1865-1950), was a businessman and philanthropist, chairman of the board of the Gimbel Brothers Department store chain with locations across the U. S. In 1920, Mr.Gimbel led a caravan of 50 employees in 15 cars through center city Philadelphia,giving birth to the annual Gimbel's Thanksgiving Day Parade. He also sponsored the "Great Gimbel's Air Race"(Philadelphia to New York City) of 1911. Mr. Gimbel and his son,Richard, established The Gimbel Award to recognize outstanding service of women to humanity. Recipients included Eleanor Roosevelt, Pearl Buck, Amelia Earhart and Justice Sandra Day O'Connor. Mr.Gimbel's granddaughter, Mrs. Sally Taussig, remembers Mr.Gimbel paying each year for 10,000 orphans to attend the Ringling Brothers circus.
 David Pincus, 181, (deceased),was chairman of Pincus Brothers-Maxwell, Philadelphia's largest clothing manufacturer and a renowned philanthropist for world-wide causes. Mr.Pincus was a trustee at the Philadelphia Museum of Art and a member of the Fairmount Park Art Commission. As a board member of the Elie Wiesel Foundation for Humanity, he traveled extensively to observe, alleviate and report on instances of ethnic cleansing. As a member and board overseer of CARE, he visited numerous refugee camps in Africa, later raising money to send medicine and food. In 1993, Mr.Pincus was honored with Penn State University's Distinguished Alumnus Award, its highest honor.
Education
Arthur Shapiro, 220, PhD. (entomology), has been a professor of zoology at the University of California, Davis, since 1971. He received his PhD at Cornell University in 1970 and has been a visiting researcher at Oxford. He is a fellow of the Royal Entomological Society of London, The American Association for the Advancement of Science and has been a recipient of the Academic Senate Distinguished Teaching Award at Davis. Dr.Shapiro's specialty within the field of entomology is lepidoptery,the study of butterflies. In 1977 he initiated a long- term project in the Andes and Patagonia mapping butterfly distributions. Dr.Shapiro has  authored many influential scientific articles in his field.
 Leo Braudy, 211, M.A. PhD (restoration literature and history),  has been a professor at the University of Southern California since 1997, having previously taught at Johns Hopkins and Columbia universities. He received his Master's and PhD degrees from Yale University and is recognized as one of America's leading film critics. Dr.Braudy has authored numerous books and essays on film and film theory and has been a finalist for national book awards given by the New York Times and the Los Angeles Times Book Reviews. He is a fellow of the American Academy of Arts and Sciences, was the recipient of a Guggenheim Fellowship in 1974 and served as chairman of USC's Committee on Appointments, Promotions and Tenure for five years.
James G. Barnwell , (1833-1919), CHS '16 (1850), for more than 20 years served as librarian of the Library Company of Philadelphia, which was founded by Benjamin Franklin. He was also a teacher and principal at several Philadelphia public schools. Mr. Barnwell frequently attended meetings of the AACHS and was his class' representative, attributing his successes to his mother, Mary Gaston Barnwell, and to the education that he received at Central. Mr. Barnwell left his entire estate of $320,000 to Central and The Mary Gaston Barnwell Foundation began its activities in 1922, its stated purpose being "to encourage and reward the practice and principles of honor and moral courage by the students and graduates of the school." One of the foundation's earliest activities was to publish the first CHS Handbook and to establish the Barnwell Honor Roll and Barnwell Awards, which are presented at graduation to seniors who have rendered distinctive service to the school. Today, The Barnwell Foundation continues to support numerous activities at Central, including The Barnwell Library, which is the largest high school library in America. The Foundation is administered by a committee of individuals from the school and the private sector.
Ralph Horwitz,M.D., 223, is senior vice president for Clinical Evaluation Sciences and senior advisor to the Chairman of Research &; Development for GlaxoSmithKline and Harold H.Hines Jr. professor emeritus of medicine and epidemiology at Yale University. He completed a fellowship in the Robert Wood Johnson Scholars Program at Yale under the direction of Alvan R.Feinstein,M.D.,177, and joined the Yale faculty in 1978. At Yale, Dr. Horwitz later served as co-director of the Clinical Scholars Program and chairman of the Department of Internal Medicine. He has also been chairman of medicine at Stanford and dean of the Case Western Reserve School of Medicine. Dr.Horwitz served on The American Board of Internal Medicine and was its chairman in 2003. He is known internationally for his research in clinical investigation and outcomes research, and has authored numerous  medical articles in prestigious medical journals, serving on the Editorial Board of the European Journal of Clinical Investigation from 2009-2013. Dr.Horwitz has also been a member of the advisory committee of the director of the National Institutes of Health in matters of of biomedical research policy.
Neil R.Powe, M.D., M.P.H., M.B.A., 231, is chief of medical Services at San Francisco General Hospital and the Constance B.Wofsy Distinguished Professor and Vice-Chairman of Medicine,University of California,San Francisco. Dr.Powe received his M.D. at Harvard Medical School and an M.P.H. at Harvard School of Public Health. He was a Robert Wood Johnson Clinical Scholar at the University of Pennsylvania where he did his residency and also earned an M.B.A. there. Dr.Powe is chair of the National Advisory Committee of the Agency for Healthcare Research and Quality and is considered an expert in developing and measuring outcomes in chronic kidney disease (CKD). He has published more than 300 articles on CKD and was honored with the John M. Eisenberg National Award for Career Achievement in Research from the Society of General Internal Medicine. Prior to his position at UCSF, Dr.Powe was Professor of Medicine at Johns Hopkins where he directed the Welch Center for  Epidemiology,and Research. He was elected to the Board of Directors of the American Board of Internal Medicine in 2008.
John J.Cebra,PhD., 198 (deceased) trained as an Immunochemist at Rockefeller University in New York where he received his PhD. in protein chemistry in 1955, as well as in London and in Israel at the Weizman Institute. In 1961, he established a lab in the Department of Microbiology at the University of Florida and studied immunoglobulins, being credited with discovering the important functions of IgA and its role in antibody production. Dr.Cebra was Annenberg Professor of the Natural Sciences and Professor of Biology at the University of Pennsylvania until his death in 2005. In 1968, he received the Eli Lilly Award in Microbiology and Immunology while he was a professor at Johns Hopkins University and in April of 2005, the American Association of Immunologists Award for Excellence in Mentoring, followed by The First Lifetime Achievement Award from the Society for Mucosal Immunology,in June of 2005, shortly before his death. During his career, he traveled abroad with his wife,Ethel, to stimulate joint research projects with various laboratories. "Professor Cebra considered his major accomplishment to be the training of 32 graduate students and many postdoctoral fellows."
Religion
Arnold M. Eisen, PhD.B.Phil. ,228 was appointed as the seventh Chancellor of the Jewish Theological Seminary (JTL) in 2006. He is a Jewish Studies scholar in the sociology of religion who received his PhD. In the History of Jewish Thought from The Hebrew University of Jerusalem, a B.A. in Religious Thought from the University of Pennsylvania and a B.Phil. in the Sociology of Religion at Oxford University. Prior to Dr.Eisen's appointment to the JTL, he was Koshland Professor of Jewish Culture and Religion and Chairman of the Department of Religious Studies at Stanford University, having taught previously at Tel Aviv University and Columbia University.He is the first person with a social science background to serve as JTL Chancellor and the second non-rabbi. Chancellor Eisen has authored numerous essays, books and articles which deal with the sociology of American Judaism, the revitalization of the Jewish identity and the redefinition of the Jewish community. He has received 2 National Jewish Book Awards and the Koret Prize for outstanding contributions to the Jewish Community.
Law
Jed S.Rakoff, J.D., M.Phil., 214, is a U. S. District Judge for the Southern District of New York, appointed by President Bill Clinton in 1996. Judge Rakoff graduated from Swarthmore College with Honors in English Literature in 1964, earned his M.Phil. from Oxford University in 1966 and graduated cum laude from Harvard Law School in 1969. After serving as law clerk in the U.S.Court of Appeals, he spent two years in private practice, seven years as a federal prosecutor with the U.S.Attorney for the Southern District of New York and then headed the sections of criminal defense and RICO for 2 law firms. Judge Rakoff, Adjunct Professor of Law at Columbia University, is considered to be a leading authority on the laws pertaining to securities and white collar crime and has authored many articles on these subjects as well as on RICO and corporate sentencing. He has adjudicated many notable cases recently, including "Securities and Exchange Commission (SEC) v.Bank of America," as well as  "SEC v.Citigroup" and "Associated Press v. Dept. of Defense." In 2006, Judge Rakoff ordered the government to release  Information about detainees at Guantanamo Bay. A  Yankees fan, he quipped to the attorney representing victims in thee Madoff case, against the owners of the Mets, "Welcome to my ballpark."