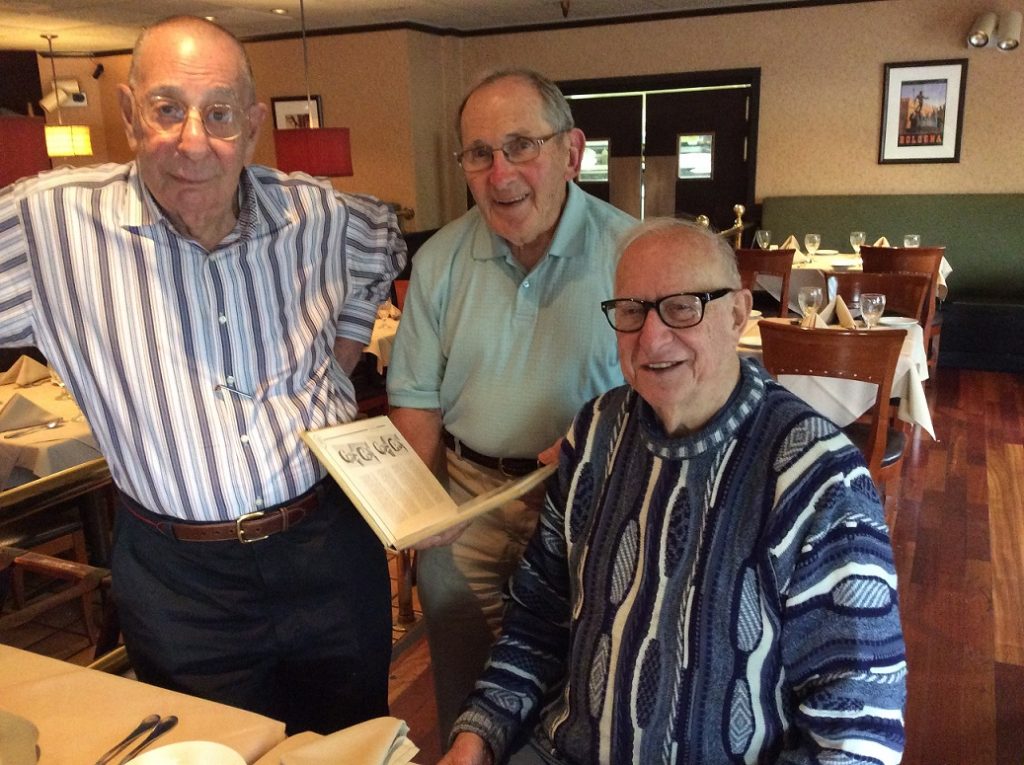 By Yvonne Dennis (246)
Star quarterback Norman Salvat almost died his senior year at Central High School.
Self-described "loner" Gerry King recalls a lot of antisemitism against others at the school in his years there.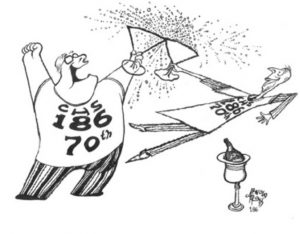 And Ed Jawer was dealing with issues from his childhood that left him "inattentive" as a student.
But life is full of trials for everyone, and these members of Central's 186th class, 70 years graduated, are not only products of "the Greatest Generation," they are products of an amazing public school whose lessons continue to shape their lives.
As Central's 275th class graduates into the world next month, members of Central's 186th class will gather around the same time to once again reminisce, celebrate and continue challenging each other to grow.
The 186 had some extraordinarily gifted members, including former Pennsylvania Supreme Court Chief Justice Robert Nix Jr.; "Peter Pan" musical composer Morris Charlap and world-renowned cartoonist Arnold Roth.
Arnold Roth is still living (he designed the 70th reunion illustration), as are about 75 other class members. Some are no longer in the area. Some are not in good health. And some, the reunion planners admit, are not interested in anything having more to do with their time from 1942-June 1946.
In their own words, here are the stories of three special guys who have done some amazing things, organized gifts for current Central clubs, and who wish the best for those coming after them.
Ed Jawer:
I graduated from Central probably in the bottom of the class because I was an inattentive student who had some issues when I was a child. I enlisted in the Army for two years. I spent the two years as a military policeman in Japan being part of the guard that traveled with the emperor. At that time they had no police. This was right at the end of the war, when you could stand at the top of a building in Osaka and just see rubble for miles.
I came home and went to Temple University because that was the only school that I thought I could get into and I went on to become a stock broker. During my career I was active with the Philadelphia chapter of the Association for Retarded Children, during which time the national association was trying to get schools to take in retarded children. And what we did was the Philadelphia chapter sued the school system and lost. I took it to the Pennsylvania Supreme Court and they found for us, in what was a landmark ruling called the Right to Education, which is now law in every state in the union and I really feel good about that.
I'm interested in wine. I am a wine writer, I lecture, give tastings. I write for the International Wine and Food Society. I have been a stock broker for 57 years. I have wonderful partners who I've given all my business to and I just go in for lunch. And I'm happily married. I was unhappily married for 20 years and have been happily married (to a second wife) for 35.
I have a daughter who lives in the San Juan islands between Seattle and Victoria. My son lives in Florida.
I am now 87 and I cannot believe I have lived this long. We have lived through the best time in the world and I feel like I am the luckiest guy on the planet.

Gerry King
I went to the Philadelphia College of Pharmacy and Science, which is now the University of the Sciences. I graduated with a degree in pharmacy. I then went on to Temple and got a masters in education and I did teach for a short time. I substituted before I went int to the Army. This was during the time of Korea. I wound up stationed at Valley Forge Army Hospital and they didn't need a pharmacist. They trained me to be a laboratory tech and then they didn't need a lab tech so I typed.
After the Army I wound up having a number of community pharmacies, not all at the same time. This was before CVS, and Rite Aid and Eckerd and Walgreen. I had one in West Philadelphia, one in West Oak Lane, one in East Oak Lane and then the last one in Cheltenham.
I was married almost 60 years to the same gal. She graduated from Girls High. Was a teacher in the Philadelphia School District and got her doctorate.I have four children. Two boys and two girls. The oldest boy, David, was in the 231st class. My son's teacher when he got his MBA  at Drexel was Dr. Milton Silver, a classmate of ours in the 186.
(Norman jumps in to say Gerry is an excellent bridge player.)
When the kids were little, we took bridge lessons at Cheltenham adult evening school and it sort of created a monster because whatever we do we stick with it. It was a life saver for me when I lost my wife. I played bridge this afternoon and I'm playing bridge tonight.
(Gerry says he's pretty good but not as good as Ed's wife, who is a life master. Gerry jokes, however, that he is a hot commodity as a gregarious widower who's out and about attending shows and serving as an usher at a few downtown Philadelphia theaters.)

Norman Salvat:
I was born on Halloween in 1928. I lived in Logan as a kid. At Central I played on the football team two years and I was seriously hurt in my senior year.
(Ed throws in: "He's lucky to be alive.")
I had a subdural hematoma, which is a blood clot on the brain. I was unconscious for two weeks. This happened after the fourth game of the year. I missed my 12a term (first half). I was awarded a varsity sweater when I came back to an assembly that was in my honor. And I still have the letter that was on the sweater.
The best basis of my education was Central.
(Ed jumps in: It was like we were at an elite college. We had teachers who were spectacular.)
Then I went to the University of Penn. I became a CPA. I've always worked in accounting in the Philadelphia area. I retired and sold my practice in 2000 and I spend the winter in Florida, Palm Beach Gardens.
I am married for 33 years to my second wife. I have one child and my wife has three children.  Together, we have five grandchildren.
I live in a gated golf community in Florida and I play a lot of golf. I'm not that good. I play tennis a lot, again not well. In my later life I've become an organizer. This is my third class reunion as organizer.
I have a monthly discussion group in which I am the facilitator. I try to get speakers and I designate a subject that we're going to talk about. This Thursday we have the associate consul for the state of Israel.
I'll never get plaques or awards for my career but I satisfied clients for 50-some years and I'm happy about the way my life turned out.