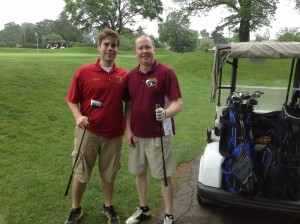 Threatened thunderstorms gave way to an eventually sunny day in more ways than one at the annual Golf for Lancers Pride today at Lulu Country Club in Glenside, Pa.
Fifty golfers (from as far away as Massachusetts, Georgia and Florida); about a dozen Central students; and a half dozen parent and or alumni volunteers enjoyed 18 holes of golf, a few competitions, a cookout lunch and a lively auction all to benefit the Central High Football program.
The football staff and dedicated alumni are trying to raise money to vastly improve Central's exercise and training equipment. Supporters believe that world-class equipment can help Central attract not only the brainiest students but the brawniest.
Assistant football Coach Chuck Wenger (260)
and bowling Coach Richard Johns
Alumni and other family interested in supporting this effort are urged come to next year's golf outing, come to the Thanksgiving game and contact head Coach Rich Drayton (246, coachdrayton@yahoo.com) about how else they may help. Central's football program thanks the day's many sponsors for their and support.
Here is a photo diary of today's outing, by RaeShelle Drayton (269) except where noted.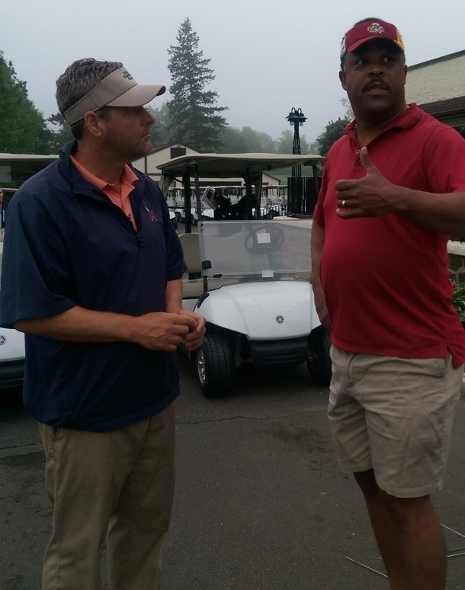 Former Central footballer Marc DeBeary (242), right, speaks with a Lulu Country Club staff member at the start of the day. Marc helped organize the day's events, and secured sponsors and prizes.
Cy Condit, left, and members of 248, Scott Thorell, Deron Wolfe (248) and Bryan Wilkinson had a fun time reconnecting with other alumni and Central teachers.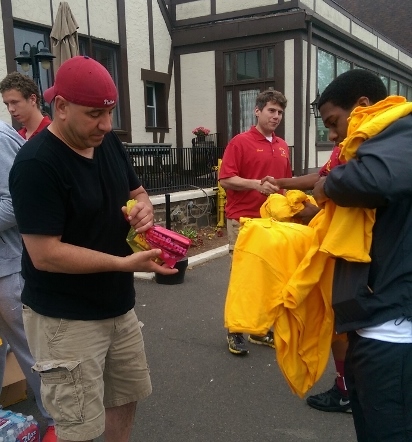 Ray Dimmick (246), a regular participant at the golf outing and a dedicated supporter of Central athletics, gets his gold golf shirt from a member of Central's football team. Photo by Yvonne Dennis (246)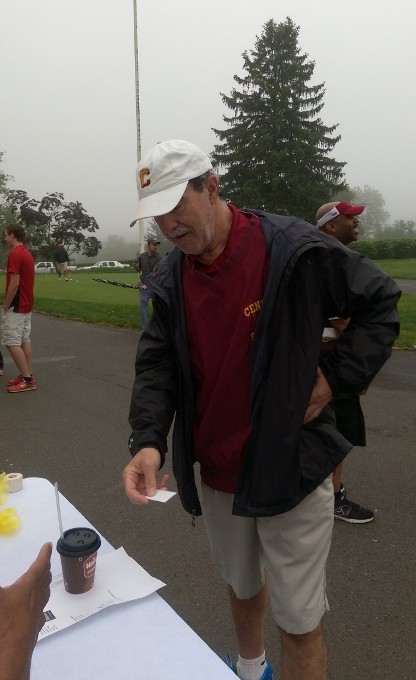 Retired Coach Frank Greco (228) checks in. Coach Greco's foursome came into the day having finished with the best score three years running. Another foursome won this year's however, coming in an impressive 9 under par. Photo by Yvonne Dennis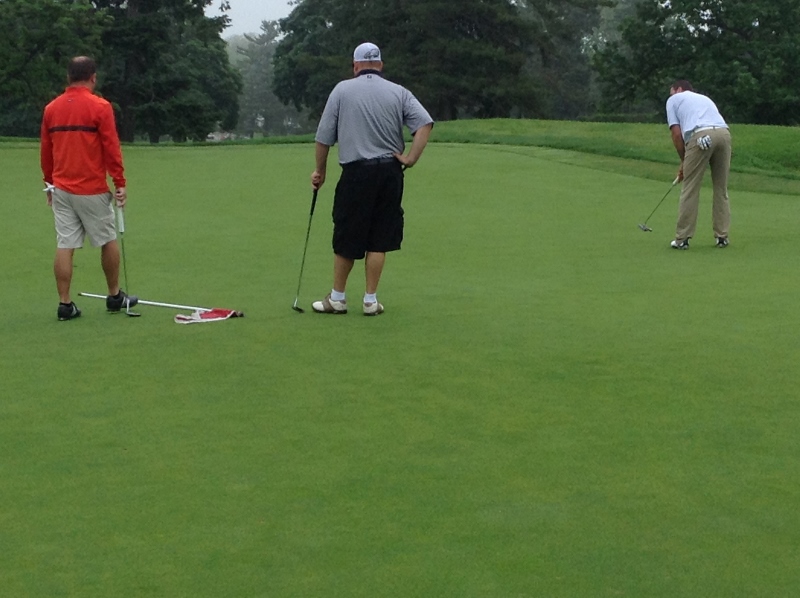 A group watches one of its members attempt a putt.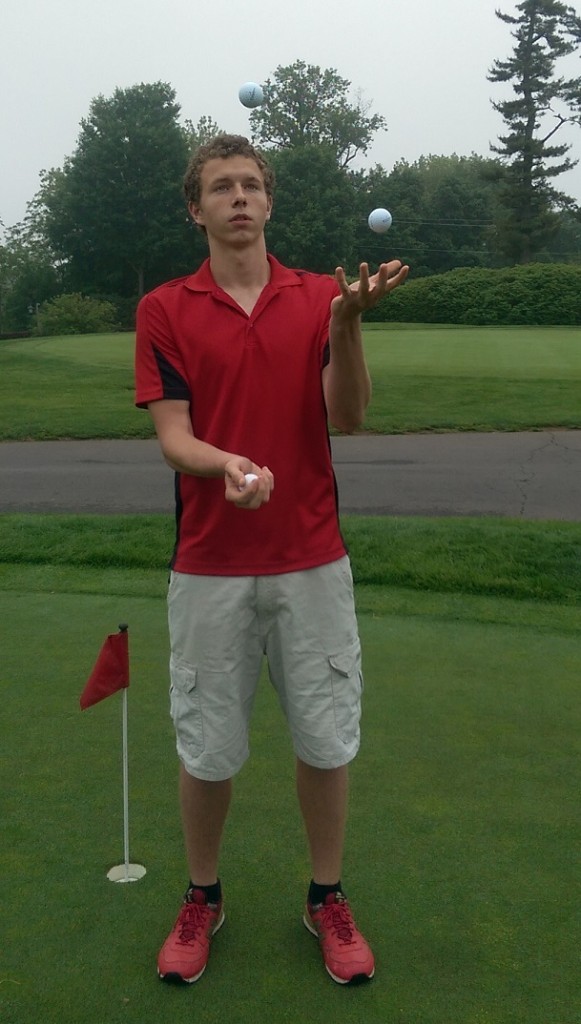 Student Skyler Jahn (276) was on hand to help the golfers, including his dad, Peter (244). Skyler showed off some fine putting skills and juggling skills. Photo by Yvonne Dennis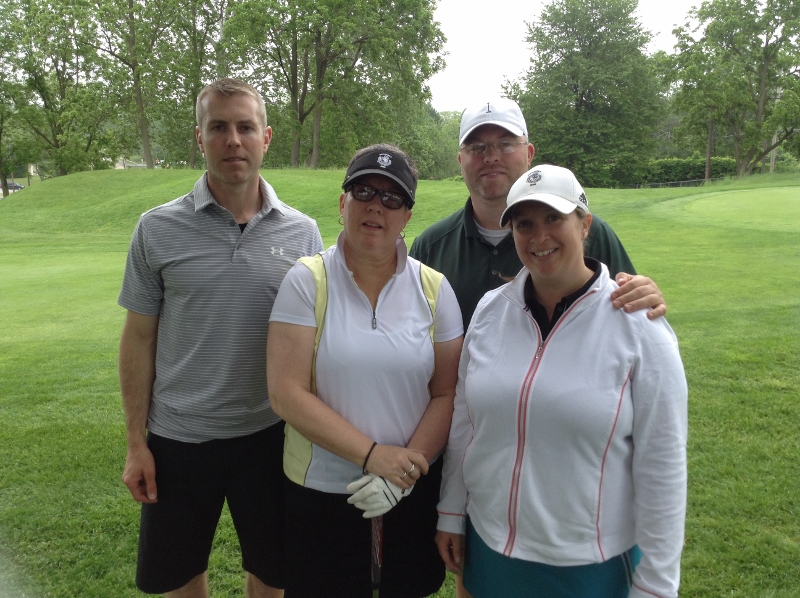 Central teacher Nicole Gaughan (257), front right, her fiance, rear right, and friends out on the fairway.
From left, Jamell Worthy (250), A.J. Smith (245) and Peter Jahn (244) became fast friends golfing as a threesome. Jamell won the day's competition for closest to the pin. Peter Jahn is a former editor of the Centralizer.
Leonard Murray (246) must have brought some good weather from Atlanta because the morning's clouds and light rain moved away quickly.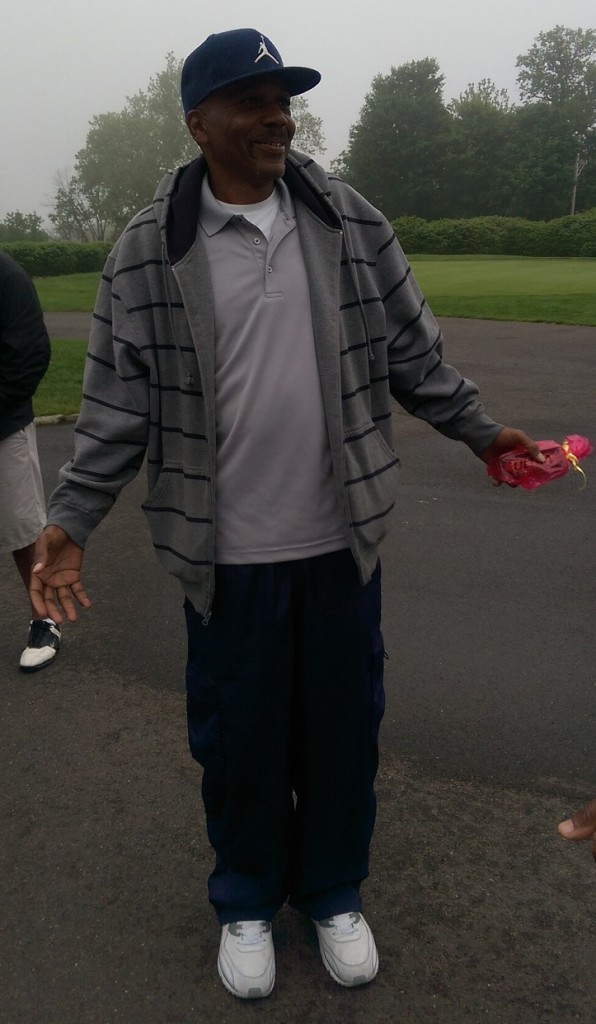 Ron Montgomery has been playing a lot of golf since retiring to the Sunshine State from Central and it showed in his skill.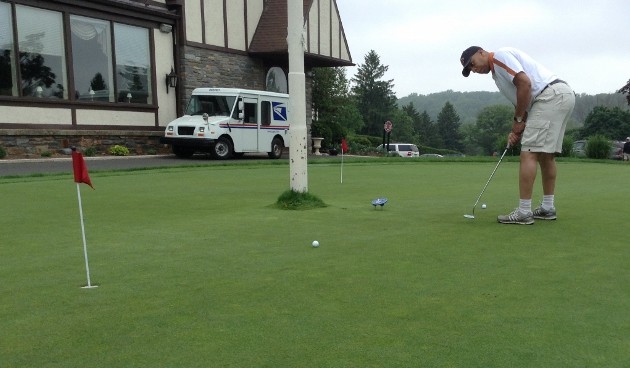 Dennis Barnes (246) sinks an 18-foot putt (the only participant out of 23 to do so) to win the putt challenge. Dennis won four foursomes at Talimore Country Club.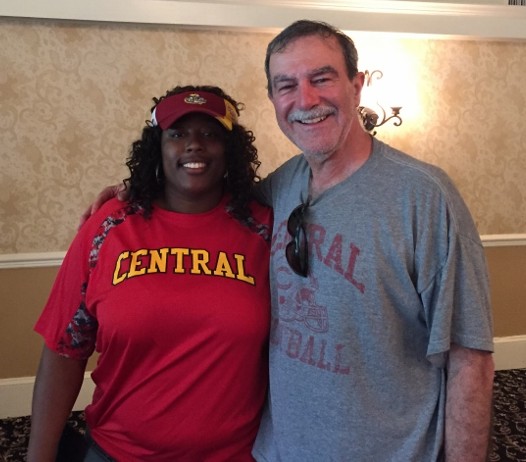 RaeShelle Drayton (269) with Frank Greco (228), who coached her in basketball at Central during the girls' team's run of 100 consecutive wins.
Head Football Coach and Athletic Director Rich Drayton (246) presents A.J. Smith (245), right,  with his prize for longest drive: Four foursomes at Talimore Country Club.