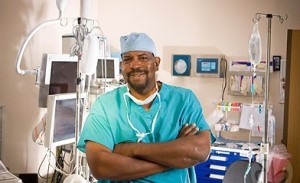 By Yvonne Dennis (246)
Dr. Cato Laurencin (235) has brought enough innovation to the field of joint repair and tissue regeneration that he is being  honored by President Barack Obama on Friday with the nation's highest award for technological achievement.
But Dr. Laurencin may yet be on the cusp of his greatest scientific work—leading a team of researchers not just in regrowing tissue but in regrowing complex human tissue, such as an entire knee and  leg.
             Photo courtesy of  the University of Connecticut.
"Last Veterans Day we announced a new project called Hartford Engineering a Limb (HEAL)," Dr. Laurencin said by phone this week, referring to the team of more than 70 faculty, fellows and students he leads at the University of Connecticut's Institute for Regenerative Engineering."  The project has a goal of, by seven years from now, being able to regenerate a knee and by 15 years from now being able to regenerate a human limb.
"We announced the HEAL project after the [announcement of the National Medal of Technology and Innovation] award, which is great because it says the work that we've been doing in the past has been very strong."
When the White House announced the winners in December, University of Connecticut President Susan Herbst said: "We are so very proud of Dr. Laurencin and this prestigious accomplishment. His unwavering commitment to pioneering medical, surgical, and research innovations are truly advancing scientific discovery and human health."
HEAL will target all kinds of trauma but it was outlined on Veterans Day because of the obvious links between war veterans and devastating injuries.
"We believe there may be a particular place in treating injuries of the war fighter," Dr. Laurencin said. "We're inspired by their work and their sacrifice."
An expert in shoulder and knee surgery, Dr. Laurencin over the last four or so years has specifically worked on the development of a new field he called regenerative engineering.
"It's material science, stem-cell science, physics , developmental biology and clinical translation for the regeneration of complex tissues."
Since putting a name to this convergence of studies, Dr. Laurencin said he is happy to have seen other groups embrace the area. He cited programs at Penn State, Purdue University and Georgia Tech.
But besides apparently being out front, UConn's effort is also unique in its equal inclusion of lay people in meeting the goal. The program recently launched a journal called Regenerative Engineering and Translational Medicine, which has a section of each paper dedicated to the lay reader.
Also, Dr. Laurencin said, the program will announce in May the launch of a new  society–Regenerative Engineering Society–that seeks community engagement as much as scientific.
"I think it's the first society that believes that the solutions to these scientific problems will come from people in the community as a participant and welcomes membership on an equal basis of individuals from the community, and scientists and clinicians," he said.
The doctor, a member of the Central High Alumni Hall of Fame, will be bringing a small community of his own to the nation's capital Friday to watch the president place the Medal of Technology and Innovation around his neck. That community will include his wife, Cynthia, and three kids, the oldest of whom will turn 21 on that day. UConn's provost and vice president of research, as well as Dr. Laurencin's siblings and some of his patients will be there as well.
Yes, the medical doctor, institute director, bioengineer, scientific-journal editor, blogger and professor, who tuned 57 this month, still has time to treat patients.
A frequent traveler who dislikes being away from his family for very long, Dr. Laurencin lives by a three-day rule. "If I am going outside of the country for more than three days I take a family member. Since I do a lot of work speaking in Europe and Asia and Africa my kids have been with me. So that's been fantastic."
Dr. Laurencin also makes time to get back to the Philadelphia area. A Sixers season-ticket holder, perhaps he can work on some regeneration on that front as well.
The technology medal adds to a string of Dr. Laurencin's honors too extensive to be done justice in this space. But another recent one bears mention: The Society for Biomaterials recently endowed an award called the Cato T. Laurencin  MD PHD Travel Fellowship to fund a minority student to attend its annual meeting, this year in Montreal.
Going where the educational road takes you was a theme Dr. Laurencin's mother instilled in him since youth.
"Get all the education that you can," he said she told him. "When opportunities came to take on extra education, extra training, I really heeded her words and really fought very hard and I'm so happy that I ended up making the choices that I made in terms of combining an MD with a Ph.D, which I wasn't planning to do when I left Central."
He urges current Central students to aim high and take on the types of experiences that develop growth.
"The keys for success—working hard, being a good person, being loyal, being resilient, being courageous– those are the traits. The sixth trait that's important is wisdom."
Dr. Laurencin's soon-to-be-available autobiography, "Success Is What You Leave Behind," expounds on those themes.  "It's important to be successful with the things that you leave behind, which is family, people you mentor and contributions you leave society."