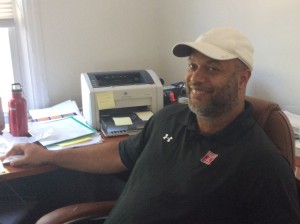 By Yvonne Dennis (246)
Sometimes when you see a job being mangled you just have to take control and do it yourself.
So what if you're only a freshman in high school and have no experience?So what if it's under a pretty big spotlight?
Merv Jones (243) got his start in radio, television and film production in just this way.
"My father and I were at the bank and WIFI 92 (radio) was on. I said, 'That sports guy is awful,' and when we came out of the bank we walked right past the station. So my dad said 'Did you want to apply for a job?' and I said 'Yeah.' So I went in and told the lady that the sports guy was awful and that I wanted to apply for his job and she kind of laughed but she gave me an application–and then they called me in for an internship."
Since that time in the early 1980s, Mr. Jones' versatile voicing skills, writing talent and ability to manage have well-served him in some pretty cool jobs–voice artist on Wendy Williams's old Philly radio show; media official for Dawn Staley's basketball Owls and other Temple University teams; teen-TV-show producer, and public address announcer at all kinds of athletic events. Here's an edited recent conversation with the former Lancers quarterback and track star.
Q: How did your career get going after you graduated from Temple? 
A: My first job out of school was at Channel 6. I was an audio technician. But what I really was was a field producer. I didn't know I was a field producer. They told me I was an audio tech, which meant that when we did interviews I monitored the audio levels. But I was the only audio tech that they sent just me and a camera person, to go get stories. So when I found out I was field producing I told them I wanted that title and they told me they couldn't give me the title.
While we were arguing back and forth one of my college professors told me about a sports job that I just took out of spite. It was for a TV show called "Greatest Sports Legends."  We would go out to California for six weeks or so for shooting and then we would come back and edit all the shows.
At that particular job a producer was the producer, the writer, the director and it was great that I could wear all three hats, do what they call script to screen production. I did that for five years.
Q: And then came what?
A: And then came getting laid off because they stopped doing the show. In the interim I was sort of giving back at Temple, tutoring student athletes and a  job opened up for an academic counselor. So even though I was slightly underqualified I kind of fit into that role.
I did that for about five years. Then I sort of shifted into media relations at Temple. I was responsible for women's basketball, volleyball and lacrosse. So my time overlapped with when Dawn Staley came. I traveled with her team.
Q: What was she like?:
A: She was really nice to me, really professional. I admired her a lot actually. At the time she was still playing so her ability to manage everything–I felt like she was a great model to the ladies she was teaching.
Q: And then you got back into television production?
So the guy who owned greatest sports legends, Berl Rotfeld, his son spun off and started his own company called Steve Rotfeld Productions and they were going to launch a new show called "What Do You Do and they needed someone to do a pilot. Berl told his son, 'Find out what Merv's doing, make him an offer.' So I took the job here and that was 2004.
Q: What kind of shows do you produce? 
A: It's mainly aimed at teens and tweens—educational and informational programming. We're nationally syndicated.
Q: How did the Temple announcing position come about?
A: My wife (Andrea) was doing a graduate  paper on the Sonny Hill basketball league and they needed a PA announcer for some afternoon games during the summer. So my wife said, 'Oh my husband can do that.' She came home and told me that and I said, 'I've never done that.' And she said 'Oh you'll figure it out. You love sports.' And so I did figure it out and through doing that I got offered a job announcing a national high school tournament.
Some guy was there scouting players and he said, 'Who is that PA guy and he came over and he said 'I run this Christmas tournament. It's big. It's national. You think you could come?'
It was in in Lewes, Delaware. It was called Slam Dunk to the Beach. It was huge. I saw Dwight Howard in high school, I saw a bunch of guys. I did that tournament up until it ended. The last tournament I did Lebron (James) was in. So every Christmas I went. The most games I ever did for the tournament was 40 games; I did almost every game.
Q: How did you prepare?
A: I just kind of was winging it. I would announce who made the basket. And I would see how the crowd reacted. I watched other announcers.  I started picking up little things, little nuances and there were three people who really influenced me –Dave Zinkoff, the legendary Sixers announcer; there was a guy at the Sonny Hill league named Saul Murphy; and then I was actually watching a Flyers game and I was listening to the PA guy there, Lou Nolan. His diction was very clear, especially with foreign names.
Back to how you got the gig as public-address announcer for Temple football, and men's and women's basketball:
The Sonny Hill tournament was at Temple and it was convenient for me because I was working at Temple. After I did it for a couple of years I went to Temple's administration and said who's the backup announcer No one could answer me so I said 'I'd like to be the backup announcer.'
The very next year there was a new athletic director. The guy who was the announcer for Temple, his first allegiance was to Penn. So he would do all the Temple games unless they conflicted with the Penn home games. So the new AD didn't like that. He said I want a guy who is all Temple. And so they gave me a chance to audition for it. So that year I split the season with another guy.  At the end of the season I asked, 'Well who's it going to be and the guy told me that me and the other guy were close in ability. I started laughing. And he said what's so funny. I said. Were not close in ability. If you want to give it to him give it to him. And he said what do you mean and I said well I do national high school tournaments. This guy is somebody you know. And so the decision was that neither one of us would get it. They picked a guy who was a Sixers announcer who quit the Sixers. He did it for one year and then the very next year right before the season he quit and they were stuck so they came to me and I've had it ever since. That was '98. I've also called NCAA tournament games, I called a game of my daughter's.
Q: You're at Career Day at Central every year. Any advice you would offer to young grads or current students?:
I would say to use the Central pipeline to try to maintain contact with as many people as you can because they're going to be leaders and successful people. And don't forget to mention Central because you never know who went there.
When you win the oratorical contest you get to go to this luncheon and so I went to this luncheon because I won my senior year. And three guys are talking and one guy's talking about MIT and one guy's talking about Penn and one guy's talking about Columbia. They're all planning my future. And I ran into the guy from Penn when I was a sophomore at Temple. He said, 'You know Merv, I still don't understand why you didn't come to Penn.' I said couldn't afford to go to Penn. And he got really angry and he said I'm on the Board of Trustees. If you wanted to go to Penn all you had to do was say so that day and you would have been at Penn!'