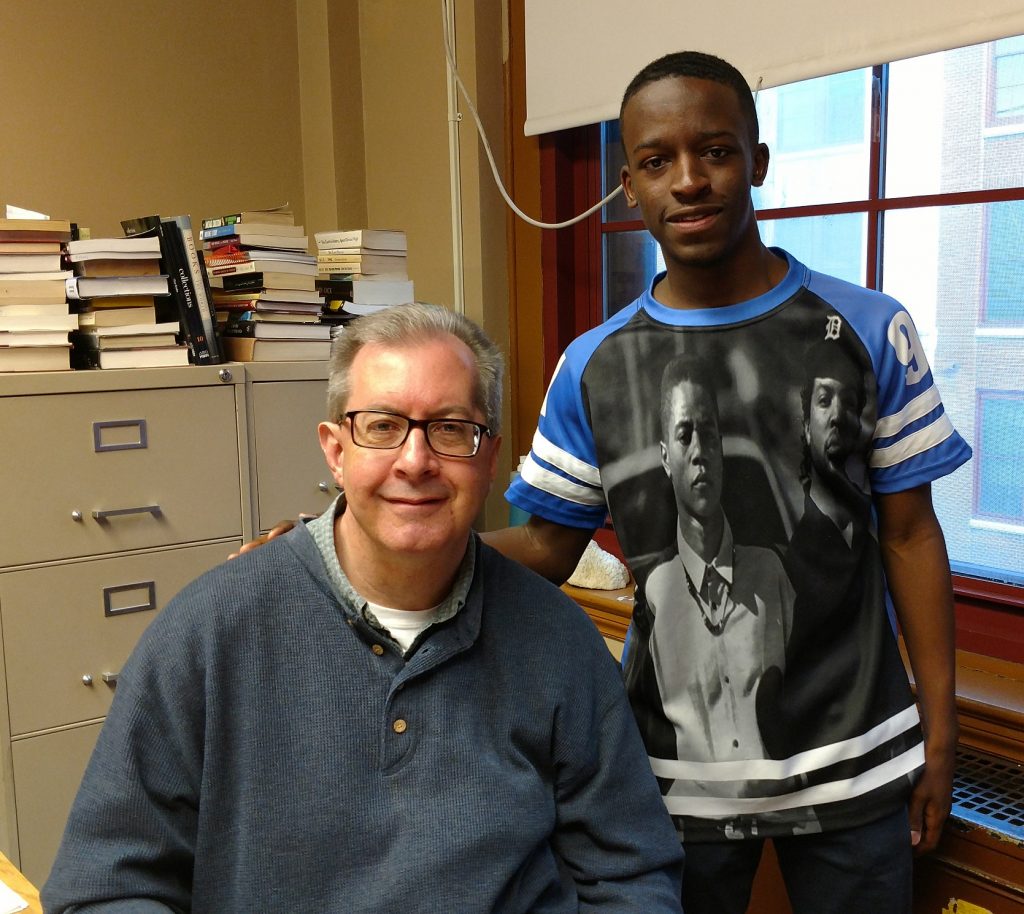 By Yvonne Dennis (246)
It's that time of the year when Central seniors are choosing their colleges–and trying to secure the means to pay for that higher education.
One of those seniors, Kristian Rhim, will be heading off to Springfield College in Massachusetts this fall with a lot of guidance and a few extra dollars from some of Philadelphia's best newspaper journalists.
Last week Kris (276) won a $1,000 scholarship as the top performer in this year's Acel Moore High School Journalism Workshop, a four-weekend program in February hosted by the Philadelphia Inquirer, the Philadelphia Daily News and philly.com.
"They spoke to us about how to become a better journalist," Kris said of the program named for the late Pulitzer Prize winning Inquirer columnist. "They had a lot of writing coaches there to help us improve."
Former Philadelphia Mayor Michael Nutter and Former Inquirer editor William Marimow,  recently promoted to Philadelphia Media News editor-at-large and vice president, were among those imparting  wisdom.
Despite having to miss some of the training time to dash off to indoor-track compettion with his Central teammates, Kris stood out to the facilitators of the workshop with his drive and demeanor. In addition to the scholarhip, Kris was rewarded with having his final product appear in the April 2 Sunday Inquirer for all its 300,000 or so readers to see.
"It was crazy," Kris said of seeing the article in the newspaper. He got four copies and of course told friends and family to get copies.
Kris' mom, Donna Rhim, is proud of Kris' growth the in last four years.
"He had a tough transition into Central and I encouraged him to keep trying," Donna Rhim said. "That can be a daunting task sometimes for teenagers, because it's easier to give up.
"I am most proud of the way he listened to the conversations that I kept going with him about being good enough and never counting himself out," she continued. "I've watched his confidence soar over the last year or so and with the title sports editor for the Centralizer. He took that position very seriously and has been working diligently at his writing. "
In addition to the indoor track team, Kris runs on Central's outdoor team, competing in the 200, 400 and 800 meters.  Last year he was the first leg of the relay that won first-place in the 4×400 meters at the Penn Releays. When he's not running or playing basketball, "he squeezes in time for 'SportsCenter,'  'Mike and Mike,'  'First Take,' you name it," said his mom.
Kris joined the staff of The Centralizer in his junior year and this school term became the sports editor. His receptiveness to a previous apprentice-type opportunity with Sports Illustrated and the 76ers, his love of basketball and a last name screaming for a pun persuaded Centralizer faculty adviser John McElhenny to approach Kris about writing a column they could call "Above the Rhim."
"Over time, he was the one who  created his ideas and has  developed a really interesting voice about issues," Mr. McElhenney said. "I think he has done an excellent job, taken the inititive week to week, following through."
This summer, for the fifth time, Kris will serve as a counselor at two youth camps that he attending when he was a kid. "It's fun seeing different kids all the time," he says of the experience, and, "It teaches you patience."
Then, it's off to Springfield, a college he chose because he can major in communications/sports journalism and because of the track coach's outreach to him.
"The only problem is I hate the cold, but it's ok."