By Yvonne Dennis (246)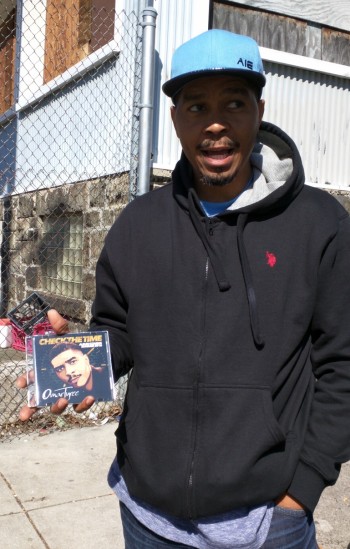 Making a living as an author for near 25 years only to find that audience habits are changing dramatically might be enough to prompt some writers to pack it in. Twenty five years in any entertainment industry is remarkable, none maybe more so than books given the falloff in American readership the last two decades.
But Omar Tyree (246) doesn't shy away from adversity. Seeing young folks almost constantly attached to their phones listening to music rather than reading his urban fiction gave the prolific author an idea to make himself relevant to a new generation of consumers.
Drive them to his books through music.
"I have to reintroduce myself to young people who don't know me at this point," says the author of 28 books, including a biography of former Washington D.C. Mayor Marion Barry. "I'm almost 50 at this point. My generation does know me. Then the 30s know me, then the 20s, some of them know me. The teenagers, forget about it. And so now if I get the teenagers and go back up through the 20s I can get people to know me and I can get back in the business of selling books and anything else that I want to sell on a cultural level."
The Charlotte, N.C., resident was back in his hometown of Philadelphia this week meeting with contacts for the album, which he's aiming to release this summer. He's also hoping to use a Philly-area high school gym to film an accompanying video.
"Louis Farrakhan said a dozen years ago that one rap song is worth a 100 of my speeches because they listen to it over and over again," Mr. Tyree says. "So I'm coming back in as the ol' head who is a storyteller. So now I gotta make sure that the beats are tight enough and my flow is tight enough where they can listen to me and then I gotta win them over."
The album, he says, will include some well-known talent and"have a video full of young Philadelphians dancing while I'm doing my rap thing and I think that will go viral."
The album will drop in some education about Philly hip-hop pioneers–Steady B, Schooly D and others. The video's gym setting should bring back fun memories for Lancers of their era.
"Central High School had some of the best hip-hop parties parties before they stopped having 'em. We had some of the best hop-hop parties in the city that these kids have never had because high schools don't do 'em anymore."
Mr. Tyree knows that the aspirations he has for the album, called "Check the Time,"are high in an era when reality stars with little actual knowledge draw more followers than experienced authors do.
"It's a calculated risk. Some people are like, 'Why would you do that?' His answer, with a grin:"I got a record for that too.  I'm not afraid. I'm too talented to allow myself to pass in an old age and these young folks not know who I am."
Sam Jackson and Steve Harvey are two names he puts out as examples of -late life successes.
And so to others like him he advises: "Stay in the game and do what you need to do. So I will throw that ol' head stuff in their face. We grew up where we listened to old heads and we respected them."
————————————————————————————————
Check out the track "Where Are We Now" at www.omartyree.com