By Yvonne Dennis (246)
When Edward Snitzer (191) set out for the world from the halls of Central High School 68 years ago, he had no idea of the impact he was to have on the law and civics in the state of Pennsylvania.
Today his grandson Joshua Snitzer (276) is also effecting change in an important field—auto safety– even before he's graduated. And Joshua will be punctuating his Central education with undergraduate studies at the same place his paternal grandfather made some of the most important contacts of his life, at the University of Pennsylvania.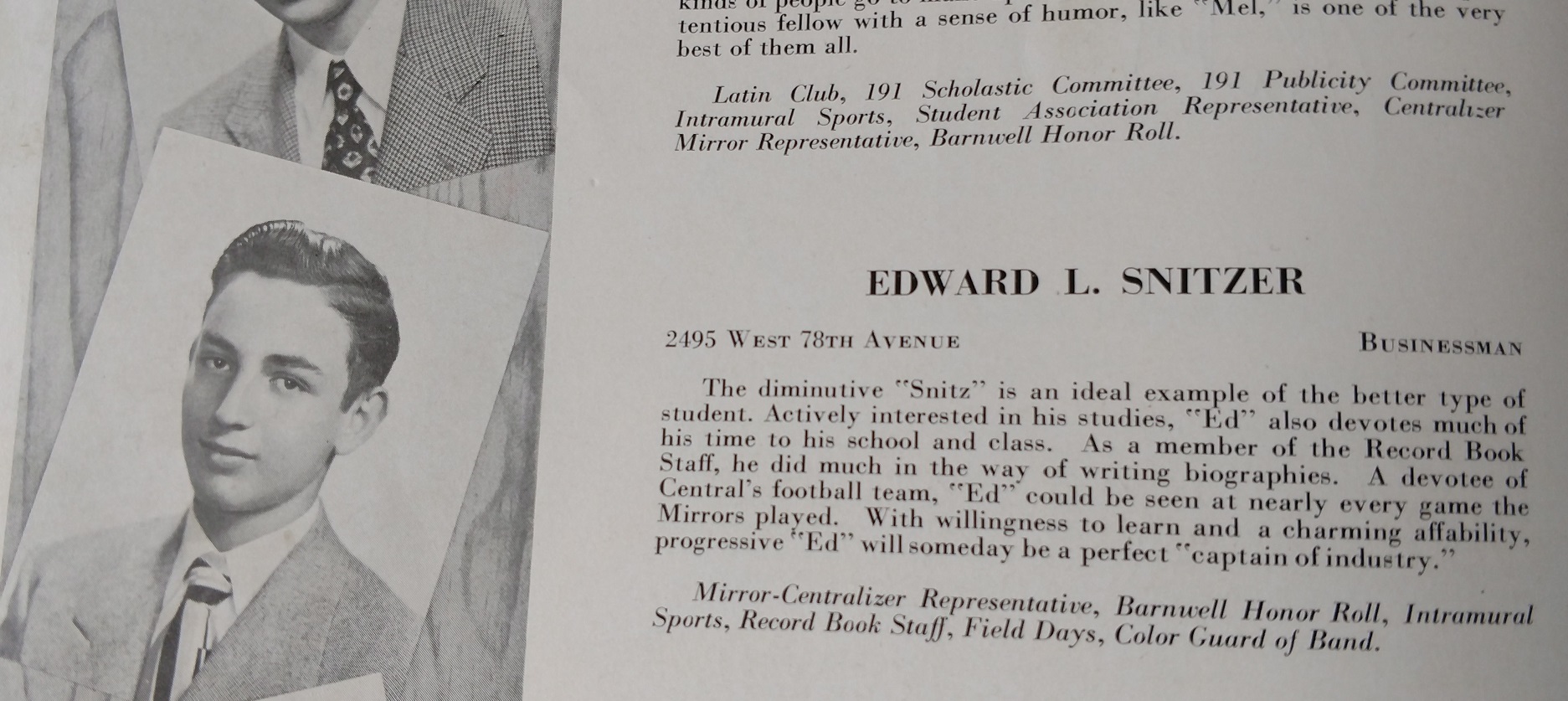 Ed Snitzer's February 1949 yearbook entry declared he would "someday be a perfect captain of industry." The writer was correct, but that would come after Ed's first two careers.
Ed earned his undergraduate degree in business from Temple University, then a law degree from Penn. He served for two years in the Navy on the Intrepid, then went to work for Philadelphia's Redevelopment Authority as deputy legal counsel.
"At the time I was at the Redevelopment Authority there were billions and billions of dollars being devoted to redevelopment, and the law at that time hadn't been updated since 17omething," Ed said.
As a Pennsylvania joint commission worked to revamp the law, Ed saw an opportunity.
"I was at an agency that was doing the law every day of my working career so I went to a legal publisher," Ed recalled. "I said, they're going to change the law. Why don't we have a text about the new law and I'll write it. They said that sounds like a good idea. So I wrote the text and it came out in 1964 and the new law became effective in 1964."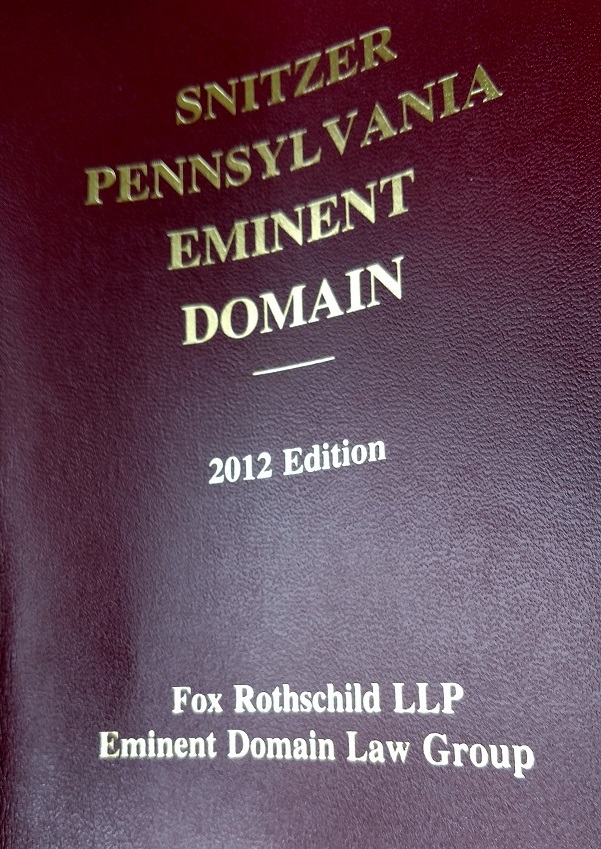 "Snitzer Eminent Domain" was well-received. Ed said he became an instant expert in the subject of eminent domain at just age 33, "amusingly to the point where cases went up to the Supreme Court of Pennsylvania and the Supreme Court of Pennsylvania in deciding cases said, 'As Snitzer says…' "
The book has been updated over the years and law firm Fox Rothschild has prepared the last 12 supplements. "Ed's treatise has stood the test of time, with periodic supplements addressing new statutory and case law," members of the firm's Eminent Domain Law Group wrote this year. Pennsylvania's Eminent Domain Code was substantially redone in 2006 so Fox Rothschild produced a new treatise. It is titled "Snitzer Pennsylvania Eminent Domain," and Ed wrote the foreword.
After seven years at the Redevelopment Authority, Ed went into private practice. By then he had been married a few years to a young lady from Chicago named Gail. They had begun a family that would grow eventually to four offspring–Andy, Paul (Josh's dad), Barbara and Fred. Ed was also teaching part time at Temple's law school.
When Ed was around 39, an uncle of Gail's approached him about taking over the family's meat-casing business. It was an incredible opportunity. Oppenheimer United was the largest natural-casing company in the world. It had offices in Iran, Russia, New Zealand, Australia and other countries. But the uncle said for Ed to have the job he would have to move to Chicago to be near him. Ed said, nah, he could do the job perfectly from Philly. The uncle said no, so that was that. But six months later the uncle relented and Ed took over, based in Philadelphia, often travelling the world.
Ed ran the business for seven years, until the uncle died and soon after the business was liquidated.
"Now I'm 50 years old," Ed continues with his story. "I don't want to go back to practicing law. It's too much fun running something."
Running the business opened Ed's eyes to the financial responsibilities of his position, so he wanted to get some formal education in that area. While still running Oppenheimer, he took an advanced MBA course at Penn. It was a bit over his head, but he was impressed with his teacher, Dr. Marshall Blume.
After the meat business was liquidated, Ed wrote to the distinguished Whaton professor with an idea for a business. Knowing that this highly sought-after finance expert must get dozens–possibly hundreds–of letters a month, he included a check for $1,500. "I figured he won't throw away the $1,500."
And, indeed, he did not. The professor called Ed, they met and he told Ed his ideas were very good. He gave Ed his check back and said the two should go into business together.
"So, 1982 we started an investment management firm called Prudent Management Associates," Ed said. "We have been partners now for 35 years. We have about $1 billion under management and I still go to work."
Ed and Gail, who will mark their 57th wedding anniversary on June 12, spend a lot of time going to concerts. They are often at the city's premiere music venues, including the Kimmel Center a half-block from their Spruce Street apartment, and not just to see the professionals play. Grandson Joshua has played piano and percussion all over as part of Central's concert band, jazz band and orchestra; Philadelphia's All-Public high school jazz band; and Temple University's Community Music Scholars Program.
Coming from a very small middle school—his eighth-grade class had only 29 kids—Josh was thrilled at what he found when he moved up to Central. Today he is one of about 530 seniors.
"At a very small school, it was almost like I was able to read everyone's mind," he said. "That wasn't too great. In Central you get your good group of friends, then people you don't know, people you want to know."
Josh especially enjoys bonding with fellow students and teachers in the music department.
"Josh has been a pleasure to work with," said Central Music Department Chairman Ben Blazer, who urged Josh to join Temple's CMSP to broaden his ensemble experience and his studies in music theory. "He and I have had many conversations about music composition, 20th century music and great pieces of music throughout the ages.  He is a talented performer and composer and I hope he continues to make music."
School days begin with rehearsal at 7:20 a.m. and often extend after the final bell with preparations for various performances like the Spring Concert last week.
Fortunately, Josh made early admittance to Penn so the college-choice pressure was off some months ago for him. He will, however, have taken six AP classes by the time he graduates from Central on June 16. And Josh has been performing some fairly intensive work for Children's Hospital of Philadelphia ever since he interned there last summer.
CHOP is analyzing car-acceleration data from the U.S. Department of Transportation to figure out how vehicles move vertically when they crash into a wall. The long-term goal, Josh says, "is to figure out how they can produce a better type of car seat that responds to these up and down movements."
Josh downloads the data from a Transportation Department website, makes sure it's not corrupted—"It's much harder than it sounds"—and analyzes it to find key points.
As the internship was coming to a close last summer, his boss asked if Josh could continue part-time during the school year. The teen, who can calculate his morning movements precisely in synch with SEPTA's Orange Line, was able to do so from home. He'll be back working at CHOP once he's done with the 12th grade.
"Josh has got some very unusual capabilities," says his grandfather. There's not a swelled-head part of him. He's just a nice person who has gifts that are different and that been a lot of fun to watch over the years."