By Yvonne Dennis (246)
For the generation that grew up in the late 1980s and paid even the slightest attention to high-school track, the name William Reed Jr. needs no explanation, no context, no superlatives.
A young man recently watching a tape of one of Will's old races put it perfectly—"Nobody's near you!"
That young man was Will's son.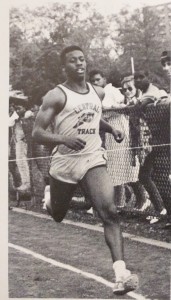 Thirty years after he blazed his way into record book after record book, into countless newspaper and magazine articles, William Reed Jr. (247) is now contentedly, mostly anonymously, living outside Atlanta. A member of the Penn Relays Wall of Fame and the holder of such records as the USA Junior Outdoor Track & Field Mens 400 meters, Will still occasionally gets honored by this association or that one. But mostly he can be found working long days and nights as a hospitality manager. Will is the proud father of two adult children, two small children and grandfather of two toddlers.
Alumni:  Tell us about your work.
Will: I work for Starwood. We have nine brands. I work for the Sheraton. I am a food and beverage outlets manager. I have five areas that I have to manage. I manage restaurant bar, lounge, dining, deli and our VIP club lounge.
William Reed helping the Lancers win the 1987 Public League Outdoor Track Championship
Alumni: And your family?:
Will:  I have two small kids. My son is 13. He's a football and lacrosse player. My daughter is 9 and she's a track and field athlete. That's my little jet. She runs the 100, 200 and the 400. Just like her daddy did.
Alumni: And speaking of athletics, what do you do to keep in shape?
Will: Now I coach football, lacrosse, and track and field (my kids' recreational leagues) so I'm out on the field two, three days out of the week. Right now we're in lacrosse. Next year my son will be in high school. They've already started lifting for high-school football. They get transported from the middle school over to the high school. The rec league is basic directly tied to the high school so you kind of run the same plays to get them used to the same system they're going to be playing in high school. I tell you, it's a lot more advanced than Philly. We weren't allowed to lift until high school.
Alumni: So take us back to graduating from Central and the decision to go to Morehouse.
Will: (Groans good naturedly) Ugh, do we have to go back there? Don't make me rehash that.
(Pause) Well, going there was a mistake. That's one thing I have to say. It was a bunch of empty promises and they don't value athletics there. It was basically their way or the highway.
(Despite that) We did pretty good. We got third at Division II nationals in the 4 x 100 and I got 2nd in the 400. I was injured. That was '88 and '89.
After that I left school. I just couldn't take it anymore, that  system that I was in, so I went home. Came back to Philly and started my career. I was working for Aramark. I opened up the Philadelphia Marriott at 12th and Market. I was there for four years, and then I went from the Marriott to the Bellevue working for Hyatt. And then I stayed there for a year and a half and then I went back into track and field. I moved to Raleigh, North Carolina, and started running for Nike.
It was a little different because it wasn't like a family like I'm used to. When I ran age-group track it was always a family, when I ran for Central it was a family but professional track–you're not a team and I was used to having a team support. But there, it was we have the same coach. We're not a team so I just thought they had the philosophy a little bit messed up. That was in '98. I did that six years, just going on the European circuit, running in the islands. Just the normal track and field season, Penn Relays.
Alumni: What was it like being back at Franklin Field?
Will: Coming back home to the home crowd was always fun. They showed me lots of love, but it wasn't like the old days, the Central days.
Alumni: When did you hang up the professional running?
Will: Around 2004. I moved to Atlanta after that.
Alumni: How much do your kids know bout your running career, all the high school sprint records you still hold?
Will: Not much. They just know I'm Daddy.  My teammates will call me or other  track friends from around the country and around the world.  They're like, "Will, do the children know who you are?"  I'm like, "No, man. I'm Daddy." They're like, "Are you kidding me? My kids know who you are!"
Alumni: Do you keep any scrap books or memorabilia at your house?
Will: All that stuff is at my parents' house (in Pennsylvania). When Shiff (retired Central coach Arnold Shiffrin) sent the DVD to me, my kids were just looking at that like, "What? Nobody's near you! This is ridiculous!"
Alumni: What has your dad (Longtime Penn Charter sprints coach William Reed Sr.) taught you about coaching?
Will: Everything.  I pretty much have to mimic what he did with me. Because it worked and I've seen him do it with with me and so many other young men who looked at Dad as more than a coach; some of them as a dad, some of them as a second dad, just a mentor.
Alumni: Did you make it up to Central when you were inducted in the Athletic Honor Roll in 2007?
Will: We actually had a bad storm and I didn't make it to the actual ceremony but my mom and dad went and my dad accepted for me. But I have the jacket!
Alumni: What would you say to young athletes today who might receive the kind of attention that you received, being in the New York Times, etc?
Will: Run! (Laugh) You have to stay level-headed. One thing my dad taught me: He said never read your own articles and believe what they're writing about you. You're only as good as your last game. You're only as good as your last race. So basically you have to work hard all the time and stay on top of your craft. And study because anything can happen so you're gonna need your education.
————————————————————————————————–
Lastly, Will tells a great story about his trip to the Penn Relays three years ago:
Will: My son, he couldn't believe it at the time, I said "Come on. I'm gonna take you on the infield where all the big boys are and I introduced him to Usain Bolt. I was like, "Look at you, Mr. Big Mouth. Don't have  nothing to say now! My son was like, "Uh, uh."
Clarification: William Reed has four children: Adults Ashely and William and younger children Tyler and Taylor. Previously, this article mistakenly failed to mention the older children.