Celebrating Successes From The Past Year
It has been an unusual school year as you can imagine. During this challenging time, the AACHS board has been meeting and working virtually – but we have not missed a beat. We have continued to ensure that students at Central receive the best education and resources in the city. This is in large part thanks to our alumni and CHS community who really stepped up to help in many ways!
Below is a snapshot of some successes from the past year, in addition to highlights of our newest alumni, the 280th graduating class of Central High School, shared by President Timothy J. McKenna during the 2021 Annual Meeting.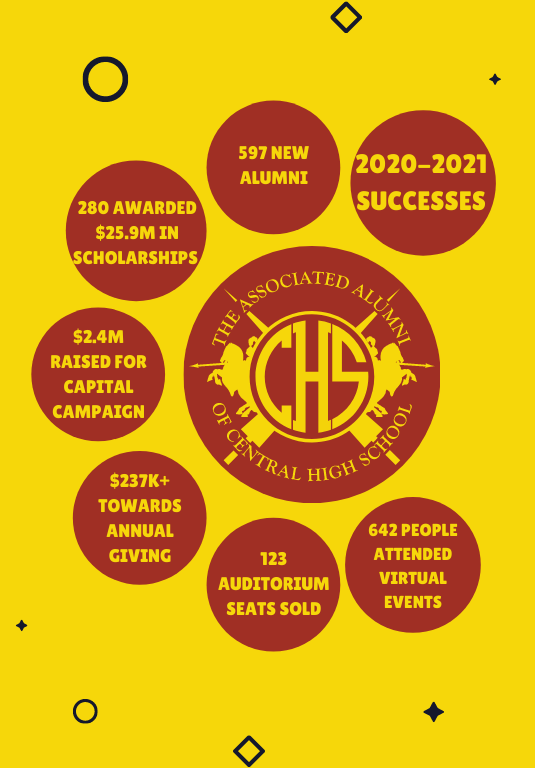 Central students are working to become the next generation of leaders, even as they deal with the unanticipated challenges that the pandemic created. In the 280th graduating class there were 2 National Merit finalists, 6 National Merit semifinalists, and 14 National Merit commended students. There were 152 students that scored a three or better on at least three AP examinations, including 10 students that were national AP scholars, scoring four or better on eight or more AP exams. These truly are remarkable achievements when we consider the hardships students faced with the unexpected shift to virtual learning.
Members of 280 have accepted seats at top universities around the nation – University of Pennsylvania, Temple, Penn State, Drexel, Howard, Pitt, MIT, University of Chicago, Emory, Cornell, Tufts, Villanova, Thomas Jefferson University, University of Oregon, Sarah Lawrence College, UNLV, and many more. Central students are attending top universities and representing our school across the country, undoubtedly driving progress to shape a more equitable society.
"Our students are achieving their goals because the AACHS and Central community has provided a network of support so that they may thrive in their professional and personal endeavors," said President Timothy J. McKenna about the 280th class.
The AACHS provides financial support that keeps our school ahead of the curve. We are moving forward, but we still need your assistance through alumni involvement and philanthropy. The Leading the Way Capital Campaign is crucial to us continuing our goal of offering cutting edge learning experiences for our students and faculty. 
There has never been a more critical moment to invest in Central High School. Make a gift today to support the students of today and the alumni of tomorrow.
We hope you have a chance to re-energize and relax this summer! The Alumni Office is a phone call or email away. Please feel free to reach out and connect anytime.