Yvonne Dennis (246)
What young baseball player hasn't fantasized about stepping up to the plate at a major stadium and hitting one out of the park?
On Monday April 24, members of Central High School's varsity baseba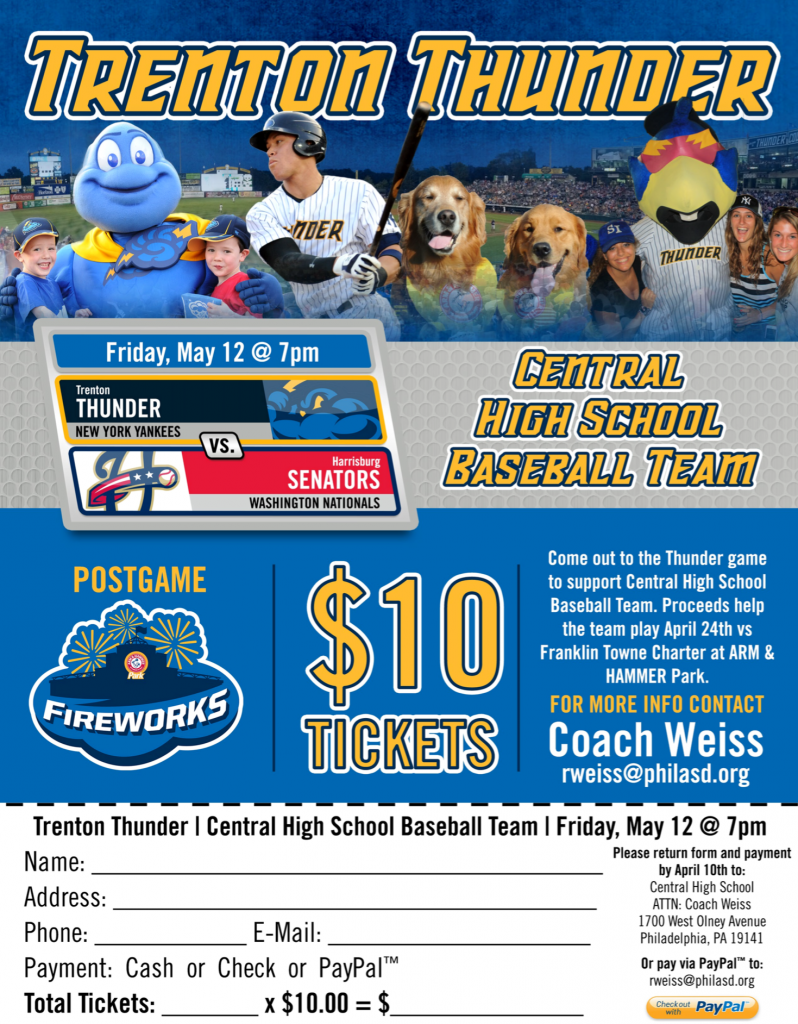 ll team will get a chance at such a thrill when they play at the home field of the Trenton Thunder.
Last year, the baseball Lancers attended a home game of New York Yankee's Minor League affiliate the Trenton Thunder at ARM & HAMMER Park in Trenton, N.J., for a team-bonding night.
Coach Rich Weiss recalls thinking at the time, "Boy,  it would be cool for us to play on a field like this."
He and his assistant started turning the idea over in their heads.
"I said this is a great thing for the kids, something they would never forget and may never get a chance to do again. So we said let's go for it."
Coach Weiss inquired with Thunder personnel and found out that Central could rent the stadium for $1400 and pay by selling tickets to a designated Thunder game. Central has committed to selling 200 tickets to the Trenton Thunder-Harrisburg Senators game on Friday May 12. The Thunder organization keeps $7 of every $10 ticket Central sells and Central keeps the other $3.
The Thunder organization hosted eight such community games last year and expects to work in at least eight or nine this year in between the 70 Thunder home games, said Special Events Manager Chuck Keller.
The Thunder organization provides the scoreboard operator, announcers and pregame affairs. The high school teams provide the umpires.
Coach Weiss said he spoke with several of Central's regular-season opponents to gauge interest and was delighted when Franklin Towne Charter committed. Franklin Towne will also make money for itself by selling tickets to the Thunder's May 21 game vs. Portland, Mr. Keller said.
The surprise and excitement expressed by Central's players when Coach Weiss unveiled the plan to them this week was priceless. Towne's Coyotes were no doubt just as amazed that they will traversing the same grass graced by Derek Jeter, Roger Clemens, Andy Pettitte and Chase Utley.
"We've been hosting these events for 24 years," said Mr. Keller.  "It's a  great way to connect with the local communities and have these student athletes get that once-in-a-lifetime opportunity to play here. We look at it as a way to help schools fund-raise."
Mr. Keller said as of now there is no rain date for the game, "but if we would need to do that, that would be something that the coaches and I would discuss."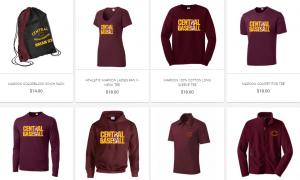 ARM & HAMMER Park holds 6,150 fans so Central hopes to see plenty of parents, alumni and friends come see its young athletes. Fans who want some fresh Lancers spiritwear may visit centrallancers.com  First pitch is at 4 p.m. Maybe one of the Lancers will send a ball screaming the 400+feet out over the centerfield wall.
———————————————
2017 Lancers Varsity Baseball Schedule And information for the Annual Alumni Baseball Classic
March 16  scrimmage home vs Boys Latin
March 21  scrimmage home vs Swenson
March 27    H vs. GAMP
March 29    H vs. Northeast
March 30    H vs. McDevitt
April 3          Central @ Shipley- 4:00 p.m
April 4          H vs. Frankford
April 6          Central @ Esperanza
April 7          Central@Judge 4 p.m.
April 17        H vs. Washington
April 19        H vs. Abington Friends
April 21        H vs. Jenkintown
April 24        H vs. Franklin Towne Charter at ARM & HAMMER Park in Trenton, N.J.
April 25        H vs. Germantown Friends
April 26       Central @ Swenson
May 1            Central @ Lincoln
May 3           Central @ Prep Charter- 2:45 p.m
May 5          Central @ Masterman
May 8          Central @ Science Leadership Academy
May 10        H vs. Olney Charter
May 17      H vs. Spring Field
May 18     Central @ Lower Moreland- 3:45 p.m.
And on Saturday June 10, the Lancers will be hosting their other major fund-raising event of the year: the second-annual alumni baseball game at Lancers field, Ogontz and Somerville avenues. This is serious hardball with jerseys, umpires and skin left on the field. First pitch is at 10:30 a.m. Cost is $100 and gets you a commemorative jersey.alumgameform
Non-baseball alumni who prefer to take things a little lighter, tell Coach Rich Weiss if you would like to play a game of softball. (This game will be contingent on the number of responses. Email rweiss@philasd.org ) Proceeds benefit the baseball program. Last year, the school was able to buy a new pitching machine and batting cage thanks to generous alumni and friends. Register for the baseball game here.