By Yvonne Dennis (246)
"Salve," seniors greet Liz Hestand as they enter her advanced Latin class on a Monday morning.
"Salve," she returns, continuing with more Latin dialogue to warm them up for the day's lesson.
It's common, of course, for students and teachers of foreign-languages to banter in this way to improve learning. But stepping into Room 252 at Central High School is to be immersed in more than just a language.
A vivid painting evoking theater and mythology dominates the back wall. Student artwork, charts, maps, and ancient philosophical quotes decorate more areas, including the ceiling.
Perhaps the most interesting poster is the one that asks: "Why Would Anyone Want to Speak Latin?" After all, it's not like one can travel to a country where it is majority spoken.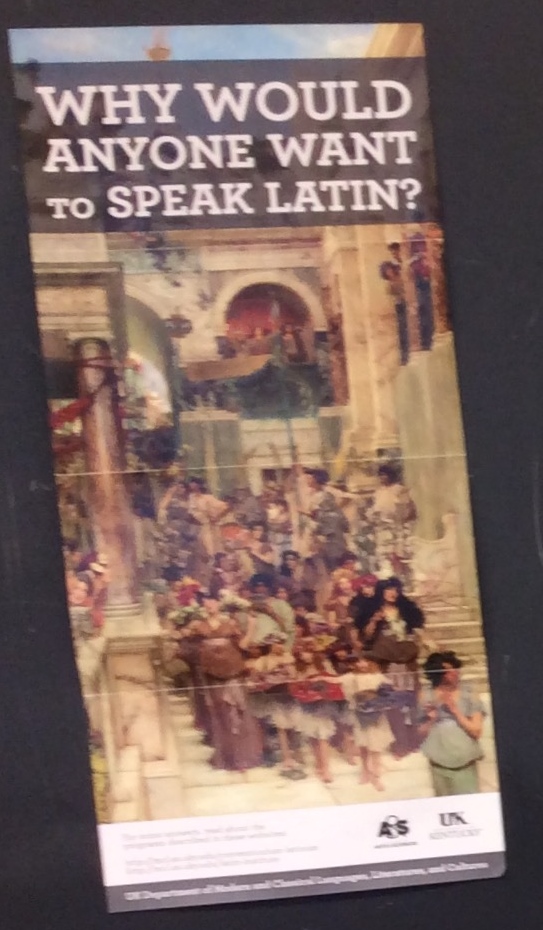 Even so, Latin is omnipresent in science and medical writing, and classic literature. More than 2,000 years after its beginnings, it remains the official language of The Holy See, so all the cool popes speak it.
Spread through the vast Holy Roman Empire, Latin recalls the ancient philosophers and the Mediterranean conflicts that shaped the modern Western world. It is the foundation for the Romance languages Spanish, Portuguese, French, Italian, Romanian, Catalan and Sicilian, spoken by nearly 800 million people combined world-wide, according to aboutworldlanguages.com.
To truly learn about all of these subjects and more is to learn about Latin. And since there's nothing like going to the source when learning about anything, Miss Hestand is taking 16 excited seniors to Naples and Rome during the coming spring break.
It will be "like walking through the past," says 275's Ameerah Stewart, who is most looking forward to climbing Mt. Vesuvios and reading the graffiti inscribed on buildings by ancient Pompeians.
Natalie Bonilla, also of the 275, is excited about going to the Vatican at its most holy time of the year–Easter–and visiting Rome's Esquiline Hill, "where poets would live."
Both girls say they were drawn to take Latin for their required language study because it wouldn't be the most crowded.
Helping Miss Hestand manage on her first trip of this nature will be two other Latin teachers from other schools and an expert from the Paideia Institute for Humanistic Study.
The nonprofit Paideia Institute promotes study of the classics through experienced-based educational programming. The institute found a donor to help support the trip, Miss Hestand says, and students and their families are paying what they can. The rest of the funds needed–about $1,000 per person–are being raised through a gofundme campaign.
"There is a lot of study involved," Miss Hestand says of the coming trip. "It's a joyful study of Latin."
That joy can be found in the oddest of places. For example, "There's a board game at the Forum that the students know how to play," says Miss Hestand, who is also an archaeologist specializing in Roman ceramics. Even the accommodation for much of the trip–a monastery–is an education.
———————————————————————————————————-
Please go to https://www.gofundme.com/rpea6eg if you would like to help Central's senior Latin class take this invaluable educational trip.