Central music students performed a moving winter concert Thursday night of upbeat jazz, traditional Christmas concertos and choral singing for about 250 schoolmates, staff, parents and alumni.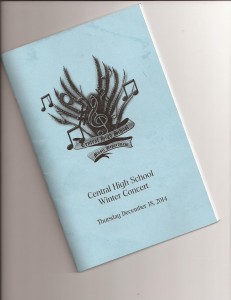 Under the direction of Erica Hess, the choir opened the show with selections including the Austrian carol "Still, Still, Still," "African Noel" and the rhythmic spiritual "Take Me to the Water." The choir also surprised Miss Hess by singing happy birthday to her.
Next followed the award-winning jazz band, directed by Michael Franchetti (255). Words don't do justice to the skill with which the band executed the very complex "Overture from the Nutcracker" and other selections. Check out this video clip featuring soloists Jovaan Volcy (tenor sax) and Gabe Preston (alto sax). (Apologies for the amateurishness of the videography but the music was worth sharing.)
The wind ensemble and later the string orchestra, conducted by Mr. Franchetti, Kristine Yang and finally by Ben Blazer, continued stirring the audience with selections including Handel's "Concerto Grosso in G Major" and the "Winter" segment of Vivaldi's "Four Seasons."
The choir returned to the stage and closed the show, with the  orchestra and music department alumni invited up from the audience, performing Handel's "Hallelujah Chorus" from "Messiah" and the school song.
The music department hopes to see alumni
back for its next grand production, "Oklahoma" in the spring. Click on the image to enlarge.