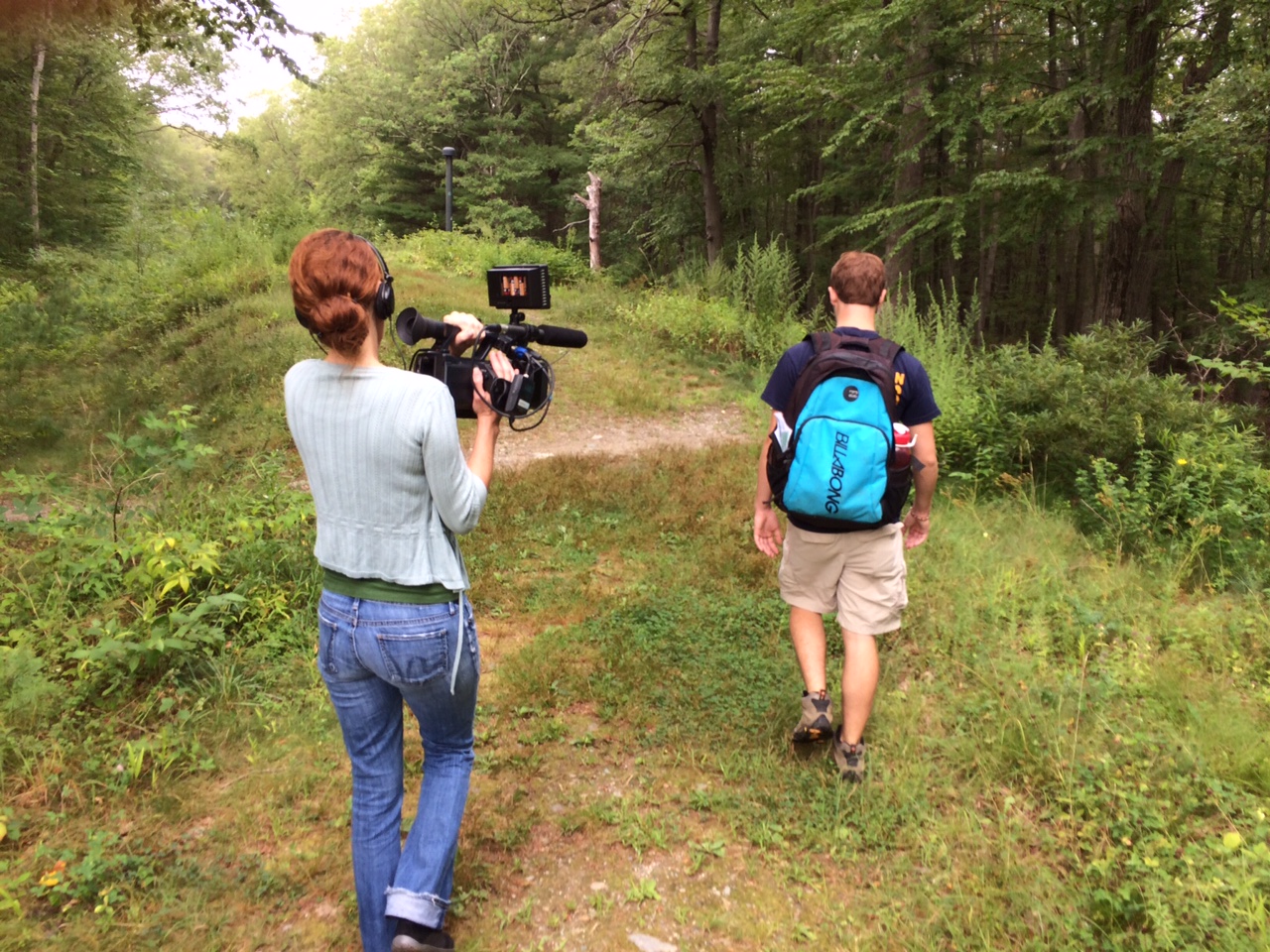 Jennifer Hallam filming "What I'm Made of;" Ms. Hallam was nominated for an Emmy award in 2006 as part of the team of researchers on the PBS documentary "Slavery and the Making of America."   (Photos courtesy of Jennifer Hallam)
By Yvonne Dennis (246)
In the fall of 2012, Central alum Jennifer Hallam (251) quit a great job as a producer on "Sesame Street" to jump out on her own and make an independent documentary.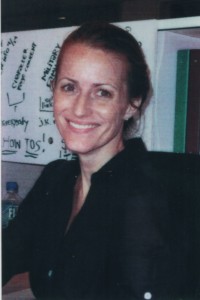 Three grueling but enlightening years later, "What I'm Made Of ," the story of a group of transgender teens and their doctor, is in production, with an anticipated release in early 2016.
"My passion for championing diversity, critical thinking, and youth voices–all things that are driving my work on What I'm Made Of–have deep roots in my experiences at Central," Ms. Hallam says. "I know that others have carried similar values beyond Central's halls into their lives, work, and worldviews."
On Tuesday Sept. 29 Ms. Halam and her production partner launch their Kickstarter campaign to raise funds for production. (View a trailer of the doucmentary at WIMOdoc.com)
Here's a Q&A with the Cornell and Penn art history graduate on the importance of this project and her Central influences
Q: What makes the subject of transgender teens of such great interest to you?
A: As a doctoral student, my work focused on portraiture and the creation of identity (both personal and collective), particularly with respect to sex and gender. Some of the most intriguing images I studied were the ones that transgressed expected social norms. So, studying that area between or beyond gender binaries (male and female) is something I've been interested in for a long time. Growing up in a household that spent weekends at peace and human-rights rallies in Washington, D.C., I also have a deep commitment to equality. So trans teens appealed to my desire to help promote social justice.

Q: How did you learn about Dr. Michelle Forcier and were there any privacy issues with you contacting the doctor's patients?
A: Before we started filming anything, we spent half a year doing research and talking to trans folks, allies, advocates, parents and doctors around the country. The director of a camp for transgender youth in New England mentioned Dr. Forcier to us. We visited Michelle in Providence (R.I.) and immediately knew that she was special. She had the ability to say things that many people would consider radical in a way that made them seem obvious and not radical at all. We loved her devotion to her patients, her empowerment of youth, her holistic approach to pediatric care and her belief that above all else, kids need to be loved, accepted, and supported for who they are. We asked her if she would participate in the project and she agreed.
There were many concerns about patients' privacy and safety. My partner, Jane Renaud, and I worked closely with Dr. Forcier and our team of professional advisers to create a comprehensive safety plan for all teens interested in appearing in the documentary. This included a media workbook and individualized and external safety plans, which would be completed with the help of a media adviser and counselor respectively. This was all before we even reached out to any teens or parents. Since there are laws protecting minors and health information, we could not reach out to any of Dr. Forcier's patients directly. Instead, we used flyers, handouts, and letters distributed through her office to invite patients and families to contact us or attend meetings about the film. We also sent out information through a local LGBTQ youth group, as well as counselors and teachers in the area.
Everyone participating in the film must sign a HIPAA release issued by the hospital, as well as an appearance release to be in the film. For those under 18, parents must sign permission.
Q: How big a crew/staff do you and your co-director have for this documentary?
A: This is a SMALL operation. Because of the intimacy of stories teens and parents are sharing with us, Jane and I decided that we would shoot everything ourselves. On occasion we will work with a production assistant, and we do have some help from the teens on our teen advisory board, for whom we're trying to build a greater sense of ownership of the film. An artist and designer helped with the film art and prospectus, and the trailer was created with an editor, color corrector, sound mixer, and musician; we will have people filling these roles when we edit the full film as well.
But mostly, it's just me and Jane–doing filming, research, outreach, social media, fundraising.  We'd love to bring more folks onto the project and hope to be able to do so as we raise additional funds.
Q: When you quit your job at PBS, did you have a start-up grant for this project?
A: I was eager to work on a project of my own creation. Jane was in a similar spot in her career. When we decided to work together, it gave us the confidence to take risks that we might not have by ourselves. We were able to start making the film with a seed donation from my good friend, Simon Sinek, author of Start with Why and Leaders Eat Last. Simon thought we had a strong "why" and, fortunately, believed in me, my vision and passion for the project.
Ms. Hallam (left) with friends from 251 at their 20th reunion.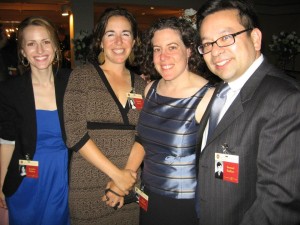 Q: When you were at Central did you think you would be making films as a professional?
A: I never thought that I would be making films. I did take art my sophomore year at Central and thought about becoming a graphic designer at some point, but by the time I graduated, I was set on becoming an anthropological linguist of all things! I majored in linguistics my first two years of college, switching over to art history as a junior.
The idea to make documentary films didn't occur to me until I was finishing my dissertation at UPenn. I had been searching for a way to engage in public education and was pining to do something more creative and artistic. Documentaries seemed to offer a way to do both. A year before graduating, I moved to New York, where I had been accepted as an intern at Thirteen/WNET to work on an amazing PBS series, "Slavery and the Making of America." I loved every moment of the internship, soaking in as much knowledge as I could. By the time the project was over, I had a job offer at Thirteen and an Emmy nomination.
Q: Was there anything specific at Central that you think helped prepare you for this quest you are now on?
A: Central instilled in me a deep belief in critical thinking. My teachers were always pushing us not just to regurgitate facts but to analyze and ask questions. I've taught art history in a number of places, including UPenn, PAfa, and Rutgers, and that emphasis on critical thinking is something I have consistently brought with me into the classroom and tried to pass on to my students.
"What I'm Made Of" is all about asking people to think about what gender is, what it means, and why it matters.
Finally, during my four years at Central, I participated actively in a program called Odyssey of the Mind. "OM" is competition that asks teams of seven to work together to conceive, create, and present creative solutions to problems. I've been searching my whole life for a job that would basically be the equivalent of OM–a collaborative endeavor that requires out-of-the-box thinking, hands-on making, and sharing a final product with an audience. Film is the closest thing I've found yet. Funnily enough, it turns out that Jane also participated in "OM" as a student.