Dr. Pavel at his home in Elkins Park, Pa.
By Yvonne Dennis (246)
For the thousands of students who attended Central High School from the mid-1980s through to the spring of 2013, Dr. Sheldon Pavel is an unforgettable figure.
With his famous pipe or cup of coffee almost always in hand, Central's  longest-serving president(28 1/2 years) steered the magnet school through the integration of female students, Philadelphia's charter-school explosion, and the challenges that came with state oversight of the district via the School Reform Commission.
His incredible memory for names and backstories continues to endear him with alumni as he attends 10, 15, 20 and other class reunions. Soon a portrait of Dr. Pavel, by Manayunk artist Irene Nunn, will join those of his 12 predecessors in the computer room in Central's library. We spoke to Dr. Pavel about retirement and what the honor of the portrait means to him.
Q: What have you been up to since retiring in July of 2012?
A: As I say to people is, what I've been doing is nothing. We (Dr. Pavel and wife Paula) have two grandchildren so it has been a priority to try and get out to Kentucky, which is where they live, and to see them as often as we can.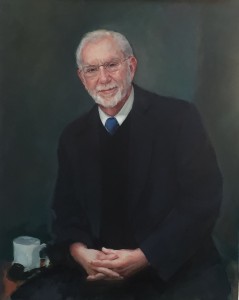 What retirement has done has been to enable us to do that at a time other than July or August. And the other thing is the hours between 6 and 9 in the morning are spent sleeping as opposed to working dealing with the angst of being on call with everybody.
Q: Do you keep up much with school-district activities?
A: I talk to a couple of people who are still principals. Whenever Mr. (Central President Tim) McKenna wants to give me a call I'll listen and do whatever he asks but I found that he is very competent and probably doesn't need any help. I read both papers every day–one of the old people who likes printed material rather than digital so I enjoy doing that. Between the people that do talk to me and the papers, I stay, I guess, somewhat involved. I'm very glad that I have not had to suffer through the budget gorge.
Image courtesy of artist Irene Nunn
Q: What are some of the things you are most proud of from your tenure at Central?
A:  When I started at Central, which was January of '84, the school's enrollment was under 1,000. Young women had just started that previous September and there was lots of work that needed to be done. So I think what I'm most proud of is the role that I played in creating a totally, fully multicultural environment where everybody was welcome and everybody was valued.
I was particularly proud that I started the ESL program at Central. Because there was a population that was not being served at all. There were other things–we did a lot of work on curriculum. I made it a priority to the extent that I could to bring graduates on to staff. That was something that I did deliberately and I was very proud of.  There were some obvious things that helped the school that I played a role in–the major construction projects that occurred during the time I was there, the gym. The art rooms were refurbished at the same exact time and the science labs, and then the library of course, which was later on.
Q: What kind of Central events do you like to get back to?
Reunions, International Day. International Day–it's a celebration of culture. It's an opportunity for people to learn outside of the classroom and inside of the classroom. As the years went on, different pieces were added–whether it  was the hallways, whether it was the food, whether it was speakers in the classrooms.
There was a  lesson that my wife taught me a very long time ago that I used as a way of looking at the world and that was too often adults in situations say no, whether they don't want to take the time to figure it out or whatever. So what I did was the converse. I looked for a way to say "yes." So if there was an idea that made sense, let's try it. If it didn't make sense, let's amend it so that it did make sense.
When I started at Central people weren't allowed to wear shorts and the young man who was president of the senior class came to me one day and said "We would like to wear shorts." And I said ,"Ok." And I think I shocked the hell out of him.
I just didn't think that clothes, other than wearing them, were that important to what you did. When the school district went into uniforms I figured out a way to stay out of uniforms. Luckily nobody bothered me on it. They looked at the achievements of the school and said don't bother him.
Q: What would you like future Central students to know about you when they look at that picture of you?
A: That I cared. And that hard work matters.
————————————————————————————————————————————————-
We will let you know as soon as Central and AACHS set a date for the dedication ceremony of Dr. Pavel's portrait.