At the Philadelphia region's most diverse school, diplomacy matters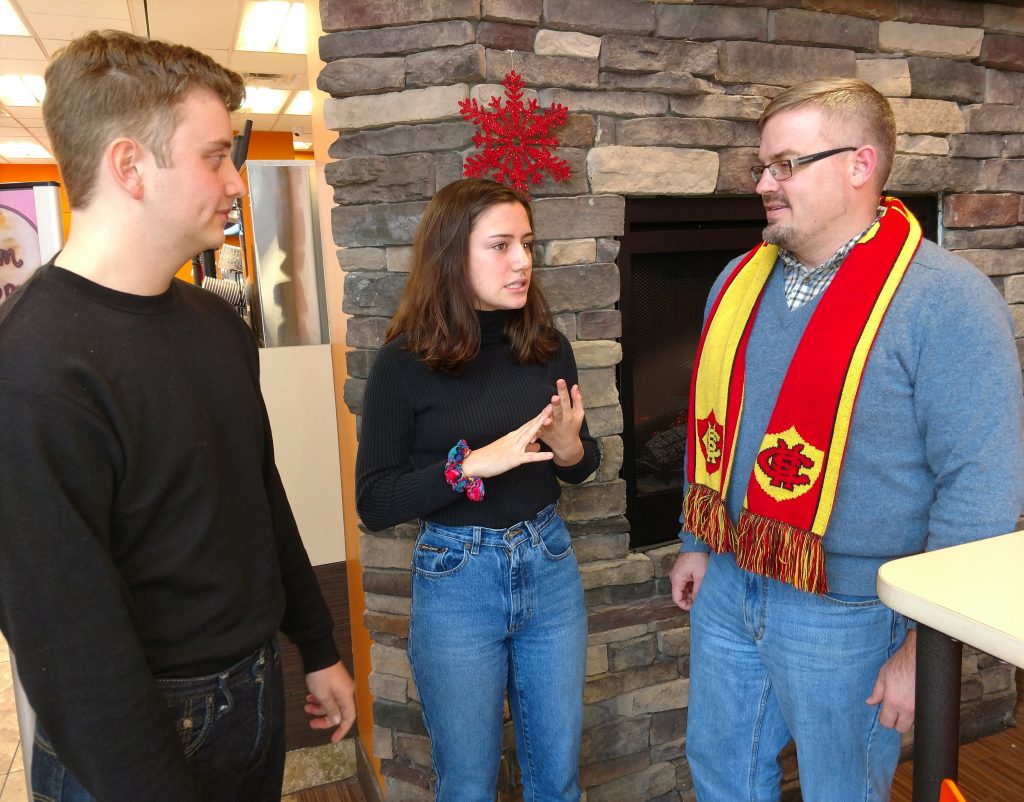 By Yvonne Dennis (246)
While many Americans today are staying as far away from political talk as they can, especially in mixed company, a group of Central students has sought to not only study the most contentious global issues of the day, but to develop the diplomatic and policymaking skills needed to address those concerns.
Central junior John Faller (278) enjoyed the work he did as a member of the Student Diplomat Club when he attended Penn Alexander School, a K-8 partnership of the University of Pennsylvania, the School District of Philadelphia and the Philadelphia Federation of Teachers in West Philadelphia. So at the beginning of this school year, John asked some classmates who had also been with him at PAS if they would want to start a similar club at Central. Central's Model U.N. club was born and one of its co-leaders became Abigail Leedy (278), a fellow PAS alumnus and a friend of John's since at least the fourth grade.
Helping to bring it all together was Central English teacher Benjamin Hover. Mr. Hover taught John for 7th and 8th grades at PAS and is now coincidentally in his third year teaching at Central.
The Model U.N. club got its first major challenge in December when a group of 10 students participated in The World Affairs Council of Philadelphia's 2017 International Student Summit at Temple University. The event simulated an emergency NATO summit to address a developing crisis in the Baltic region similar to Russian aggression in Ukraine. Students were sent briefing papers and tips for preparing ahead of the summit, but they didn't meet their teammates from other schools until the Dec. 13 event. All country assignments (about eight students per country) and areas of study were random.
"I was on the cybersecuity council," said Abigail. "The day was split up so that we met in a large group to discuss the overarching issues regarding Russia and then we split up into regional blocs."
As a representative for Portugal, Abigail met with the representatives for Spain and Italy to formulate the Mediterranean bloc's official statement on the issues. "It was very cool and then we had to share that with the wider group," she said. "It was a test of our communication abilities."
The selection of Portugal was serendipitous, as Abigail's family is Portuguese.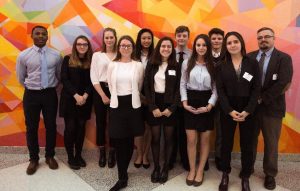 After the Mediterranean bloc formed its position, Abigail went around to other blocs trying to form alliances, but her efforts weren't successful, she said. The Mediterranean bloc, which depends on Russia for much of its energy needs, wanted less sanctions and military response than did other blocs. Still, Abigail was awarded Honorable Mention among the best delegates at the conference.
John was the economic delegate for the Netherlands. As the No. 1 importer of Russian goods, the Netherlands (team, that is) was in favor of sanctions to "sway the people of Russia to quiet down," he said.
Of the 25 public, Catholic and private schools represented, four were from Philadelphia, 16 were from the suburbs and five were from New Jersey. Abigail said many of the student diplomats had done Model U.N. before so she found it a little intimidating, "but the Central kids were really prepared."
The Central team paid the $55-per-student entry fee through a grant from the 224th class's STEAM fund–science, technology, engineering, arts and mathematics. Members of 224 educate Central staff about money they have raised specifically in support of Central education efforts and consider grant applications for activities the school can't afford to fund.
"We are so lucky to have the alumni funding that we do," Abigail said.
Mr. Hover, who also sponsors Central's Shakespeare club, said one of the things he likes about World Affairs Council is that it gives students the opportunity to assess themselves against students from other schools.
"This, in an academic sense, is one of the few opportunities to sit down and to do real work with the academics that they've been using in the classroom," he said. "It's using all the skills we're trying to teach in English and social studies."
The grant from 224 also included money for the students to participate in World Affair's Council's 2018 Global Economic Forum on March 6, also at Temple. Teams haven't been sent particulars yet, but those accepted will be asked "to develop solutions to end human trafficking – and its cascading effects if left unaddressed," the council says on its website.
John and Abigail hope to share a lot of the skills they learn at the summits through another club they created at Central this year, the Civic Engagement Club. Members meet on Tuesdays after school in Mr. Hover's room and get each other's opinions on various happenings. The dialogue is usually structured around an article–"from a credible news source" Abigail stresses–that one member has read and summarizes for everyone else.
There are of course widely diverging viewpoints in this school ranked most diverse public school in the Philadelphia area by niche.com. Abigail moderates the 60-90 minute discussions. Mr. Hover doesn't hover.
"Occasionally at the end when they're talking about a new subject I might give suggestions about research," he said. But there's no need for him to break up any disagreements. "I'm impressed with their ability to moderate the discussion and also not try to control the discussion with their own political viewpoints– a great job of questioning rather than attacking other people's positions."
Abigail, who is also co-captain of the cross-country team, hopes to one day maybe be a civil-rights attorney or possibly enter academia like her mother, who is an epidemiologist at Drexel. She says she's not creative at all like her father, a glass artist.
John hopes to study atmospheric science and make some positive impact on the world. "Model U.N. is a good gateway to that."