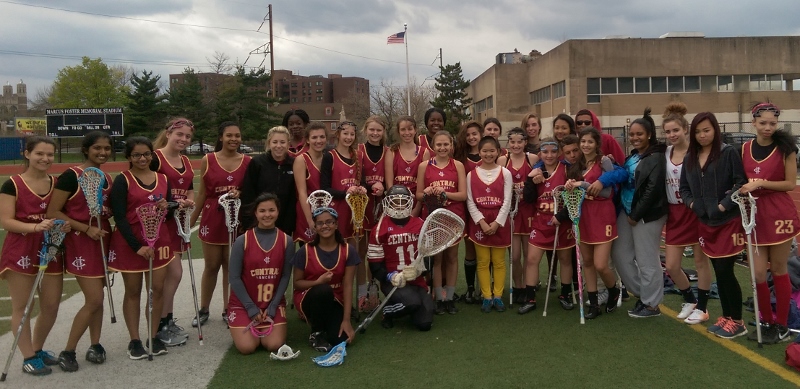 By Yvonne Dennis (246)
Girls High's junior varsity lacrosse team got spanked by Central the first game of this season. So for their rematch today Girls High brought both the JV squad and the varsity players—who happen to be the reigning public-league champs. (Apparently, that's legal.)
The Lady Lancers, on the other hand, are in their first year as a team, period, so they are only junior varsity. But coming in to today's matchup they were 5-0, having also beaten good teams from Frankford, Southern, Gratz and Del Val.
Despite jumping out to an early lead with their varsity players controlling the ball for much of the first half, Girls High fell to Central again, this time 7-6.
"This was so huge because they brought their varsity players and I am so proud of how our team hung in there and came back," said Central freshman co-captain Nicole Umeweni (277). Nicole scored 3 of Central's goals and Adela Qalliaj (277) scored the other 4.
When the final whistle blew, Lancers coach Aviva Hockfield ran out onto the field at Gratz Supersite, cheering and hugging her players.
Sure they are only halfway through the season, but this win was a great shot in the arm for the young team. At first when she saw the Girls High team—of much greater numbers and size than at the first meeting–arrive with the full JV and varsity contingent, Miss Hockfield was taken aback. But then she told her team: "Be flattered. You're a young team and they must not have liked getting beaten by you guys."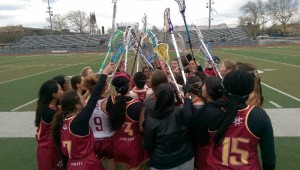 Miss Hockfield, a 25-year-old graduate student at the University of Pennsylvania, meanwhile, is still trying to wrap her head around how well her team is playing since they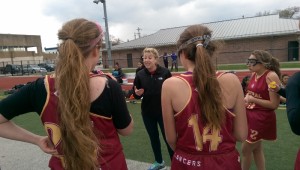 have only been together a for about two months and she herself is coaching a team for the first time.    Central's Lacrosse team gets ready to take the field and later Coach Aviva Hockfield gives advice during the half.
While she has been a student teacher of social studies at Central since September, she only learned about the lacrosse coaching availability in late February. Her cooperating teacher at Central, social-studies teacher and boys lacrosse coach Steve Innamarato, saw the posting in the main office and urged her to apply.
"After a few minutes of conversation I knew she could get it done," said Central Athletic Director Rich Drayton (246) "She has a good deal of knowledge about lacrosse. She is very enthusiastic and has the kids' best interest at heart."
While Miss Hockfield excelled at lacrosse as a kid growing up in Lower Merion Township, she stood out as golfer in a family of talented golfers. She went to the College of William and Mary in Virginia on a partial Division 1 golf scholarship. Her first-year scoring average ranked fourth all-time among freshman at the college.
Since then she has given a lot of golf lessons and even run golf clinics but this is her first year coaching a full team.
"By the time I got hired we only had about a month or less before the season," Miss Hockfield said. The position had been posted for so long with no applicants that the athletic department thought there might not even be a team this year.
"I was so nervous that there was going to be no interest," said Miss Hockfield. But at the first meeting for the team, 77 girls showed up. Reluctantly she had to cut the numbers down to about 32. Fortunately the money was available for uniforms and equipment, so Central's girls lacrosse program was quickly born.
"It's a learning experience but I'm lucky to have great girls who care about the sport and work really hard," said Miss Hockfield. "Being at Central, there's such a high level of work ethic and self-reliance. It makes it ok. At other places, I don't know if one person, especially me, a first-year coach, could manage, but it's been good."
The JV program may not have an assistant coach but Miss Hockfield does have three student managers, including D'Lalah Joell 274, who records the team stats.
"Miss Hockfield is a great teacher," said D'Lalah, who is a student in Miss Hockfield's social-studies class. "She doesn't move too fast. Everybody respects her. I've had some classes where the student teacher nobody respected."  D'Lalah will be headed to West Chester university in the fall with an interest in studying athletic training.
Because of the long winter and dreary beginning to spring, the lacrosse team didn't get many chances to practice outside before the season started. But many of the girls come from strong lacrosse programs at grade school.
Megan McCann (275), the team's other captain, and Adela, both played lacrosse at Joseph J. Greenberg Elementary School in the Northeast.  Nicole played at CCA Baldi Middle School, as did several others on Central's budding team.
Nicole is also manager for Central's wrestling team, writes for the Centralizer and she played varsity field hockey in the fall for Central. Nicole had all As this past quarter and as a sophomore next year will be taking AP physics, a class for juniors.
Miss Hockfield said she picked Nicole as a captain right off the bat.
"She's a natural-born leader," said Miss Hockfield. "Day 1 she reached out to me via email" saying what things she thought the team needed to work on and where she could help. "I was so impressed with how direct but respectful she was." Miss Hockfield asked the team who the second captain should be and they selected Megan.
Besides leading practices and organizing team activities, the captains also do something pretty interesting after the games. "We talk to the refs about stuff we can improve on," said Nicole. "After the game I'll say, hey we're a JV team. This is our first year and ask what do they think we can do to get better."  The refs are amenable because many of them know Nicole from her playing at Baldi.
And being a leader must run in the family. Nicole's brother, Stanley Umeweni (274), is currently in St. Louis with the RoboLancers competing at the world robotics championships.
Balancing graduate school with teaching and coaching at Central is quite a load, but Miss Hockfield's load will get a lot lighter when she graduates from Penn on May 16. And she hopes to not only be coaching varsity lacrosse at Central next year but be a full-time teacher as well.