Central High School is not only the top high school in the city of Philadelphia, but the top overall school, according to the 2017-2018 School Progress Report (SPR) released by the School District of Philadelphia. This is the second consecutive year that Central has achieved that status. The SPR ranks schools in the areas of achievement, progress, climate – and for high schools – college and career readiness. Central's overall score is 95%, up from 91% in the previous year's report. The School District of Philadelphia use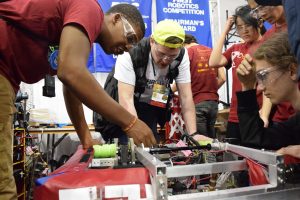 s the SPR as an innovative tool to support, respond to, and improve Philadelphia schools.
"I'm so incredibly proud to lead a school where the students, staff, parents and alumni are dedicated to the tradition of excellence," said Central President Timothy J. McKenna. President McKenna added "it's evident by our School Progress Report score that our students have bought into our academic program and I feel confident we are creating the next generation of leaders." McKenna also provided a video message to students, alumni, faculty and staff, and parents in congratulations for the success. See the video here. 
"The data from our SPR reports confirm what we have known for some time — that our schools across the city are improving in the areas that matter most to student success," said Superintendent Dr. William Hite.
"Today, we recognize the hard work of our students, teachers, principals, families and community partners who have made this progress possible. The possibilities for all of our students are limitless when we work together to make our schools safe, engaging places for students to learn and grow. There is more work to be done, and I am grateful to be part of this community that is committed to our students' continued growth and success." 
The School Progress Report includes both District-led and charter schools throughout the city. 
For more information on the happenings of Central High School, The Associated Alumni of Central High School, please add us on our social media platforms.

Instagram: centralalumni
Facebook: The Official Central High School in Philadelphia Alumni Group

Twitter: centralalums