By Yvonne Dennis (246)
Hanging in Central High's main gym are banners for the school's Athletic Honor Roll, celebrating some of the most extraordinary athletes Philadelphia, and even the world, has ever seen.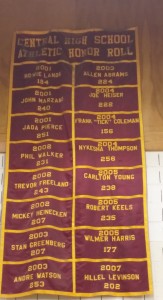 They include an NBA championship winner,  a record-holding swimmer, a world-class sprinter, a Negro Leagues pitching ace and a Major League baseball catcher.
Inductions for the Athletic Honor Roll have been dormant in the last several years for various reasons, but committed alumni are reigniting the mission.
As one of the winningest coaches in Central's history (basketball, softball) and an active alumnus, Frank Greco (228) was  quite familiar with the accomplishments of decades of Central athletes. And he noticed that the Alumni Hall of Fame only had two members inducted specifically for their athletic achievements.
"We had so many [extraordinary athletes] that it was time to recognize some of those kids," said Mr. Greco.
So around 2000 when he was still athletic director at Central, he spoke to longtime track and field coach Arnold Shiffrin (205) and others about creating a type of school athletic hall of fame. Everyone loved loved idea.
They decided that inductees had to play a varsity sport "and basically be a solid human being," Mr. Greco said.
In 2001 they inducted the first three members–Howie Landa (194, All-Public basketball player and one of the greatest junior college basketball coaches in the country), John Marzano (240,  a former catcher for the Boston Red Sox, the Texas Rangers and the Seattle Mariners) and Jada Pierce (251, one-time highest point scorer of all Central basketball players and now assistant women's basketball coach at UMass.)
"We would bring people in, we would buy them athletic hall of fame jackets and we would have a little reception in the library," Mr. Greco said.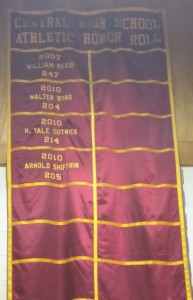 Everything was going well, but several years into the program Mr. Greco found that it was a struggle to find the $700 or so needed for the recipients' jackets and the reception for family and friends. He certainly couldn't take it away from equipment and other needs of Central students and he said the Alumni Association told him it wasn't able to help. So after the 2010 inductions the program stopped.
With many of the founding participants retired, including Mr. Greco and Mr. Shiffrin, it fell by the wayside.
But Mr. Shiffrin couldn't let it go completely. He still coaches Central's field-events participants for indoor and outdoor track, and takes great pride in the team's continued success. Mr. Shiffrin is also a member of the Associated Alumni board of managers. He appealed to the board at its last meeting about adding other alumni whose names he thinks belong among the honored.
Pete Forjohn (235), a board vice president in charge of alumni athletic events, is confident that the annual alumni 5/k or some other fund-raiser could pick up the modest costs of the honor-roll inductions.
So more names should soon be sharing space with greats such as Princeton basketball record-holder Joe Heiser(222); four-time Public League swim champion Trevor Freeland (243), national-record-holding sprinter William Reed (247); retired Washington Bullets guard Phil Walker (231), who won a championship with the team in the 1977–78 season, and Frank "Tick' Coleman(156)", Central's first African-American quarterback, who led the Lancers to two Public League championships and later became a highly regarded educator.