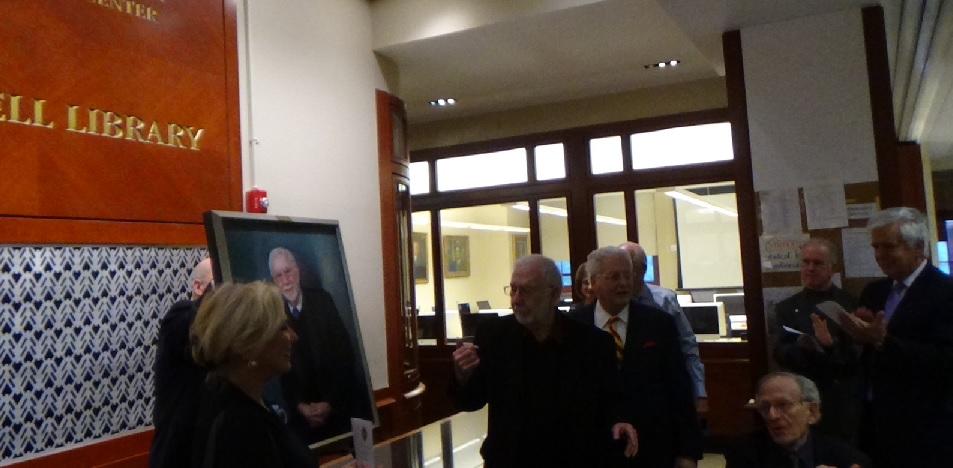 By Yvonne Dennis (246)
Images of Dr. Sheldon Pavel—the beard, the pipe, the coffee mug, the sweater vest, the soft smile—are ingrained in the minds of 28 years worth of Central students, staff and parents.
For many, those images are coupled with countless demonstrations of his care for them and for the principles on which Central was built.
That fatherly, scholarly likeness is now on display for generations to inquire about as a new portrait of Central's retired 13th president, commissioned by the Associated Alumni of Central High School, joined those of his predecessors in the Barnwell Library Tuesday afternoon.
Understated and dignified like its subject, the portrait by Manayunk artist Irene Nunn makes one concession to Lancer fight–a splash of crimson and gold on the coffee mug next to the man and the pipe.
"I can't think of a person who personifies Central High School  more than Dr. Pavel–his commitment to the students and to the alumni and the faculty and to all the lives in the city of Philadelphia that he's touched," said his successor, Tim McKenna. "Every day when I come to school I'm tasked with continuing the great work of Central High School. Thanks to his blueprint of trusting students, working with the Associated Alumni, the parents, my job's that much easier."
Many current Central teachers hired during Dr. Pavel's tenure stayed after school Tuesday for the ceremony despite a day of high drama that began with a bomb scare.
Members of the 271st class co-sponsored the event and showed up big, noting that Dr. Pavel "graduated" out of the school with them in 2012.
"My wife and I were overwhelmed at the event. So many people, so many memories of staff , students, alumni, and friends," said Dr. Pavel. "My thanks go out to all and especially Irene Nunn for making me look as well as she did, to Harvey Steinberg , who pushed this through, and particularly to Bob Barthelmeh and all of great members of 271 for funding it. So now you can always find me 'hanging' around ."
Danielle Quigley (271), just graduated from the University of Pittsburgh, was delighted to be back to see Dr. Pavel and many of her classmates. "Dr. Pavel knew my entire family," said Danielle, who was there with fellow 271ers Rebecca Thamm and Hannah Freifeld. Danielle's brother graduated with the 268 and her mother was active with Central's Home & School Association. "Dr. Pavel would ask about my family all the time. He cared about the students."
The 271's class sponsor, Robert Barthelmeh (228) was unable to attend Tuesday's presentation but he shared his feelings about his mentor via 271 class president Ramon Guzman Jr.
"I was privileged to work with Dr. Pavel for 14 years, 12 as a class sponsor," Mr. Barthelmeh said. Dr. Pavel told class sponsors to help groom class officers as leaders. He would tell students in assembly that "everyone is capable or you wouldn't be here." There was also his frequent refrain to "use common sense." And on the tough calls, Mr. Barthelmeh said, Dr. Pavel stressed to "always do what is best for students."
Tuesday's oldest alumni attendee, attorney Jules Silk (181) was long gone from Central (he graduated in January 1944) by the time Dr. Pavel arrived in 1983. But he got to know and like Dr. Pavel through 181's class reunions. Dr. Pavel attends reunions of many classes to which he is invited.
Opening the ceremony Tuesday afternoon, AACHS President Jeffrey Muldawer (225) noted that his association with Dr. Pavel went back to the summer of 1970, to which Mr. McKenna exclaimed that he hadn't yet been born!
Displaying portraits of Central's presidents "shows our real respect for our past and I think it shows our love for our presidents," said former AACHS President Harvey Steinberg (209), who was instrumental in arranging the latest work.
Irene Nunn has been painting for 50 years and enjoys the personal aspects of portraiture.
"I think it's a form of soul-capturing," she said at the presentation. "There's something so intriguing about the human face. There's always a story there. Everybody tries to cover up but eventually they cannot. It's sort of like something that's intrinsically within them and that's what I try to capture."