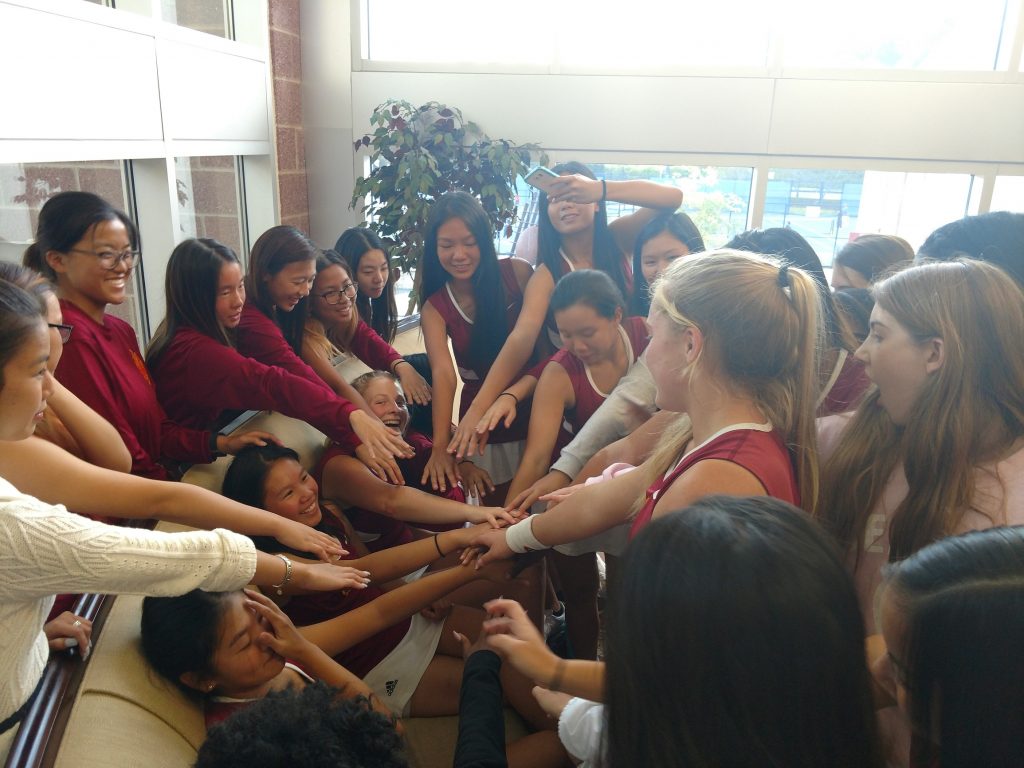 Yvonne Dennis (246)
Central High School's girls tennis players dominated the PIAA District 12 Championship Thursday afternoon just like they have dominated city tennis for the last four years–undefeated.
Yes, Central's Lancers have not lost a Public League or district–which encompasses the public and Catholic leagues–match in four years. (Soak that in for a second.)
The team beat this year's Catholic League champion, Cardinal O'Hara of Springfield, Delaware County, to capture its fourth-consecutive district title. That crown came two days after Central beat Masterman, also by a score of 5-0, to take its fourth-consecutive Public League trophy as well.
"As long as District 12 has been around, there's never been a four-time district champ," Coach Bill Graham told his players, to cheers and applause, at  Legacy Youth Tennis and Education Center in the East Falls section of Philadelphia. "I hope you don't take this for granted, what we were able to accomplsh today."
In the individual matches on Thursday, Central No. 1 player Gabrielle Garrett (277) emerged on top from a  tough battle with O'Hara's Anna Marie Degnan, 6-3, 6-1. Lancer's No. 2 Tiffany Atmadja (277) put away Caroline Lynch 6-2, 6-1. And Maddie Mast (278), a champion on Central's outdoor track & field team as well, defeated  Jessica Dougherty 6-1, 6-3.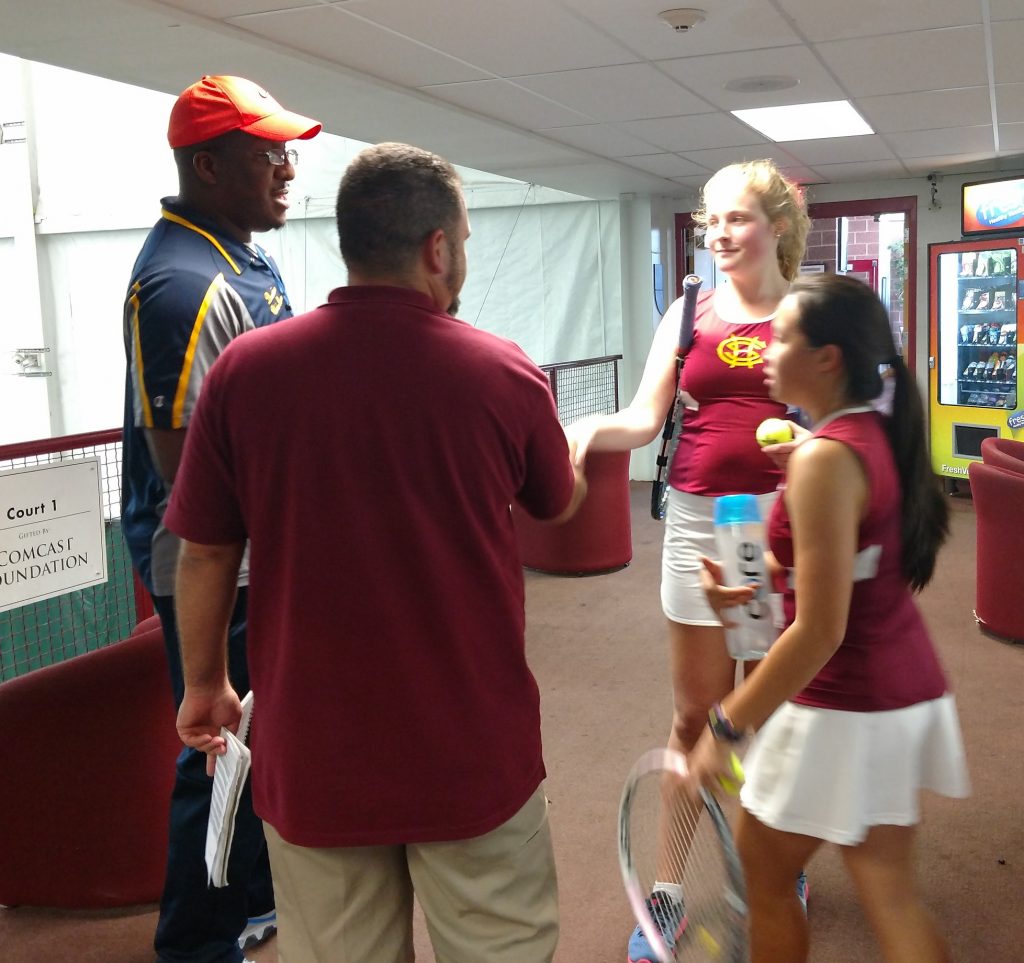 Teams only need to win three matches out of five to win the day (or five if the event features seven matches) so Central had the championship wrapped up even before the two doubles matches were complete Thursday. Each pair was aware of the situation but they still played like every point mattered. Kate Hamilton (279) and  Samantha Tom (278) battled their doubles opponents all the way to a 10-8 tiebreak victory. Freshman Shari Zeng (280) and junior Annie Yang (277) only needed two sets to notch a win.
Sports dynasties are often built on three things: resources, scouting and early player development. Yet the Central girls tennis program really only has one of those attributes. The school has no tennis courts of its own so players practice and play home matches at Awbury Arboretum in Germantown.  And Central promotes itself to prospective students at the city's annual high school fair more for academics than athletics.
Atmadja, who holds the school record for most girls career tennis wins (67), only heard about the team in time to play freshman year by accident.
"It was the summer after eighth grade, going in to freshman year," she said. "I was just practicing in the morning at the public courts at Lincoln High School. Mr. Graham and [Central boys tennis coach] Mike Horwits (251) walked over and asked my dad, 'What high school does she go to." My dad said 'Central,' and they said, 'We're coaches at Central!' "
Graham and Horwits, both also Central social-studies teachers,  were at Lincoln that morning for a coaches meeting. Atmadja said if she hadn't chosen to practice then or the two hadn't come over, she probably wouldn't have known that the season began in August and thus she would have missed out that year.
Playing since she was about 10, Atmadja says she likes the sport because "whenever you have a problem you have to fix it yourself."
Garrett is another four-year starter. Having been introduced to tennis at age 4 by her parents and coming to the Legacy Center since it opened in 2006, she was quite relaxed as usual on Thursday. Her strategy: "I just think of keeping the ball in and letting them make the mistakes instead of me."
She's known a lot of coaches in her time and she likes that Coach Graham doesn't overwhelm players. "He's not invasive," said Garrett, whose accolades this year include MVP of the playoffs. "He lets us do our own thing but makes sure you're doing it right."
Garrett hopes to play Division I tennis at Howard University or someplace else. When asked who her favorite players are, she answers with a very quick "Serena–and Roger Federer."
Many on Central's 30-member squad have been playing since they were7, 8 years old, so Graham is confident they will be ready to step up when the eight current seniors graduate. On Tuesday the team will try to topple Conestoga High School in the opening of the state championships, also at the Legacy Center. The time hasn't been set yet but will likely be early afternoon.