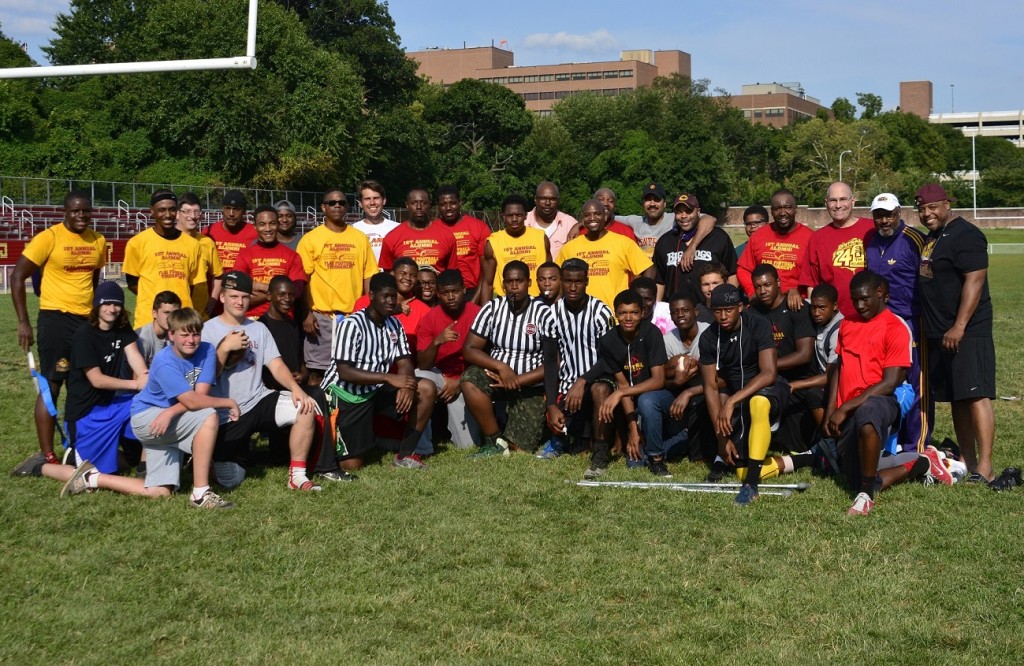 Some of last year's participants and students/Photo by JS Garber
Lancers, it's time to start getting ready for the 2nd Annual Central High School Flag Football Tournament and fun day.
Young, old, men and women, skilled and the not-so-skilled, please plan to come out Saturday Aug. 22 to Central's football field at Broad Street and Somerville Avenue for food, football and renewing of old friendships.
Start the day at 10 a.m. getting a preview of the 2015 football Lancers by watching their scrimmage against Lincoln High. Then at 1 p.m. the tournament begins. For just $10 a player, compete on a team of 10 for a chance to be this year's flag football champs. Assemble a team of your classmates, a mix of Central grads or just come alone and be placed on a team. Each participant will get an event shirt.
This is an easy and fun way to help provide the support that current students need to continue our championship legacy. All proceeds go to Central football so please come out whether you play or not to support your alma mater.
The sooner you get your payment in the better.
Register at http://www.centrallancersfootball.com/alumni-flag-football.html
Or, if you prefer to pay by check,
please make it out to Central High Football and mail to
Coach Richard Drayton (246)
c/o AACHS
P.O. Box 26580
Philadelphia, PA 19141-6580    Please make sure to put "Flag Football Fee" in the check's memo field.
Keep up with all Lancers football news at centrallancersfootball.com and send any questions to Coach Drayton at coachdrayton@yahoo.com.
Thanks in advance and we really hope to see you there.