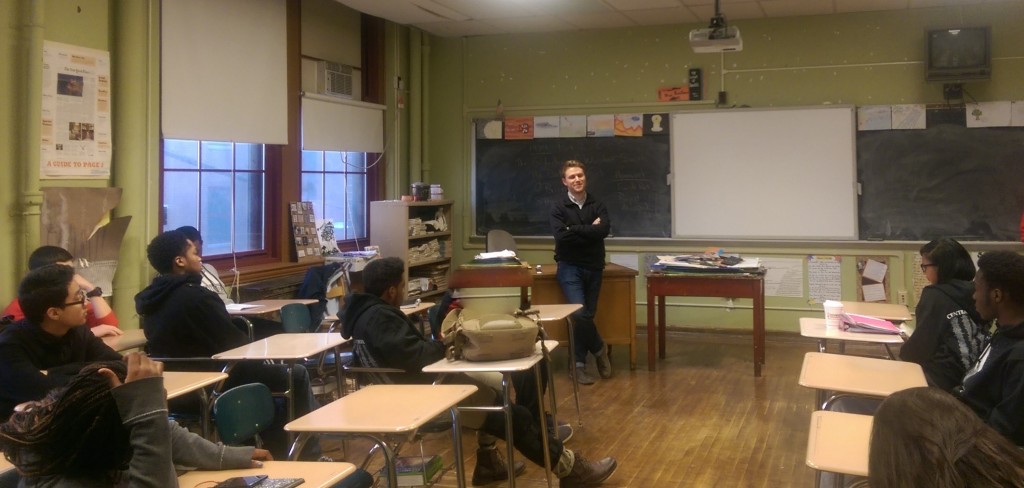 It would be easy to excuse oneself from the kinds of successes that Jordan Konnell (270) has seen in his short 21 years by saying, sure, he was valedictorian. Only one person can be valedictorian of his class and I wasn't born that smart.
But anyone who knows even a little about Jordan will tell you is that it's his willingness to work hard, his inquisitiveness about issues in a diverse society and his openness to learning that have gotten him where is.
Where he's at is on the cusp of graduating from Yale University with a combined degree in African-American studies and political science. He is freshly home in Philadelphia after having finished his fall-semester exams, finally able to focus on the reality of having been selected in late November as a prestigious 2015 Rhodes Scholar. And he is excited to be meeting tomorrow with Philadelphia Schools Superintendent William Hite, a rare privilege that Jordan plans to optimize on a number of levels.
But today, Jordan was just another Northeast Philadelphia kid happy to be home on winter break, happy to be in that club of prideful Central alums appreciating more now what he had when he was a student at the school.
Jordan stopped by Central and was quickly invited up by his former teacher John McElhenny to speak to Mr. McElhenny's third-period journalism class.
"You go to a really special place," Jordan told the sophomores, juniors and seniors.  "I went to Yale, which is a really interesting place. I go to school with students who went to boarding schools. Kids who have had professors who have left college to come teach them at high school and I found that when I got there not only was I prepared academically to do well but I understood how the world worked. I understood not only how Philly worked but how the world worked because your classroom is the world."
And he told the students that one of the most important lessons Central taught him was the value of good writing. Also, "It taught me to love research."
While Jordan loved many things about Central he's not ashamed to admit he was not all that enthusiastic about having to take African-American history while there. But he now says it was one of the best classes he has ever taken, helping coalesce his study of political systems.
"I was just going to take political science because I'm really interested in politics," Jordan explained when talking about his plan for Yale, "but you can't understand local politics without studying race," hence  the double major. "I've learned how to have a conversation about race."
Jordan will graduate from Yale debt-free thanks to a scholarship from the Associated Alumni of Central High School and a need-based scholarship from Yale.
"I'm incredibly fortunate  to have gotten help from Yale and the alumni association of Central," Jordan said.
A self-described Francophile who took French both at Central and Yale, and studied for six weeks in Paris, Jordan knew he wanted pursue a graduate degree in Europe. So he applied for the Rhodes scholarship, writing about what it was like being a white student majoring in African-American studies.
Applying for the chance for two-four years of fully funded study at Oxford University in England plus a generous travel allowance included having at least a 3.8 college academic average, being endorsed by one's school, submitting eight recommendations and making it through a series of qualifying rounds. Two of the finalists in the Pennsylvania/Rhode Island region this year were Central grads. Jordan had high praise for the fellow Central finalist, his 270 classmate Katherine Matteo, now at the University of Pennsylvania.
Jordan is an extrovert, says his mother, Susan Konnell, so the final interviews with the Rhodes panel at the National Constitution Center the Saturday before Thanksgiving were probably a little more nerve-wracking for her than for him.
"I wore all kinds of good-luck things, like omen things, said Miss Konnell," a retired Philadelphia public-school teacher who chose to be a single mom. "I wore a pair of shoes that I bought when I was with him in London the year before. And then when he didn't think he was going to get [the scholarship] I took the shoes off," she said with a laugh. She also read meanings into all kinds of things around her that day, like when she saw a commercial truck on Roosevelt Boulevard with the name Rhodes. "I said, 'there's an omen.' "
And of course when she heard that Jordan had won she was extremely proud and excited. "I was so happy for him." But she added, "He's my only child so I'm going to miss him. Yale is only about three hours away so it hasn't been so hard but knowing he's all the way over in England will be much harder."
After he heard that the schools superintendent praised him for winning the scholarship, Jordan said he decided to seek a meeting with Dr. Hite.
"A  lot of my academic work at Yale has revolved around A) Philadelphia and B)public education in Philadelphia," Jordan said. "I've written a lot on that so I might ask him some questions I wish I could have asked him when I was studying this stuff."
The Rhodes scholars don't head off to Oxford until October of 2015 so Jordan is looking for summer work. "I might ask him for a job," he said of his meeting with Dr. Hite. "I think working at the school district would be  a cool summer job."
"Besides mayor I think superintendent of a big city school system is the hardest and most important job in the city. Schools are what attract or detract residents from cites so I'm interested in his experience."
In his final semester Jordan has a thesis to write for each of his majors to complete his Yale studies. He's not sure what the focus of the poli-sci thesis will be, but for the African-American thesis he analyzing how interracial civil rights groups responded to the 1964 summer race riot in Philadelphia.
After his academic studies Jordan definitely wants to be back in Philadelphia and be involved with Central. Studying at an Ivy League school has been invaluable, he said, but for his pursuits, which may even involve running for office some day, "I learned that everything I wanted to study was right back here in Philly."
Learn how to apply for the Rhodes scholars program at www.rhodesscholar.org/applying-for-the-scholarship/