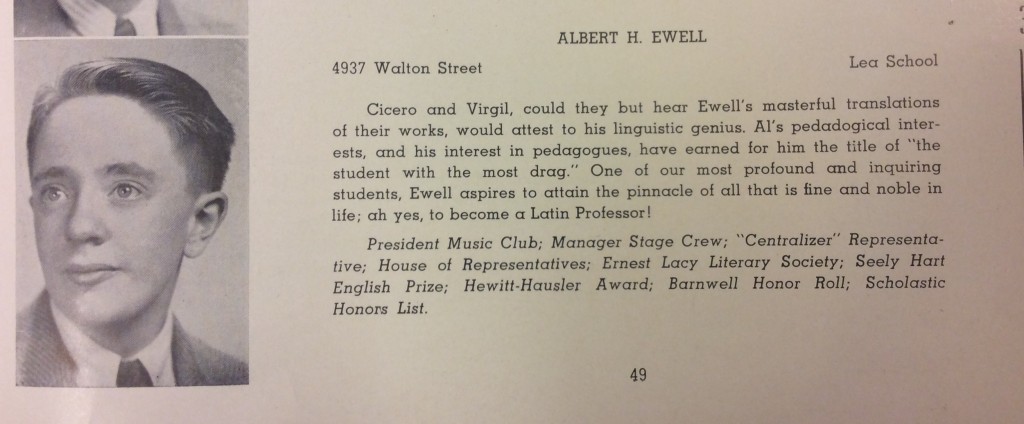 By Yvonne Dennis (246)
Albert Hunt Ewell Jr.'s genius was apparent early on.
His 179 classmates at Central noted in his yearbook entry: "One of our most profound and inquiring students, Ewell aspires to attain the pinnacle of all that is fine and noble in life; ah yes, to become a Latin Professor."
Hunt, as he preferred to be called, earned a Bachelor's degree from Central, a Bachelor's from Haverford College and then his Ph.D. in psychology from New York University. He would go on to become a professor, but of psychology. And the genius only blossomed.
"Hunt was unquestionably extremely intelligent, possibly even brilliant," said Ann Pellegrino, a student of Hunt's in the fall of 1959 when she was a freshman at Middlebury College in Middlebury, Vermont. Hunt joined the staff at Middlebury in 1952 as an assistant professor, rising to full professor and later department chair, finally retiring in 1992.
"After I graduated in 1963 and began graduate work at McGill University in Montreal,  we made the transition from professor and student to friends," said Mrs. Pellegrino. "I met my husband, Lou, at McGill, and Lou also became his friend.
Hunt never married and he was an only child so the friendship with the Pellegrinos meant a lot to him. As did education. "He clearly put a very high value on his education at Central High School," said Mrs. Pellegrino.
So important was his Central experience to him that when Hunt died in late 2014 he left an estate worth approximately $2 million to the Associated Alumni of Central High School to support programs in music, English, languages and math at the school.
The estate, largely from Dr. Ewell's pension and the sale of his stamp collection, was recently settled and the gift's impact should soon be felt at his beloved alma mater. Perhaps it will help some student have a more fulfilling life than Hunt did.
"His lifelong career at Middlebury  looks impressive but he and the college did not part as friends," said Mrs. Pellegrino. "In my opinion, his life was very self-centered, and he died a very lonely man. There were only 17 people whom I needed to inform of his death. And therein, I believe, is an important life lesson."
If you are interested in including Central High School in your estate plans, please contact AACHS board member Dick Prinz at 609-605-2943 or reprinz@aol.com.