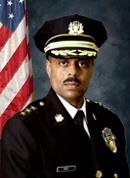 Richard Ross in his Central yearbook, left, and as he is about to be sworn in as Philadelphia's top police official.
By Yvonne Dennis  (246)
Richard Ross (241) is a proud product of Olney-area public schools, so when new Philadelphia Mayor Jim Kenney asked him if there was a special place where he would like to be sworn in as the city's next police commissioner, one answer swiftly and definitively came to mind.
"I told him at Central," Mr. Ross said on Monday. "I'm proud of the fact that from kindergarten to 12th grade I went to public schools, neighborhood schools." Going to public schools, "you can work hard and succeed."
The selection also goes beyond the obvious ties that he graduated from Central, that his daughter, Jasmine (272), graduated from Central and that several of his cousins graduated from Central. Having the ceremony Tuesday morning out in a neighborhood instead of downtown symbolizes his approach to serving the residents of Philadelphia by leading the more-than 6,600 sworn officers in the nation's fourth-largest police department.
"Taking it to the neighborhood, this is about working together," he said. "Philadelphia is the city of neighborhoods."
So while Mr. Ross, 51 years old, will be sworn in front of and briefly addressing a largely student audience, he said he is planning to deliver a message for the greater community.
Present Tuesday for the auditorium ceremony will be his wife, his two children, his parents, his in-laws and many other relatives and friends.
Central President Tim McKenna said he was thrilled when Mr. Ross asked to have the ceremony at Central. Mr. McKenna thought it important to have the senior class witness the event, so members of the 275 will be in the audience. And Mr. McKenna asked the officials working on the details if Central's madrigal singers could perform the National Anthem.
"As the leader of this school I'm so proud to invite him back for this incredible honor that he's going to be bestowed tomorrow." And Mr. McKenna said that as a Philadelphia resident he was pleased that Mr. Ross is the new police commissioner.