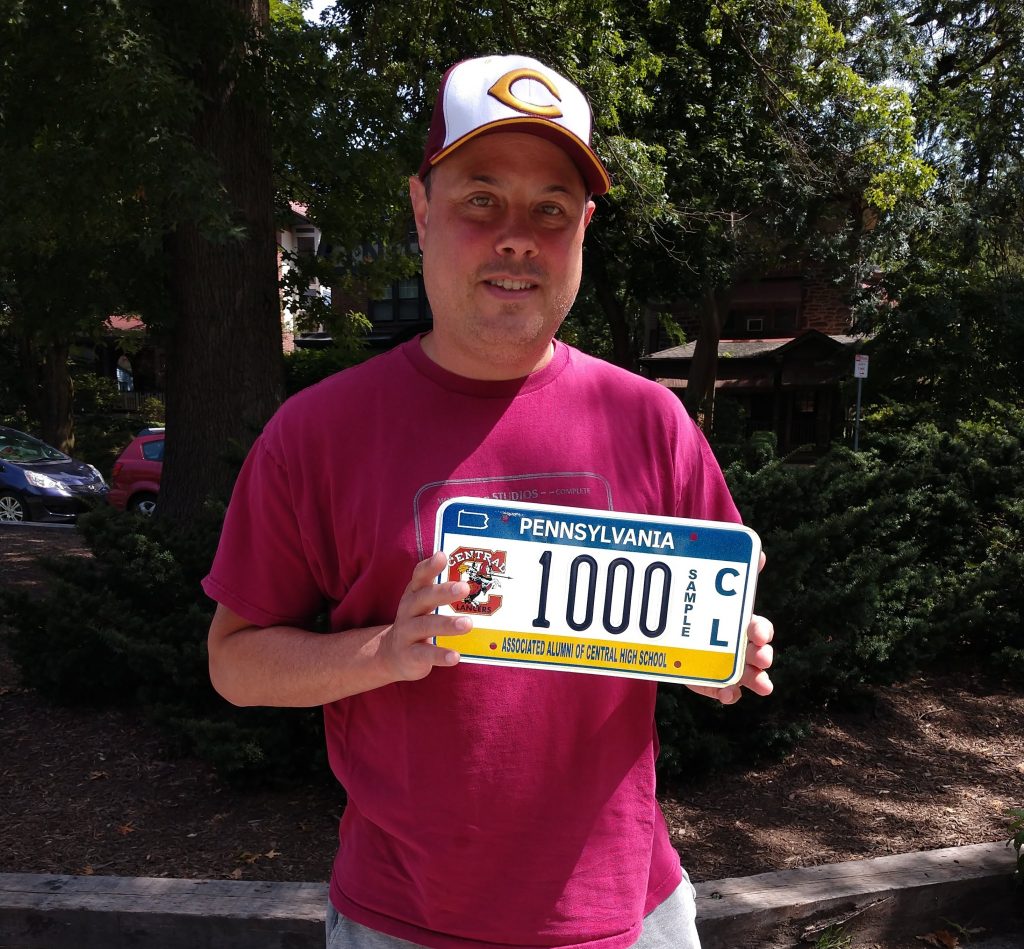 Yvonne Dennis (246)
License plate application form
Many a conversation has started between Central alumni encountering one of their own around town and around the world simply at the sight of a Central hat or T-shirt.
Soon those conversations will start turning into honks and nods on the road, no doubt, thanks to a multi-year effort by Jordan Yuter (243).
"I always thought that there should be a Central alumni license plate because I go around seeing all of these other special organization plates and I always think why not Central," said Yuter. And he thought it could be done as a fundraiser for the school.
So after Yuter joined the board of the Associated Alumni of Central High School in 2016, he gauged the board's interest in the idea. The response was overwhelming support. "So I decided on my own to undertake this process and research it with the state, thinking it would be a fairly easy undertaking. And it ended up taking a couple of years from start to finish."
It took that much time because the state of Pennsylvania needs to see the organization's mission statement and other paperwork. Applicants need to come up with artwork, which then needs to be approved by the state. Samples are sent to the applying organization for approval and then voila!
AACHS President Stephen Chappell (209) afforded Yuter wide latitude in the decision making.
"I applaud Jordan for his initiative in finding unique ways to benefit AACHS, and for his effort in following through to make this happen," said Chappell.
Yuter kept the AACHS board of managers apprised and when plates were finally available for order in late spring, board members were told first. As people who regularly give of their time and money serving Central, they deserved first crack at plate numbers of their choice, he thought.
License plates under the Pennsylvania Special Organization Plate Program are available in either sequential numbers or personalized.
Yuter has plate No. 1 in the sequence, for his wife's car, and 243 for his car. His wife is not a Central alumnus, "but what if I drive her car?"
The 243 plate hasn't arrived yet but he has received No. 1.  His reaction? "Just sheer joy realizing the fruits of my labor and also knowing the pride that I would feel driving around and anticipating people pulling up next to me saying "What class?" or "Where can I get one?"
Like so many alumni, Central means a lot to Yuter. Despite not having any relatives precede him in attendance there, a desire to go formed when he was young.
"The older boys in the neighborhood went there and they all spoke so highly of the school," said Yuter.  "Once I experienced a couple of years at Central it was like, ok, I get it. I get how special this place is."
Yuter, who owns his own business, has a deep interest in Central history. "I have always collected Central ephemera: documents. diplomas, yearbooks. I buy them at auction. I buy them on eBay, antique print shops."
"The antique diplomas are like works of art," he continued. "Central not only conferred bachelors of arts diplomas, it also conferred masters of arts diplomas. From one student I have his bachelor of arts diploma and I have a master of arts diploma, which is like three times the size with a blue silk  ribbon woven through it. One student's diploma says bachelor of science in economics.  Are you kidding me!"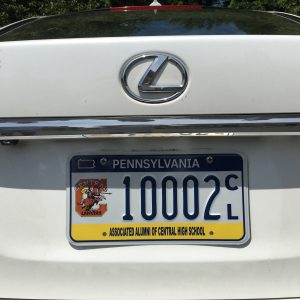 Thanks to Yuter, alumni can now talk about all their cool Central stuff when they recognize a fellow brother or sister in some random parking lot.
Chappell has plate No. 2. His feeling upon receipt was "one of enormous pride in showing that I support an institution and an association that does so much good for CHS students. All Pennsylvania alumni should take this opportunity to display their pride in being graduates of Central."
So how does a car registered in the Keystone State show that Lancer pride?
Its owner must fill out this application and mail a check or money order made out to AACHS to the AACHS office.
Owners who think they can skip the middleman and mail the form directly to PennDOT will be wasting their time. All forms must be signed by Yuter before being mailed to the state. Applications are sent in bulk–however many may come in within a week or so–with payment of just the plate fees to PennDOT via an AACHS check.
Applicants get to write three choices for a plate number on the form. If all of their choices are already grabbed by other alumni, PennDOT would notify AACHS. Yuter would then work with the alumnus to find a letter/number combination that works.
Plates are mailed directly to the applicant and can take up to 10 weeks to arrive.
Yuter knows, of course, that there will be alumni in other states who want the nation's drivers to know they are following a Central great. He encourages them to pursue the effort where they live. Pennsylvania used to have a required minimum number of plates  a charitable organization would need to commit to ordering such plates, but not anymore. Other states might not either.
"The alumni Pennsylvania license plates fundraising campaign is a excellent opportunity for Central alumni to show their pride of Central High School while raising funds for Central to support current Central students," said Central Assistant Principal Tracy Scott.  "Awesome deal for all!"