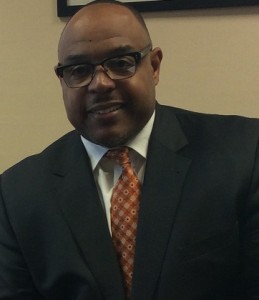 By Yvonne Dennis (246)
Like all great running backs do, when John Barber III (244) sees a void, John Barber III jumps in to get the job done with the quickness and the confidence of experience.
That go-for-it drive has taken him from All Public Central Lancer to four-time college football champion. From financial analyst and music-event-planner extraordinaire to finally where he is today—chief financial officer of one of Philadelphia's oldest institution's for empowering African-Americans.
"I believe timing and placement are important, and some things we prepare for all our lives," Mr. Barber said this week from his office at the Urban League of Philadelphia, on Broad Street just south of City Hall. "In sports we realize the importance of practice and study and translate this to real life. The current climate of injustice and economic inequality drew me to explore opportunities that would allow me to be a service to the people of my home city Philadelphia."
Mr. Barber was challenged to dream big and excel early on by mom Brenda Stokes-Barber and dad John, both Overbrook High School grads. He said she sparked his interest in attending Central High School, "the BEST school in Philadelphia." His father, an inductee in the Overbrook and Delaware State halls of fame, helped motivate Mr. Barber on the athletic front.
In addition to running outdoor track (hurdles) at Central and going All Public in the high jump, Mr. Barber earned All-Public honorable mention as a basketball guard and All-Public football honors. At Delaware State University, where he earned his MBA, Mr. Barber helped the Hornets nail four consecutive Mid-Eastern Athletic Conference football championships. He still holds the school record for most yards gained in 3 quarters (139).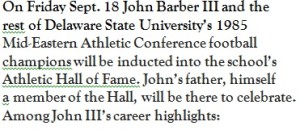 After graduation, Mr. Barber honed his skills in finance and leadership through positions at PNC Bank, GlaxoSmithKline and Allied-SpectaGuard. At the same time he created Come Kleen Productions, an entertainment, event-planning and promotion company. Although a lot of hard work, it's a rewarding gig that gets Mr. Barber out of his suits and ties.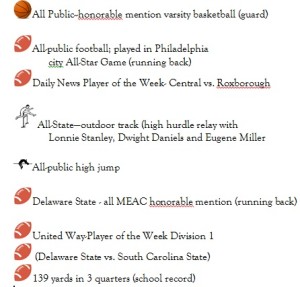 "I started CKP as something for a group of friends to do, but after seeing the need for quality entertainment it became a mission," he said. "We dubbed our signature event 'Blue Funk' as the ultimate urban alternative and had an eight-year run with artists who all signed to major labels and/or continue with careers in comedy, poetry or acting–Jill Scott, Kevin Hart, Musiq, Kindred, Bilal and Floetry to to name a few."
Mr. Barber also found himself in the spotlight for a time. When the power went out one night during a concert he was helping to stage in Chicago he was asked go out and calm the crowd.
He and a DJ went out onto the darkened stage and "put together a little something."
It did the trick because one of the officials in the wings later said to Mr. Barber, "You're going to be my next host for the tour. And I said, 'I'm an accountant.'"
An accountant with style, nonetheless. So for a few years he lived the life–MC, stage coordinator, all-around host getting picked up in limos and having a dressing room.
Health setbacks, however, for both parents brought Mr. Barber back to Philadelphia and into the public-service sector. For several years he served as a financial coordinator for the city, helping administer its GEAR UP grant program for underpriveleged students. That work brought him into contact with the Urban League.
"I came to an annual meeting, heard the CEO (Rosalyn J. McPherson) speak and I heard her initiatives and what her vision was, and I said I want to work with her."
When he heard the organization was looking for a CFO, Mr. Barber went for it. "I interviewed for six months. Where they were, I was. It's proof of being diligent."
Hired in March of this year, he is more than just the traditional type of CFO.
"I'm very active within programming," Mr. Barber said. "Working with directors I get to see the success stories. I hear their challenges. When we're helping them create budgets you hear a lot about what needs are. When you go out there and you see it all in motion you understand why they request what they do."
The Urban League has a budget of about $40 million, much of it paid to child-care providers as part of Pennsylvania's  Child Care Information Services program. Fortunately for recipients, the current state-budget impasse isn't a problem because child-care is one sector whose funds are not held hostage.
Meanwhile, his entertainment company is continuing to do its thing, under new leadership while Mr. Barber focuses on helping the Urban League broaden its reach to other areas in need such as Chester, Pa., and Camden, N.J.
In a way, both organizations are working to make the Philadelphia region a star. CKP wants to re-establish the city as a major resource in the music industry and once-again see a major record label based here.
Busy as he is, Mr. Barber still plans to catch up with 244 classmates as usual on Thanksgiving Eve this year at 3rd Base Bar and Grill–owned by a Central grad, of course.