By Neil Deegan (263)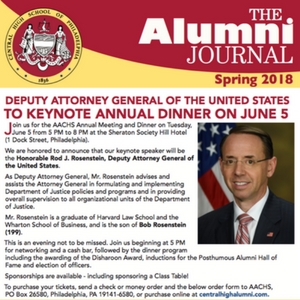 We're excited to share with you the latest edition of the AACHS Alumni Journal!
Inside, you'll find details on our highly anticipated annual meeting and dinner on June 5 and news of our ambitious capital campaign initiative, along with stories and news from our alumni, class notes, updates on reunions and more.
Take a moment to read through this season's Journal, AACHS Spring Journal 2018, and consider forwarding to a fellow alum and encouraging them to subscribe for the Journal at https://www.z2systems.com/np/clients/aachs/subscribe.jsp.
As always, we are eager for your feedback and submissions! Feel free to email us at alumnijournal@centralhighalumni.com.