Meet Recent Graduate, Kasey Shamis (282)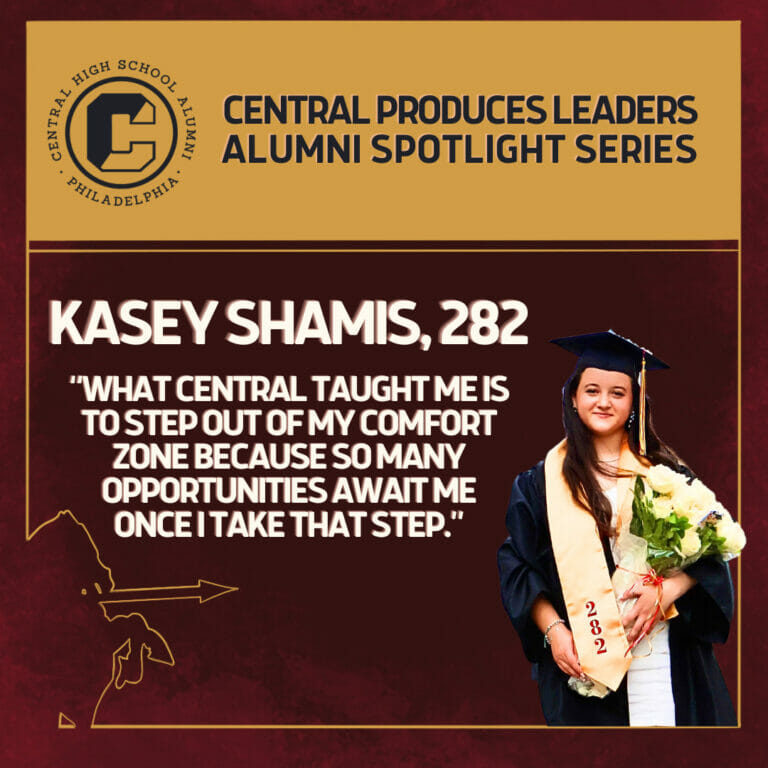 Four years ago, Kasey Shamis, was welcomed into the Lancer family as a member of the 282nd class. She was pleasantly surprised at how supportive Central's environment was and the unique opportunities that exist for the student body.
Kasey credits her time in clubs, organizations, and sports as experiences "that now make me who I am today." She served as the Vice President of the Student Association, Secretary of the Jewish Student Union, a member of the Student Leadership Cabinet, Co-President of the Voter Engagement Team, and Varsity Field Hockey Captain.
With the guidance of Mr. Quinn, CHS Social Studies teacher, and the Voter Engagement Team (VET) Sponsor, and Hillary Do (272), founder of PhillyBOLT, Kasey learned what it truly means to be an active member in the Philadelphia community. Since her sophomore year, Kasey has registered over 300 students and Philadelphians to vote and remains passionate about civic work.
"I realized that I aspire to understand the people I meet and enhance the bridging of our communities. A resident of Northeast Philadelphia, my commute to CHS was long, but it allowed me to see more of our beautiful and vast city. It was at that point that I first picked up a camera, unaware of the doors it would open for me in the future."
Most recently, Kasey began pursuing her passion for photojournalism by capturing the spirit of people in Philadelphia, whether in and around City Hall or at the Democratic National Convention photographing President Joe Biden and Vice President Kamala Harris giving their remarks. 
"My skills as a photographer grew from the opportunities and events that the Alumni Association (AACHS) encouraged me to attend as a student ambassador. My peers and I have enjoyed meeting and making connections with alumni at the Annual Reception, Induction Ceremonies, Barnwell Honors Convocation, various sporting events, and many other memorable student events where alumni generously supported."

"Taking this step led me to a partnership with CBS Philly, where I photograph for campaigns, attend protests and rallies, and functions; it gives me the courage to always have my camera in my hand, wherever it may lead me."
Kasey will attend Drexel University in the fall, where she plans to major in Journalism. Kasey received several scholarships and awards at graduation and has also been named a Liberty Scholar for Drexel. 
Liberty Scholars are awarded 100% of their tuition and fees based on their academic excellence from a pool of students nationwide. Only 65 students are chosen for this prestigious award annually.
Kasey is looking forward to staying actively connected with the Alumni Association (AACHS). She hopes to continue to strengthen the bridge between current Lancers and alumni, just as it was done for her.
Captured in the moments of a successful and meaningful four years at Central, join us as we honor Kasey and all the 282nd class graduates by making a gift today.