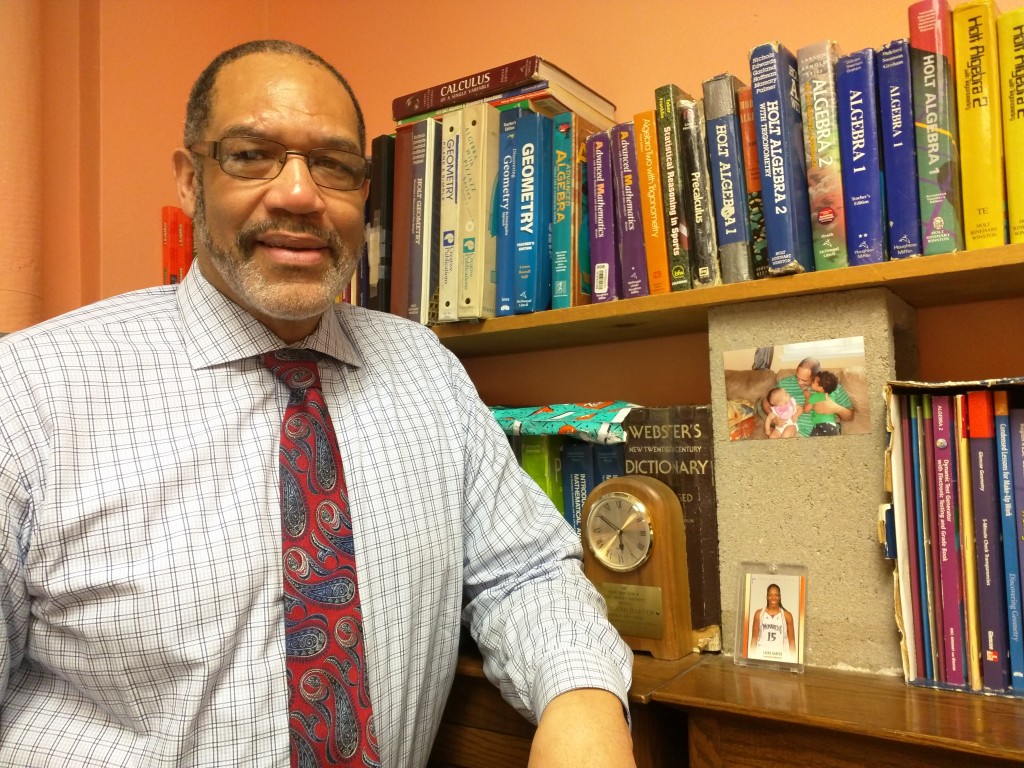 Central High School Math Department Chairman Haviland Harper (230), with pictures of his daughter and his grandchildren, in the Math Department office.
By Yvonne Dennis (246)
Haviland Harper (230) didn't know it at the time, but when he started teaching math at Vaux Junior High in North Philadelphia on Oct. 17, 1977, he was his class' seventh teacher of the term.
For most kids, a 24-year-old, 6'7 man in a suit and tie would have cut an imposing figure. But not these kids.
"At the end of the day as I was giving a detention, those seventh and eighth graders, all of them, got up and rushed the door because I was in the front of the doors insisting that they were gonna stay," Mr. Harper recalled. "They said no."
Mr. Harper physically restrained them–you could do that back then–and he took the shock of that encounter to heart. His approach the next day and the 38 years he has been teaching since was to teach with their worlds at the forefront, not his own.
On Oct. 18 he came to school dressed in jeans and sneakers. And realizing that the students weren't anywhere near a seventh-grade skill level, he watered-down the lesson plan.
Soon the students were picking up on the work, but behavior was still a problem. Mr. Harper had to get physical with a student, whose full-name he still remembers. He decided to go see the young man's mother across the street in the projects where the family lived.
"I had never been in a project before," Mr. Harper said. "And he told me no teacher goes to the projects. We don't allow that."
Well Haviland Harper didn't earn his way into the George Washington University basketball record books by being passive. He climbed the 24 flights of dirty, pungent stairs–the elevator was broken–to the family's place and met with the student's mother.

Image from George Washington University's 100 Players, 100 Days Countdown to GW Men's Basketball's 100th Season in 2013.
"She was in a two-bedroom apartment, five kids," he remembered. "I understood what was going on, so my heart changed because I began to see his story. She was glad I came. I was glad I came."
Mr. Harper turned to a career in teaching when, after standout basketball play as a forward at Central and GWU, he got injured.
"I wanted to coach and in order to coach you had to teach." So he got his master's degree and teaching certification at Temple University. He also got his principal's certification in case he ever wanted to become a principal. (He tried assistant principaling for two months later in his career and didn't like it).
After a few weeks at Vaux, his standing on the students' respect meter rose even more when basketball season started.
"Vaux at the time had one of the best basketball teams in the area," he said. "They were still eighth graders so I got on the court, and let's just say I outperformed them. And so I got the respect of their basketball players, who ran the school. That just changed their whole attitude about me and I was able to move on."
That year Mr. Harper didn't miss a day of school and he felt like he made great inroads with the students. But in June the school district laid him off.
He subsequently taught at Roosevelt Middle School, Northeast High and Jones Junior High.
"While I was at Jones teaching math I was called to become the basketball coach of a new school called Parkway."
While shuttling between those two positions he put in an application to teach at Central. In February of '87 Mr. Harper was able to return to his alma mater as a math teacher, still coaching at Parkway. Finally in '98 the varsity basketball coaching position at Central became available. He ended his coaching at Parkway after 18 years and added basketball coaching to his workload at Central.
Mr. Harper's highlights on the clipboard side of the basketball include getting to coach his son, William, who graduated from Central in 2000, and ending Central's 70-year championship drought by winning the city title in 2005.
"He knows how to motivate teams," said Central Athletic Director Rich Drayton (246).
The coach's daughter, Laura, has also brought shine to the Harper name. In 2006 she was the NCAA's Final Four Most Outstanding Player, helping the University of Maryland take home the national championship. In 2008, 6'5 Laura Harper was picked 10th overall in the WNBA draft to the Sacramento Monarchs. She played professionally in the U.S., Russia and Turkey and now is an assistant coach for the women's team at High Point University in High Point, N.C.
When he's not busy teaching or coaching Mr. Harper is maybe looking to get up a game of pinochle with friends or travelling to see William and Laura and his two grandkids. At 62 years old he has retirement in mind, of course, but it's not necessarily at the forefront.
"The only reason that I even have these thoughts is because of the state of the School District of Philadelphia. If they could ever get their program together then, who knows. Our younger teachers have not gotten raises in the last four years so our good teachers have to be looking elsewhere. They can't plan and it just makes it very difficult."