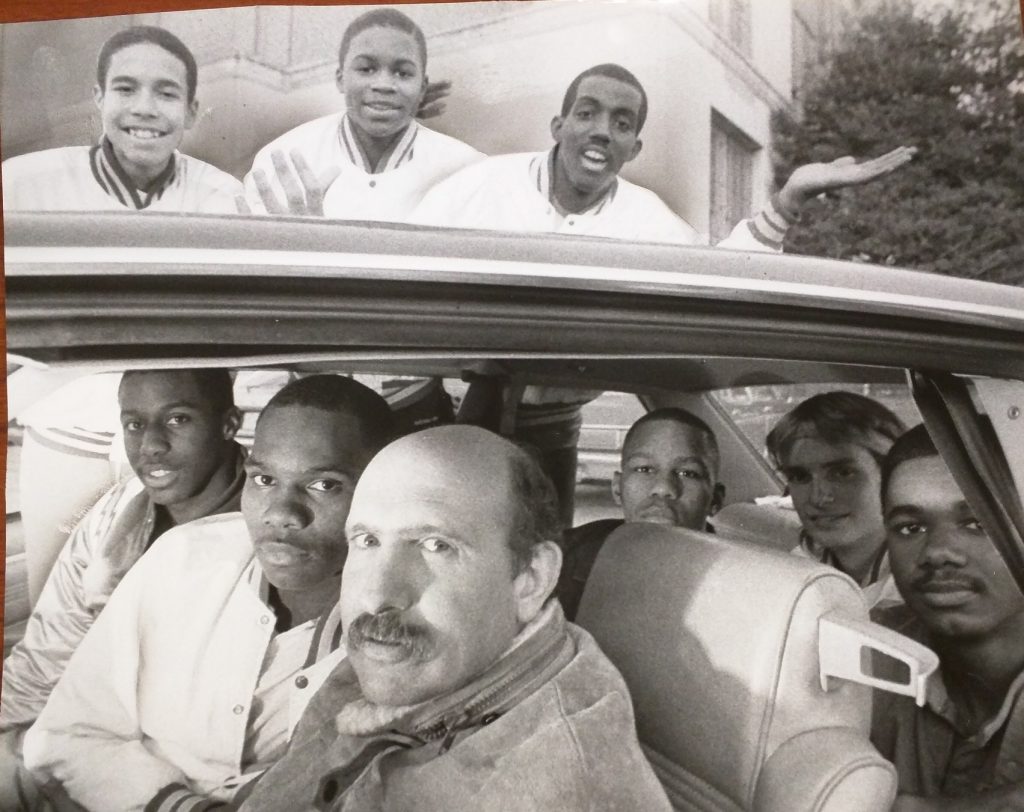 By Yvonne Dennis (246)
Michael Waddington (245), without question, enjoyed an enormously successful career at Central High School.
As one quarter of the 1986 Penn Relays 4 x 400 meter high school boys record-setting tandem, he was instrumental in helping the Lancers win indoor and outdoor track and field championships. Mike went on to college, like more than 90% of all Central graduates, but he didn't finish.
Thirteen years after Mike's shocking death at age 35 as the result of  a stroke, Mike's younger brother and fellow Central alum is about to continue his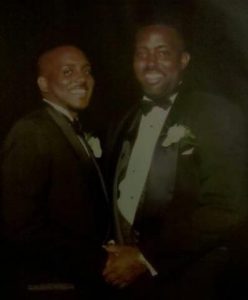 small role in hopefully helping another young person finish his or her education and pursue some of the ideals Mike embraced.
"After he passed, I was trying to figure out ways that it wasn't in vain," said James Waddingon (247), who also ran track at Central. "So I did a couple things.  I did two marathons for the American Stroke Association to raise money." He raised about $15,000, but James also wanted to do something more closely connected to Mike's memory.
The church James attends, Bright Hope Baptist in North Philadelphia, had been giving out scholarships to young members on its Education Sunday in late June for years. One of the biggest is the scholarship named for the late senior pastor and U.S. Rep. William H. Gray III. So a few years after Mike's death, James added a $500 scholarship in his brother's name to the church's awards.
The requirements for the scholarship are very loose, James said.  "I try to find someone with characteristics that remind me of Mike. So one year it was a young man who did a lot of service with younger kids, was a very good big brother to his younger siblings. Last year the young lady who won it did community servce work with the children at the church, and she's a Central grad."
In the coming days, Bright Hope's scholarship committee will begin reviewing applicants for this year's scholarships. Fundraisers including raffles helped fund the Michael Waddington scholarship last year. This year, James is holding a game-night fundraiser in late May, in part because a game night at Michael's apartment was one of the last big activities they shared before Mike died on May 26, 2004.
Any extra funds raised will be given to the Stroke Association.
"Mike had a very outgoing personality. He loved track and field, so Mike really got deep into coaching and working with youth," James said.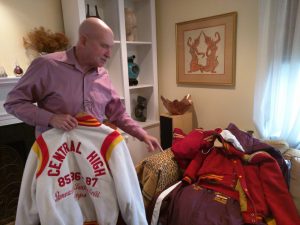 Mike was also quite opinionated,  just like their father, who died of lung cancer in 2006. Mike loved food, which unfortunately elevated his weight, and he loved video games. "He would literally come to your house and want to plug his box into your TV," James said laughing.
Though Mike never became a dad, he got to enjoy James' first-born for nearly a year. Isaiah turned 1 the day after Mike died. James' daughter, Sarah, wasn't born until two years later. But both of James' children hear about Uncle Mike all the time.
Sarah, 11, loves basketball and baseball. Last year she was the only girl on her Taney Baseball Youth Association team. Isaiah, at 13, is already taller than his 5'10" dad and perhaps on his way up to 6'2″, 6'3″ like Mike. Baseball and basketball, in that order, are Isaiah's his first loves. He runs an impressive time in the 400, so James would certainly love to see  him lighting up the track in high school like uncle did.
Track meant so much to Mike that his family buried him with his beloved Central championship jacket. His death, of course, was devastating for Mike's mom, but the scholarship is a point of pride for her as well.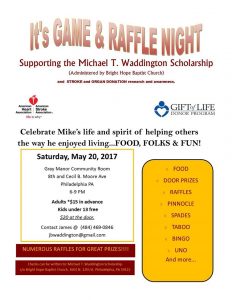 About a year after Mike died, James and countless others in Central's alumni community were shocked to learn that another member of that electrifying 4 x 400 relay lineup had died–Jeff Dallas at age 37 of a heart attack.
"When Jeff died it was like, wow. Too many young people dying of old-people things," James said. "So that made me more consicentous of just keeping up on health awareness."
Any time James drives past Central with his kids, they jokingly remind him of something he has promised to do if he ever comes into a lot of money.
"I want to completely fix up Central's track and name it for Mike and Jeff."