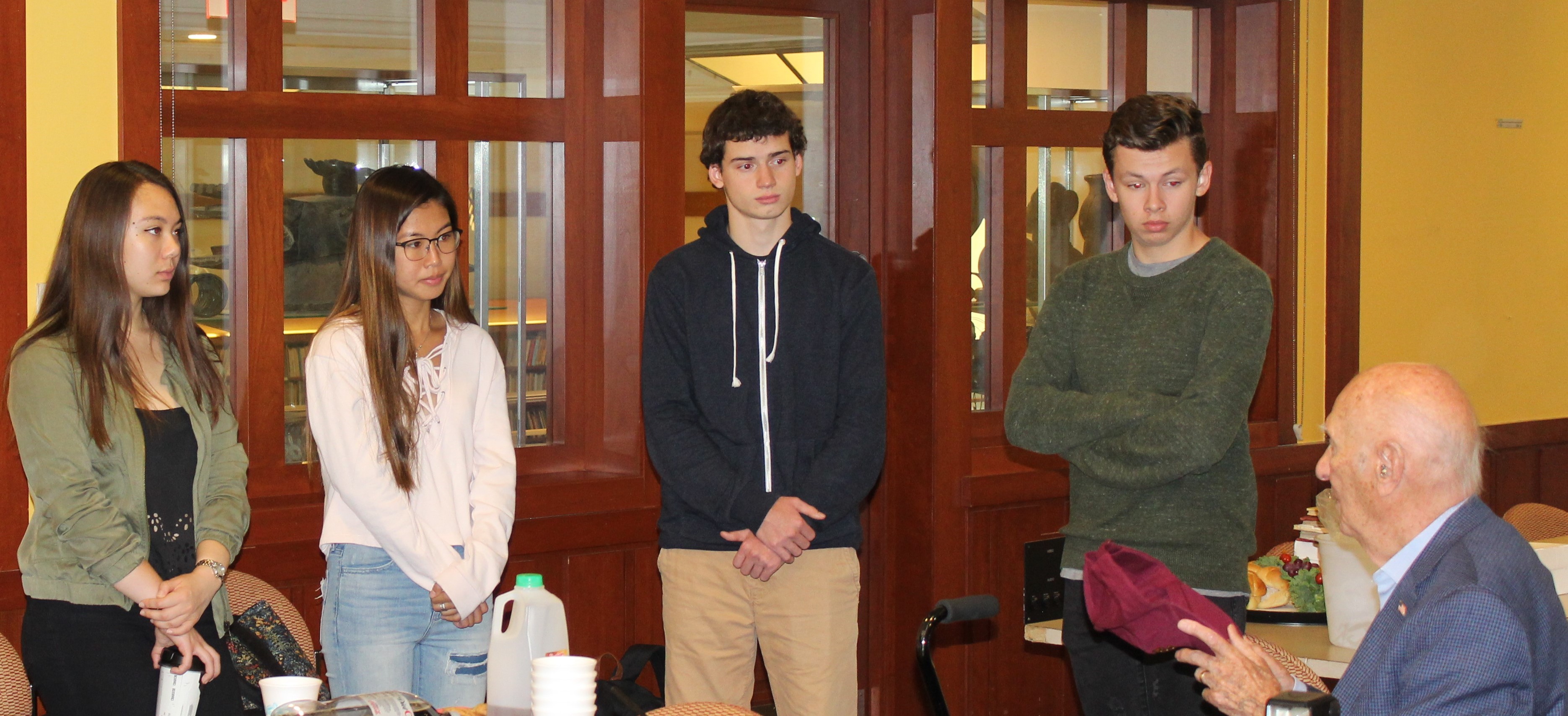 By Yvonne Dennis (246)
When you have experienced some of the most momentous events of the 20th century and there aren't a lot of people left with whom you can relate, you don't hesitate to get back together with your contemporaries–even if you need a little help getting there.
"As soon as I got the notice from Milt, I said, 'We're going, no question,' " H. Leon Bradlow said about Central High School classmate Milton Dienes' letter announcing the 75-year reunion luncheon for remaining, able-bodied members of the 177th class.
So Bradlow, 93, with the aid of his walker and his wife, Hattie, traveled from Seminole, Fla., to dine and reminisce on Monday in Central's Spain Conference Center with six other members of the class of January 1942. (Central graduated two classes a year until June 1965.)
These men and 137 of their brothers spent their first year and a half of high school at Central's downtown location, then closed out their last two and a half years at the current Ogontz and Olney site. They emerged from school at the dawn of the U.S.'s entrance into the deadliest global conflict in modern history. They found their callings as computers, space travel and modern medicine took shape.
At the luncheon on Monday, four current Central seniors, members of the 277th graduating class, heard firsthand accounts of events they study in textbooks and on the web.
"I was in an outfit that liberated a concentration camp–Nordhausen,"  said Army veteran Paul Isakoff, 93, who was accompanied to the reunion by his oldest granddaughter, Monica Lynn.
Isakoff also nodded to the service of many of his classmates, including fellow luncheon attendee Spence Toll, 92, at the Battle of the Bulge, Germany's last major offensive on the Western Front during World War II.
"I  feel today one word–gratitude," said the soft-spoken Toll after first thanking the third of his four daughters, Martha, for driving up from Washington D.C. to take him to the reunion. "I felt that way since the night of Dec. 16, 1944. The first night of the Battle of the Bulge, I was merely wounded and my combat infrantrymen, squadmates all around me were killed. So I was given a life and ever since then, every day I remember the battle and every day I remember how fortunate I was."
After returning to the U.S., Toll graduated from Yale University, then Yale Law School, raised a familly and practiced law in Philadelphia. A past associate editor of Central's literary magazine, the Mirror, Toll still writes zestful columns for local newspapers.
At the prompting of Central archivist David Kahn (220), Army veteran Dienes, also 93, told the students, Central President Tim McKenna and Alumni Association President Stephen Chappell (209) about how he was dispatched to the streets of Nagasaki, Japan, three months after the U.S. atomic bomb attack,  to photograph the devastation. Exclusive photos he took and others he helped develop from the film of pilots immediately after the August 1945 assault are now immortalized in the Library of Congress.
Martin Friedland, 93, was rejected for Army service, but like all young men of age at the time, he was significantly impacted by the war effort.
"When we graduated in '42, the draft was starting at age 21," Friedland said. "Then as the year progressed, they started to lower the draft age till finally they got to 18.
"I didn't go to college. I told my parents I'm going to go in the Army. And lo and behold I get called up and I get rejected."
Friedland instead served the war effort as a machinist in a shipyard for two years. "The war had  noticeable effect on the graduates here because it was hard to plan your future knowing that it was a good chance that you were going to get drafted or you were going to enlist."
After the war, Friedland enrolled at Drexel's engineering school and graduated in 1947. "I spent a 41-year career as a designer of automation systems, including one of the first complete automatic machines in the country in 1960." A widower with two sons and three grandchildren,  Friedland said, "I do what I can to keep busy and stay healthy. I appreciate the reunion here and meeting some of my old friends."
Fred Lehman was also rejected for military service so he experienced the world at Harvard, then spent many years working as a civil servant and at his family's kids summer camp. Today, watching CNBC, doing the Jumble in the newspaper and doing his own housekeeping keeps him limber in mind and body.
Bradlow, who survived the recent hurricane woes in South Florida mostly unscathed, graduated from the University of Pennsylvnia and headed into medical research. "I discovered the role of certain hormones in the risk for breast cncer and ways of modulating that risk." An authority in his field, he has written more than 400 academic papers. He told those gathered Monday, "I get asked by journals to review scientific papers for acceptance. Matter of fact, this morning before coming here I was reading my latest request." He said Christmas Day of this year will mark his and Hattie's 70th wedding anniversary.
Bud Caplan–who made a point of noting that he was only 92 and was the youngest member of the class–designed and manufactured jewelry for 65 years.
Despite their memories of war and lost friends and family, the mood was cheerful throughout.
After lunch the graduates checked out Central's renovated Barnwell Library, just below where they had dined on small sandwiches, salad and cookies. Did anyone want to see what had changed around the school since they had left it as students, Kahn asked them? "Yes," said several. It didn't matter that all but one was utilizing a walking aid of some sort.