By Yvonne Dennis (246)
When Eleanor St John Sutton (273) heads to Oxford University this fall as part of the University of Pennsylvania's study-abroad program, it will be almost like going home–even though she's lived in Philadelphia her entire life.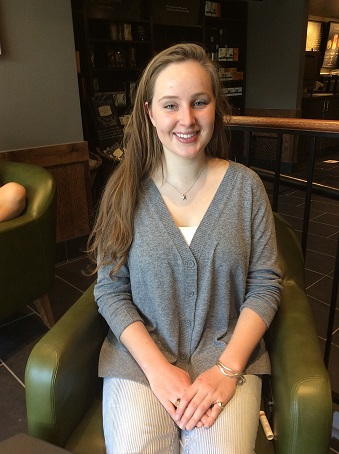 Eleanor's parents, Clare and Martin, are British transplants who came to the U.S. when Eleanor's father began working as a cardiologist at the Hospital of the University of Pennsylvania in the mid-1990s. They raised Eleanor and her younger sister, Eugenie (276), speaking "English," Eleanor says with the accent straight out of her parents' homeland. Speaking "American," she says with a grin, didn't happen much in the household.
"I go back and forth between American and English. English I'm more comfortable with but I learned to speak American when I was at school so that kids could understand me."
That means that not only are many pronunciations different, but at home, trolley," for example, refers to the cart in the grocery store, most definitely not the green and tan mass-transit vehicle Philadelphians know for chugging along tracks down Germantown and Girard avenues.
It's not surprising then that this master of the English language is an English major. Minoring in Spanish, Eleanor is fluent in that language as well.
Eleanor St. John Sutton (273) wears her Central class ring on her right ring finger and her signet ring with her family's crest, a stag, on her left pinky.  
Eleanor is a prolific poet and hopes one day to be a professional writer. Holding down a strong 3.75 GPA, Eleanor began the application process in the fall to study at the best place in the world for English learning. Lady Margaret Hall, the Oxford college to which she applied, only takes nine foreign-exchange students a year.
The application was submitted in January and for about a month she waited.
One day at work at Penn's rare-book library, she got an email telling her to check the status of her application. "It said 'accepted.' When I told my mother she started screaming on the phone. It was such a relief also because it had been such a long buildup."
The program involves intensive study in the major subject only and a lot of one-on-one interaction with professors.
One extracurricular outlet she's aiming for is the college choir. Eleanor sang with the prestigious Pennsylvania Girlchoir while in high school and loved it.
While at Central Eleanor also helped establish the School District of Philadelphia's co-ed rowing program. Participants came from schools all around the district and competed against private schools on the Schuylkill and in New Jersey.
"It was difficult. They have better resources and they're also very established," Eleanor says of the private-schools' programs. "Part of the way you get into certain races for example–the scholastic races–you have to have some sort of standing."
But with leadership from UPenn's Libby Peters, the program has grown from about 30 students when Eleanor was on the team to over 100 now, she says.
"I had a great time doing it. It's a sport that you race against yourself as well as with the team. But it's not a sport that values the individual over the team so there is a great spirit of interdependence. The friendships I made there were long-lasting."
Eleanor will miss many things about Philly while studying in England, including working with children from Lea Elementary School as part of Penn's Write On club. "We take them to the Kelly Writers House at Penn and teach them different styles of writing. They foster a bond with Penn students to give them a mentor and I really enjoy that."