By Yvonne Dennis (246)
The Man with the Golden Ears, as Solomon 'Kal' Rudman (188) is known, has long had a soft heart when it comes to educational causes in the Philadelphia area.
The groundbreaking music-industry trade magazines that the kid from North Philadelphia founded in the late 1960s have afforded him a very comfortable life. And Kal and his wife, Lucille, through their charitable foundation, in turn have given millions of dollars over the years to a host of Philadelphia groups to help others better their lives as well.
Their stamp can be found on substantial programs at Temple University,  Drexel, the Philadelphia Police Department, St. Christopher's Hospital for Children and the institution where Mr. Rudman's academic potential first fully sprouted:  That Dear 'Old High, Central, of course.                                  Kal and Lucille Rudman
Mr. Rudman's latest gift to Central of $25,000 is filling a void in chemistry instruction and helping Central's  science department as a whole continue to be a Philadelphia public-school-district innovator.
You see, before Mr. Rudman was an R&B radio disc jockey and publisher of the Friday Morning Quarterback, the University of Pennsylvania grad was a teacher science.
"Because he taught chemistry, he wanted to focus on improving the chemistry curriculum and it just so happens that is the area where I would say we needed the most improvement," said the chairwoman of Central's Science Department, Darcel Bonner. "It is the science that students struggle the most with. It is the number-one-fail science class we have here. The donation he has given us, we've used to purchase materials that can be used not only in chemistry but also in biology, even some in physics."
The department's nascent forensics class has been a particular beneficiary. In past years, Miss Bonner said, the class was an elective that was largely text-book based.
"We wanted to make it a real-hands on science class, so we needed a biology teacher to do it," said Miss Bonner, who stepped in to teach it this year. Now, "it's a more student-centered class. Kids love it. I love it." And she believes Central is the only school in the district to offer such a class.         Darcel Bonner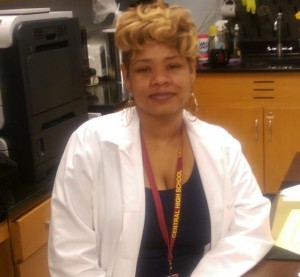 Mr. Rudman's donation has allowed the department to purchase DNA testing equipment, a new still for lab experiments that require distilled water, new pharmacology textbooks and much, much more.
"Because we have expanded our chemistry lab program this year–instead of having the teachers do lab in their own classes we have two lab teachers so they do all the chemistry labs for all the students–we're using a whole lot more chemicals, a whole lot more equipment. We updated a bunch of things. We have new conductivity indicators, new Ph indicators, digital things. We have desalination materials, just all kinds of things."
"We can run our program this year the way we actually want to run it and not have to worry about the money."
Providing the students access to these things is huge for their college-preparedness, Miss Bonner says.
Last year the department had a problem with its gas supply so some school-district technicians came to check out the valves. "They said to me that we were the only school that was still using gas," Miss Bonner recalled. "I can't believe it because I know what it's like to be a science major. And I know how chemistry labs were run in college. I went to Villanova. So the fact that kids here get that full experience and other kids are not, I feel very fortunate."
Mr. Rudman, who is an honorary life member of the Central Associated Alumni board and a member of the Alumni Hall of Fame for his contributions to the music industry, has also helped advance Central's music program with past gifts. After meeting with Miss Bonner and School President Tim McKenna over the past year about where he could continue to help his alma mater, his only stipulation was that this gift be used to maximize growth potential for the science program.
At age 86, he still delights in helping gifted but underprivileged students like he once was gain access to the best educational tools available. And that's not just at Central. Mr. Rudman helps underwrite the Health Tech program at St. Christopher's Hospital for Children, which places deserving students from Olney and Kensington high schools in part-time hospital jobs during the school year and summers. The high-school graduation rate of Health Tech participants is 98 percent.
On April 9, Central will host Mr. Rudman for an assembly to formally thank him for all that he has done.
When pressed to express what Central means to him and why he continues to give to a school whose doors he departed in 1947, Mr. Rudman answers with his famously unique way of promoting his own many accomplishments. But he does squeeze in: "Part of my axiom is bringing great things to the highest level for the students."
Mr. Rudman's yearbook entry