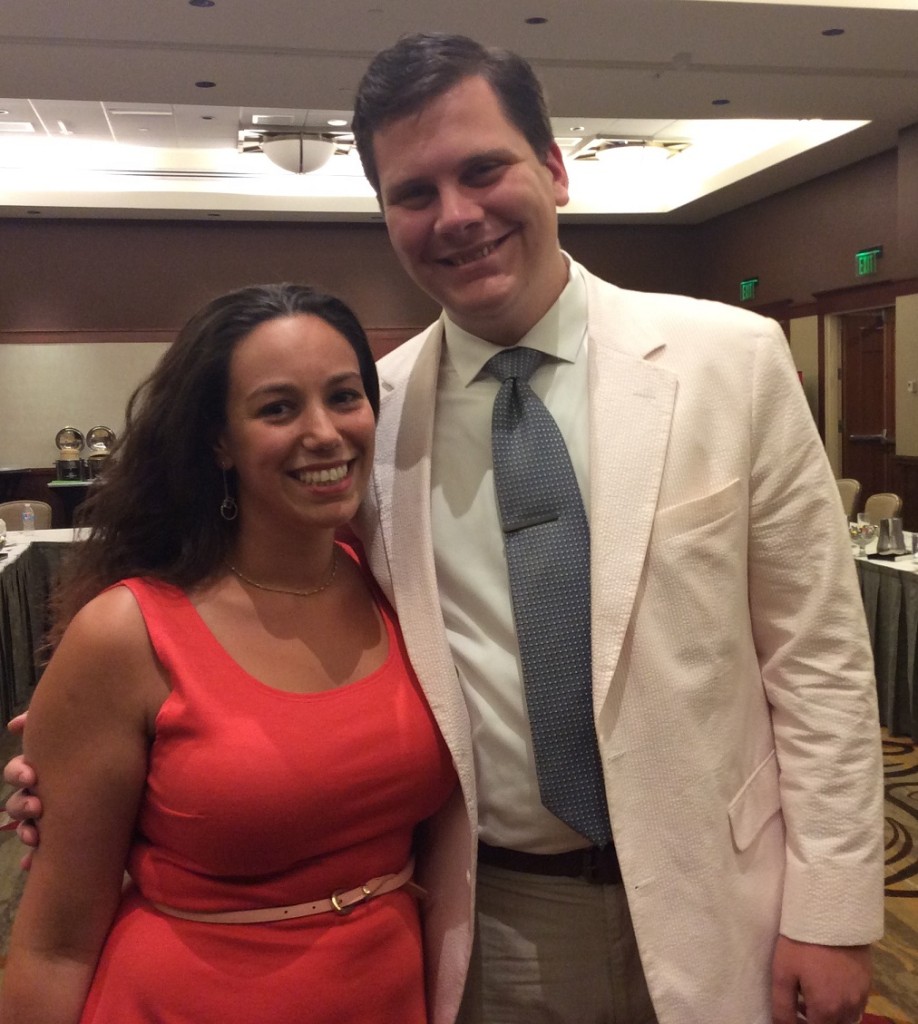 By Yvonne Dennis (246)
Central has been bringing people together in friendships and partnerships for a long time.
Now that young women have been part of the student body for 30 years, it's even been bringing students together in marriage.
Take 265's Marisa Block and David Birnbaum. The two 2006 grads have not only joined in service to the alumni board but they got married on June 27 in Voorhees, N.J., an outcome that certainly wasn't evident on that day in the early 2000s when they met as freshman at Central.
What neighborhood did you grow up in and what made you go to Central?
Marisa: I grew up in a very large, rather decrepit brownstone in Washington Square West, the same house my mother and grandmother grew up in. I loved being connected to everything downtown and walking to wherever I wanted to go. I went to Central because it was the only school in the city where I could pursue all of my interests. Central offered everything.  My older sister had already attended and graduated from Central, which also helped in that decision.
David: I'm a proud Mayfair boy–from birth until Marisa and I moved in together during college. By the time I came along, going to Central wasn't so much a choice as an inevitability. My brother, Michael Birnbaum (263), was a junior when I was a freshman. He and my parents were already in love with the place. There was about a 0% chance my parents would have sent me anywhere else.
What were your interests while at Central?
David: I had the privilege of captaining both golf and robotics while at Central. Golf in the school district had just been reorganized after a decade-long hiatus and our robotics team, while innovative, was basically putting robots together with duct tape and grit. I went and saw the new robotics lab recently. It's unbelievable. I wish we had that when I was at Central.
Marisa: I was a jack of all trades, master of none, at Central.  I loved that I got to study Italian.  I was president of the juggling club (though by no means the best juggler in the club), a varsity swimmer for four years, on the Academic Team, and celebrated Pie Day every Thursday after school.  I also led tours for incoming students and returning alumni and helped run the summer and spring orientations, which were some of my favorite times at Central.
What did you think of David when you met him?: 
Marisa: I thought David was interesting and a little funny, and very different from other people I spent my time with, because he was willing to be brash and an unapologetic jerk.  I also thought he was brash and an unapologetic jerk.
How did you meet Marisa and what did you first think of her?
David: I met Marisa on the first day of ninth grade. We were both assigned to Book 402 in Room 248 with Mr. Giosso. She was so chipper in the mornings and I was tired and grumpy. We didn't get on very well. Actually, she was one of my least favorite people at Central in 9th grade.
Did you go to the prom together?:
David: We went to senior prom together. Marisa's dress was beautiful. She looked so classy. I looked like something out of a poorly made heavy metal music video. Somewhere out there there's pictures of me in a tux with tails sporting a ponytail.
When did things get serious between you and were you surprised?
Marisa: A friend of mine in high school told me that it seemed to her that I wasn't super happy dating David, but I was super unhappy whenever I wasn't dating David.  This was sort of true. I think we both wanted to be together but we were very different people in high school and it was challenging.
Things got serious during our freshman year of college.  I went away to Boston for the year and very much disliked pretty much everything about the city and the school I was attending.  I heavily relied on him to keep my spirits up. During the spring semester we visited each other every other weekend, either he'd come to Boston or I'd drive home to Philly. Sophomore to senior year of college I went to Temple with David.  We only every took one class together, scuba diving, but we were living together by junior year.
How did you decide to go to Temple and what did you study?
David: I've never had any interest in leaving Philadelphia, and my only real reason to go to college was so I could then go to law school, so Temple was the obvious choice. I was able to get a good education on a budget. There were two more bonus points for Temple: 1) I was able to take most of my classes at night, which allowed me to work full-time during the day and 2) The university is so large that their class selection is amazing. I took classes on everything from the Civil War to Jewish Mysticism to scuba diving!
Tell us about your wedding:  
 David: We had a relatively small wedding–about 80 people (at David's Uncle Bob's home in Voorhees, N.J.). Our families and some friends came. We had a fair number of Central alumni there too, including two other CHS marriages!
How did it come about that you both are on the AACHS board?
Marisa: I joined the board first, and then David. I know that I wanted to help the board reach out to new and young people to be involved.  There's often been this feeling of "If people would just show up and help that would be great" but nobody knows when or where to show up.  I think the board is already changing that. I think we both joined the board because Central is something we are both extraordinarily passionate about.  The school is phenomenal and I think we both just want to do whatever we can to ensure that it's just as great, if not better, for our children some day.
Where are you working these days?:
Marisa: I work at The Philadelphia School, an independent school in center city, as an assistant kindergarten teacher.  I attended TPS from K-6 and also did a portion of my student teaching there. It's a very special place to me. The school is project-based, which means we really delve deep into topics and let the kids explore and experiment with their learning.  We also have an outdoor classroom in the woods that we visit once a week in the fall and spring.
David: I'm an attorney. My biggest challenge has been forcing myself to stop and smell the roses every once in a while. Lucky for me, that's what I have Marisa for. She'll actually force me to pull over on the side of the road so she can pick berries. It always annoys me at the time but I (usually) smile fondly thinking about it after.
What should older alumni know about the challenges facing current Central students and recent grads?
Marisa: Recent grads face many challenges. The economy and job market are rough, and though we are by and large hard workers, there simply isn't a lot of work to be done.  We need opportunities. Reach out to us, PLEASE!
Do you have any advice to offer to recent Central grads?
David: I still consider myself a recent grad, so it's a little awkward to give advice to my peers. That said, when I was a student at Central, Ben Lipman (224) shared an observation with me. He said "David, life pays in many currencies, and money is just one of them." At the time, I thought he was a crazy old man who had no idea what he was talking about. In fact, I think I told him so. Ten years later, I realize that it's the best advice anyone has ever given me. So, I think I would just pass that statement on.