We're Hiring: Development Manager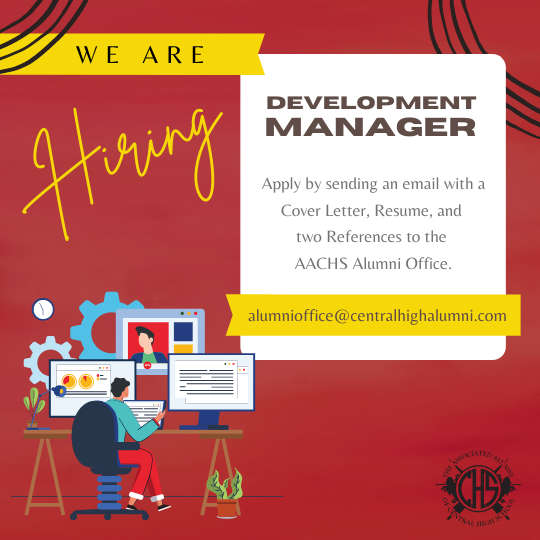 The Associated Alumni of Central High School of Philadelphia seeks a full-time dynamic Development Manager that will keep pace and help grow our organization.
The mission of the AACHS is to encourage and support the School's high standards of scholarship, integrity and democratic values, to facilitate and maintain pride in Central High School and, as well, to encourage an impact upon community growth through financial and personal involvement, while broadening social and professional relationships among its alumni. We do this through supporting programming at the school, providing day-to-day support to the school community, and by engaging our alumni community to support the continued success of Central High School students.
The successful candidate for this position will be energetically committed to the mission of the AACHS. We are seeking someone who thrives in a variety of environments, can handle multiple projects simultaneously and has strong time management skills, and has at least 2-3 years experience working in fundraising or an administrative and communications capacity in a non-profit setting.  Familiarity with fundraising campaigns, accounting processes, stewardship, and non-profit or board management culture is highly recommended.
A key member of the team, the Development Manager reports to the Executive Director. This position is full-time and the typical work schedule will be five days a week from 9 a.m. to 5 p.m. at the main office located at Central High School. 
Consideration for remote work may be available, however, reliable transportation is required.
Salary is commensurate with experience. The AACHS offers a generous benefits package including paid time off, paid holidays and health coverage.
Key Responsibilities include but not limited to:
Development

:

Gift Processing and Acknowledgement

Oversee systems for donor prospecting, research, and pipeline development

Research potential grant opportunities and apply when appropriate

Prepare donation spreadsheets and reports

Research, promote, and manage new Development/Fundraising programs

Assist in the planning, management and execution of in-person and virtual events



Communications

:

Interface with alumni, community partners, CHS administration, staff, and students

Manage broadcast email program and social media accounts

Maintain and update the AACHS website and promotional materials for campaigns and fundraising opportunities

Oversee Alumni Journal, a publication distributed to all Alumni and friends digitally 



Administration

Provide general administrative support 

Adhere to standard operating procedures 

Oversee AACHS database and maintain proper record keeping 

Develop and oversee volunteer/internship program



Board Support

Support board members in their volunteer work and service on behalf of the association 

Represent AACHS office at board and committee meetings, external meetings and events as assigned

To apply, please email the following: Cover Letter, Resume, and two References to alumnioffice@centralhighalumni.com.