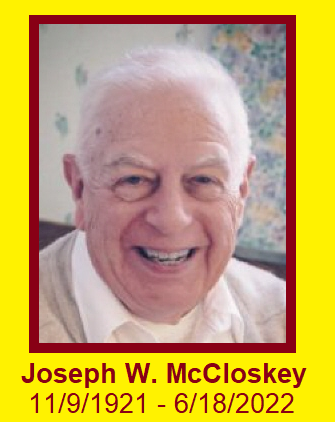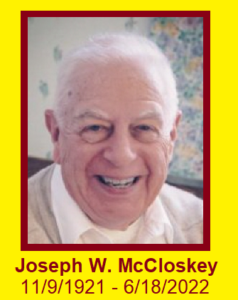 Mr. Joseph W. McCloskey was affectionately known as "Uncle Joe" to his students. He held Central near and dear to him, even after moving to Illinois in 1955.
He taught English at Central, served as class sponsor, and was a mentor and friend to many students. A member of the Central Faculty Hall of Fame, Uncle Joe was highly regarded by his former students at New Trier High School and Central High School. 
The investment that donors like you make to Central High School — one of the oldest public school institutions dating back to 1836 — has an immediate impact on the current students and the continued focus on academic excellence and enrichment of our youth now and beyond the iconic crimson doors. 
The Joseph W. McCloskey Memorial Gift Fund has been designated to support a sophomore or junior student at Central to enter an enrichment summer program in the humanities or music that may also take the student out of the city, to experience life elsewhere. 
Many such programs exist through universities, but the opportunities through Central High, afforded to our students, are due to the financial support and commitment of donors like you.  
A faculty committee that includes the class advisors will select the student through an application process; the chosen student, in consultation with the advisor, will choose a program that meets the humanities/music criteria.
The selected student will demonstrate both talent and interest as well as a need for the funding to follow their ambition.   
We all feel enriched by our relationship with Joe, "Uncle" Joe to many, and cherish our memories of his great smile, delightfully naughty wit, deep compassion, and high intellectual standards.  Let's hope this scholarship allows a number of potential "Joes" to develop their passion and knowledge and eventually to share their inspiration with others. – Betsy Arsenault (New Trier High School, Colleague and Friend of Uncle Joe)
In recognition of a man whose legacy will continue to live on in the shared stories of his love for life-long exploration through education, and his commitment to his New Trier and Central students—and by giving to this campaign you enrich the region, community, and the lives of countless Central students — a legacy that Joe would be proud to know now exists.
Please make your gift today to enhance the student experience, to support our educators, and to sustain the long-standing traditions and mission of the AACHS that Uncle Joe loved dearly. Thank you!

A heartfelt thank you to all the exceptional teachers, including the many alumni and friends of our community in the education sector around the world; it's an important role you play in the lives of students.
Betsy Arsenault, a colleague of his at New Trier High School, to whom he acted as an informal mentor, welcomes you to connect with her, and share any stories you have of Joe.
She shares that over the years after Joe's retirement, as his macular degeneration increasingly complicated his life, she became an additional set of eyes for him, and he embraced her and her husband as surrogate family. 
Betsy has been collecting some of the wonderful written tributes Joe's friends have shared and will compile these letters into a little booklet in his honor. 
Joe lived such a full life that the ways in which he touched friends are extraordinarily varied. 
If any of you have stories you would like to share, please feel free to write her by email or snail mail.  Her information can be found by contacting the alumnioffice@centralhighalumni.com. 
HOW TO CONTRIBUTE:
The following methods to contribute are available: by check; by credit card; by debit from your checking account; or by gifts of securities, including stocks, bonds, and mutual funds. 
Online:  Make a one-time gift, pledge, or recurring donation through this secure online gift form with your credit card or bank account.
By Mail:  Please make your check payable to The Associated Alumni of Central High School of Philadelphia and send it to:
The Associated Alumni of Central High School (AACHS)
ATTN: JWM Memorial Fund
P.O. Box 26580
Philadelphia, PA 19141-6580 
By Phone or Email:  The Alumni Office is happy to guide you through this process. Please reach out to our Alumni Office at alumnioffice@centralhighalumni.com to schedule a call to complete your contribution or contact us at (215)845-3308.
Gift of Securities (Stocks, Bonds, and Mutual Funds):  To maximize the tax-deductibility of your gift, please call us for instructions for the direct transfer of your securities to The Associated Alumni of Central High School of Philadelphia.
Matching Gifts:  Some companies double or even triple employees' gifts to Central. Your employer might be one of them! Many companies also match gifts made by retirees and/or spouses. To find out if your employer will match your gift, please check with your employer or click here to see if your employer matches donations. 
Planned Giving:  Include a gift to Central in your will or trust and make your mark on the future. To learn more, please review this page. For those who have already considered leaving AACHS in its planned giving, please inform us so we may thank you for your generosity and support. 
IRA Distributions: If you are subject to an annual IRA Required Minimum Distribution, you can direct monies to qualified charities without realizing the contributed amount as income. Please check with your plan administrator. 
Recurring Contributions: By establishing a recurring contribution, you may begin contributing now and spread your support over a period of time, e.g., monthly, quarterly, or annually. 
The Associated Alumni of Central High School is a 501(c)(3) nonprofit organization. The Tax ID Number is 23-1618008. Your contributions are tax-deductible to the extent allowed by law. Appropriate documentation of receipt of gift will be electronically mailed to you by our organization immediately.