Circle Tuesday, November 29th on your calendar. It's #GivingTuesday!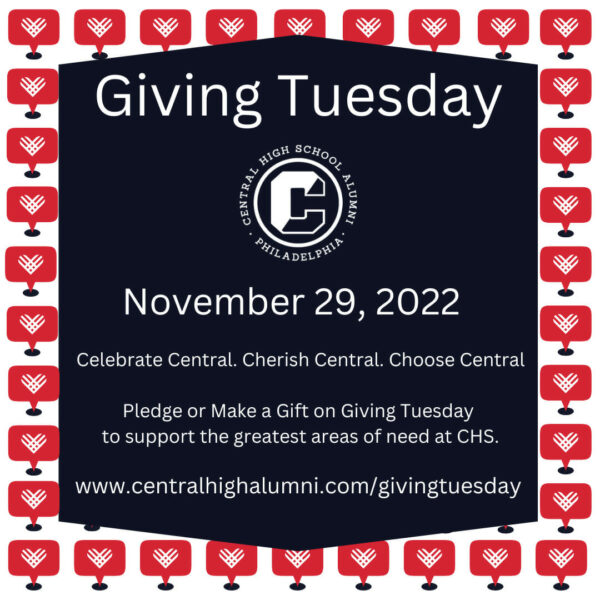 Let us continue to rejoice in the record-breaking success of last year's Giving Tuesday, which resulted in $253,000 from 420 donors! 
The AACHS is beyond grateful for the generosity Kyle Andeer (251) provided in his matched contribution of the first $100,000 raised on Giving Tuesday last year! 
Kyle has shared over the years his appreciation for our alma mater, recognizing that Central High School is a place filled with nurturing and dedicated teachers, who help guide students on the path to success.
This #GIvingTuesday, we want to exceed our goal of having 500 donors participate and make a gift on November 29, 2022.
Please consider making your tax-deductible gift, and join us as we Celebrate Central. Cherish Central. Choose Central. 
Giving Tuesday is a global day of giving where millions of people join forces to collectively contribute to a cause they believe in. You can be a part of this incredible day by donating to the AACHS to help us provide today's Central students with the tools they need to become the leaders of tomorrow.
Your donation can have an even bigger impact: Many employers double, or even triple, charitable donations made by employees, retirees, or even spouses. Click here to see if your employer will match your gift or talk with your HR department.
Mark your calendars now for Tuesday, November 29th and make your plan to take part in Giving Tuesday by supporting the work the AACHS does for today's Central High School students.
How to make a gift to Central through The Associated Alumni of Central High School of Philadelphia, a 501(c)(3) nonprofit organization?
Online:  Make a one-time gift, pledge, or recurring donation through our secure online gift form with your credit card or bank account.
By Mail:  Please make your check payable to The Associated Alumni of Central High School of Philadelphia and send it to:
The Associated Alumni of Central High School of Philadelphia (AACHS)
P.O. Box 26580
Philadelphia, PA
19141-6580
By Phone:  Please call the Alumni Office at (215) 845-3308.
Gift of Securities (Stocks, Bonds, and Mutual Funds):  To maximize the tax-deductibility of your gift, please call us for instructions for the direct transfer of your securities to The Associated Alumni of Central High School of Philadelphia.
Matching Gifts:  Some companies double or even triple employees' gifts to Central. Your employer might be one of them! Many companies also match gifts made by retirees and/or spouses. To find out if your employer will match your gift, please check using this form or contact your Human Resources Department.
Planned Giving:  Include a gift to Central in your will or trust and make your mark on the future. To learn more, please review this page. For those who have already considered leaving AACHS in its planned giving, please inform us so we can thank you for your generosity and support.